A year after finding big box office success with "Girls Trip," Tiffany Haddish, director Malcolm D. Lee, and producer Will Packer are teaming up with Kevin Hart for "Night School," another comedy that Universal hopes will see long-lasting success thanks to the star power of its two leads.
Last year, "Girls Trip" launched Haddish into mainstream stardom and earned $140 million worldwide against a $19 million budget, becoming yet another flagbearer for Hollywood's ongoing diversity push. "Night School," which is slightly more expensive with a $29 million budget after tax incentives, is projected by Universal for an opening around $25 million from 2,900 screens, while independent trackers expect the film to match the $31 million start earned by "Girls Trip."
---
Also Read:
How 'Fahrenheit 11/9' Stacks Up on Michael Moore's Box Office Record
---
The big challenge for "Night School" will be to stay on the radar of general audiences as the box office heads into what will be a very crowded October. The film's status as a PG-13 comedy with two bankable, African-American stars will help it find an opening audience with core demographics, but next weekend will see the arrival of a big comic book movie in "Venom" and a big awards contender in "A Star Is Born."
"Girls Trip," similar to "Crazy Rich Asians" last month, was able to ride the acclaim from critics and early moviegoers to widespread interest in the end stages of last year's summer season, and "Night School" will need strong word of mouth to do the same against such high-profile competition.
"Night School" stars Hart as a hotshot BBQ grill salesman whose store is destroyed in a freak accident. With no one hiring him due to being a high school dropout, he's forced to head to night school to get his GED, encountering a very unorthodox teacher played by Haddish. Rob Riggle, Taran Killam, and Mary Lynn Rajskub also star.
---
Also Read:
'Venom' Poised to Set October Opening Weekend Record With $63 Million
---
Also releasing this weekend is the Warner Bros. animated film "Smallfoot," which features an all-star voice cast led by Channing Tatum as a yeti who proves the existence of humans to his disbelieving village, with James Corden playing the homo sapiens that serves as living proof. Trackers are projecting an opening in the high $20 million range from 4,000 screens, with WB projecting an opening in the low $20 million range. Budget information wasn't available at time of writing, though past feature films from Warner Animation Group like "Storks" and "The Lego Movie" have had a production budget of $70-80 million.
Finally, Lionsgate and CBS Films is releasing the horror film "Hell Fest," which is projected for a $5-7 million opening from 2,200 screens. CBS Films is taking the Blumhouse microbudget approach to this movie, with a $5.5 million budget co-financed by Tucker Tooley Entertainment. An opening on the upper range of projections would match the $7 million start of "You're Next," the cult hit horror film that was released by Lionsgate in 2011 and grossed $18 million.
'A Star Is Born' vs 'Venom' and 5 More of Fall's 6 Biggest Box Office Showdowns (Photos)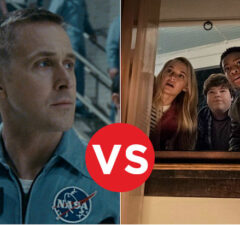 (Tap photo and swipe to view gallery)