President Obama was on for a second day of heavy campaigning in California on Monday, hitting San Francisco and urging supporters: "We're only going to do it if everybody is almost obsessive for the next 29 days."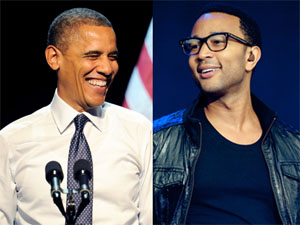 Obama sounded that rousing note during an exclusive dinner at San Francisco's Bill Graham Civic Auditorium, urging his supporters to "mobilize every resource" they have "to make sure that we bring this home."
He hit three back-to-back fund-raisers in San Francisco after running a similar gamut Sunday with his Hollywood friends in Los Angeles.
Flexing his oratorical prowess after a lackluster performance at last week's presidential debate against opponent Mitt Romney, Obama assured the crowd, "I am pretty competitive and I very much intend to win this election."
Also read: Bruised by Debate, Obama Returns to Hollywood's Embrace: 'Elmo Has Made a Run for It'
Like the previous day's schedule, Monday's slate featured a small gathering with deep-pocketed donors, a pricey dinner and a concert featuring celebrity headliners. The San Francisco trio of events started in the afternoon with a summit at the Intercontinental Hotel, which set 25 contributors back $40,000 each, followed by the dinner for around 100 boosters (price: $20,000 per person) at the auditorium.
Donors who watched him stump over supper dined on fish tartare a la japonaise, duck confit and corn cakes catered by Chez Panisse proprietress Alice Waters and fellow local foodie Tyler Florence.
After dinner, Obama rounded out the day by sharing the stage at the auditorium with John Legend and Michael Franti. Tickets for that show started at $200 each.