If you thought that the twists and turns of the "A" team last season on ABC Family's "Pretty Little Liars" were gasp-worthy, Season 4 sounds as if it will have viewers grabbing for their inhalers.
During Monday's panel discussion at the Paley Center in Beverly Hills, the series' cast and producers revealed some captivating nuggets of what to expect on the upcoming season, as well as the show's spinoff series, "Ravenswood."
"It's 'answers' in one word. This is the season of answers," executive producer I. Marlene King – who, by the way, asked an audience member to simply call her "Marlene" – said when asked for a small tease for the upcoming season.
Also read: 'Pretty Little Liars' Spinoff 'Ravenswood' Adds Brett Dier and Elizabeth Whitson
During the session, King gave one strong example of what she means by that statement. Of course, the show revolves around its close-knit group of "Liars," but the series wouldn't exist without the web of mysteries surrounding mean girl Alison's death.
Note: Spoilers ahead.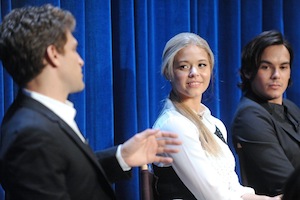 King revealed that we'll finally learn whether Ali is alive and what exactly happened the night of her "death."
That was just a bit of what was revealed during the panel. Here are more details from the event:
Twin tales? In the novels from Sara Shepard, on which the series is loosely based, Alison has a twin sister. King wouldn't say definitively if the show would venture into that storyline. She did say that they might visit a "variation" of the twin theme.
Also read: 'Pretty Little Liars' Star Troian Bellisario Talks Transitioning From Spencer to 'Lauren'
Mona is a "Liar." We saw Mona (Janel Parrish) team up with the "Liars" at the end of last season, but executive producer Oliver Goldstick confirmed that alliance would continue, though Mona is a reluctant member of the "Liars." "An adjunct," Goldstick described.
"It's definitely different," Parrish said of shooting scenes as a member of the group. "It's probably weird for all of us. 'Wow, I'm not trying to kill you in this scene.'"
Mona becomes the hunted. After being in "A's" employ last season, there's clearly ramifications for turning on her and joining the "Liars." "If you join these girls, you might have to take a hit," Goldstick said.
Ezra is just one of the girls? Now that Ezra (Ian Harding) and Aria (Lucy Hale) are done-zo, he'll actually start to spend more time with the other "Liars." According to the producers, he becomes a source of information for the seniors worrying about getting into college. "Emily and Spencer and even Hannah have moments with him that go beyond teacher-student," King said of the friendship that develops between Ezra and Aria's friends.
Also read: 'Pretty Little Liars' Star Tyler Blackburn Joins Spinoff 'Ravenswood'
And those masks? They're a staple of "PLL" and they aren't going anywhere. "If you have an aversion to masks, Season 4 is going to rock you," King warned.
Is "Haleb" over? As previously reported, Tyler Blackburn has been cast on "PLL" spinoff, "Ravenswood." So, what does that mean for his relationship with Hannah (Ashley Benson)? "The way things end are kind of like an ellipses, not a period," Blackburn said. "It's not overly emotional. They're doing what they think is right."
"It's kind of a 'Casablanca' moment," King added, a reference to the iconic "Here's looking at you, kid" moment from the 1942 film.
How much crossover will there be between the shows? "Caleb is the only 'Pretty Little Liars' character that goes to Ravenswood," King said. Of course, that may not always be true. The EP did admit that there's a college in Ravenswood. "So, could the seniors have a college visit coming?" asked panel moderator, TV Guide Magazine's Damian Holbrook.
"Pretty Little Liars" returns Tuesday at 8/7c on ABC Family. "Ravenswood" premieres in October following the "PLL" Halloween episode.