"Private Practice" star Tim Daly will not be returning to the ABC medical drama for its upcoming sixth season, tweeting that series creator Shonda Rhimes informed his agent he was finished.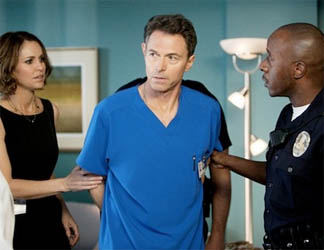 "Wonderful fans of PPP. Shonda informed my agent today that Pete won't be returning for season 6. It was a great 5 yrs. R.I.P. Pete Wilder," Daly tweeted late Tuesday.
An ABC rep did not immediately return TheWrap's request for comment.
Also read: ABC Picks Up 'Body of Proof,' 'Private Practice,' 'Don't Trust B—- In Apartment 23'
The status of Daly's "Private Practice" character, Dr. Pete Wilder, was left up in the air at the end of season five. Wilder had been jailed after helping to end the life of a patient dependent on machines to survive. He was released on bail in the season finale.
The show was renewed for 13 episodes for next season.
Daly's co-star, Kate Walsh, retweeted his tweet, adding, "I love u tim daly."