Entertainment news headlines were filled with loss this week: MTV "Buckwild" star Shain Gandee lost his life to carbon monoxide poisoning, NBC confirmed Jay Leno lost his "Tonight Show" gig, and Roger Ebert lost his hard-fought battle to cancer.
While reality star Gandee and iconic movie critic Ebert are gone forever, the "Tonight Show" will live on when "Late Night" host Jimmy Fallon takes over in an effort to lock in a younger generation of viewers.
Also read: Tops on TheWrap This Week: 'Olympus' Surprise, 'Breaking Bad' Theft, and Jon Hamm's Junk
In the wake of NBC's late-night shift, Conan O'Brien lightened up a week wrought by death when he surprised Chelsea Handler in the NBC staff shower to reclaim the studio that once housed his brief version of the "Tonight Show."
Catch up on all that and more in this week's Tops on TheWrap, a recap of the biggest stories in Hollywood.
Roger Ebert, Film Critic Extraordinaire, Dies at 70: The world lost a cinematic legend on Thursday when Roger Ebert — half of the famed "Siskel & Ebert" critical duo — died from cancer. Not only was he the go-to source for educated opinions on the quality of filmmaking, but an accomplished author, screenwriter, media personality and Twitter trailblazer.
Jimmy Fallon Replacing Jay Leno on 'Tonight' Next Spring, NBC Confirms: We all knew it was coming, but NBC made it official on Wednesday when the network confirmed "SNL" alum Jimmy Fallon would be taking over "The Tonight Show," which Jay Leno hosted with glee for 22 years. Come spring 2014, Los Angeles will wave farewell to the late-night show when it moves to New York to accommodate its new host.
Who's the Youngest 'Tonight' Host? Not Fallon. And Oldest Is a Shocker: Don't let Fallon's Justin Bieber impersonation fool you, he's not the youngest to take the "Tonight Show" gig. And despite the signature silver mop atop Leno's head, he wasn't the oldest to be hired for the job.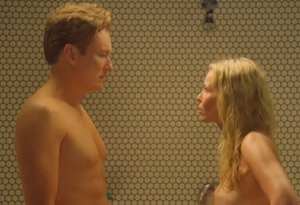 Chelsea Handler, Conan O'Brien Battle Over Old 'Tonight Show' Studio – In the Nude (Video): Four years after leaving NBC following the first time the network tried to replace Leno, Conan O'Brien returned to his brief "Tonight Show" stage to settle a score in the shower with its current occupant, Chelsea Handler.
MTV 'Buckwild' Production Halted After Shain Gandee's Death: The MTV reality star who embraced his redneck nature with glee was found dead on Monday in a 1984 Ford Bronco partially submerged in mud. An autopsy revealed West Virginia native, and two others found dead in the vehicle, accidentally died of carbon monoxide poisoning during an early-morning off-roading trip. MTV was so "shocked and saddened" that the network pulled the plug on production of the hit series' second season.
Fearing Chinese Censors, Paramount Changes 'World War Z' (Exclusive): China loves China and hates anybody or anything criticizing China, so Paramount has decided to distribute an altered cut of Brad Pitt-starring zombie apocalypse movie "World War Z" when released in China — the globe's second-largest box office market. The potentially offensive scene? Characters discussing the possible geographic point of outbreak.
'Game Of Thrones' Premiere Breaks Piracy Record: The Season 3 premiere of "Game of Thrones" hit a new series high for viewership when 4.4 million viewers tuned in to watch last Sunday. Unfortunately for the fantasy series' premium cable home, a record 320,000 users (at least) watched it illegally through bittorrent sharing. But fans are fans, so HBO programming president Michael Lombardo deemed the unprofitable and unlawful activity as "a compliment of sorts."