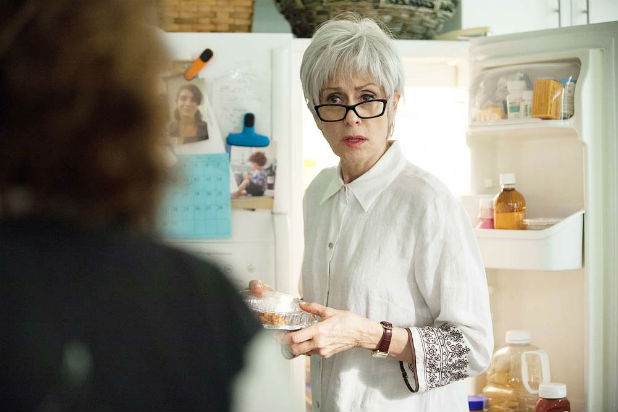 Amazon's "Transparent" has a double advantage of being centered around a prominent social issue and being a damn good family drama to boot.
After an award-winning first season, the Pfefferman family returns in the form of a strong ensemble in Jeffrey Tambor, Amy Landecker, Jay Duplass, Gaby Hoffmann and Judith Light.
TheWrap caught up with Light, who stars as Shelly Pfefferman — one of two matriarchs in her clan since her husband (Tambor) transitions male to female —  to discuss the sophomore effort from creator Jill Soloway.
Also Read: 'Transparent' Review: Amazon Series Is Funnier, More Heartbreaking in Season 2
TheWrap: You've played a diverse amount of characters but there seems to be a through-line of activism toward the LGBT community. Is that accidental?
Judith Light: My activism for the LGBT community has been long and continuous, and it's certainly not a coincidence. It's what my manager calls divine choreography. I certainly look for parts to play, women who carry something that I really think people are going to see or understand, but the activism is something very important to me.
Your character doesn't shy from confrontation, and the effect is obviously hilarious but it does cut to a certain truth about her — she's not delicate with her loved ones.
Jeffrey [Tambor] always says humor is the way to connect with audiences. But the best thing about these characters is how human they are. These are the most narcissistic people you've ever met. And what you're going to see this year is an expansion of these people. You'll see their emotional lives in a different way.
Also Read: 'Transparent' Season 2 Trailer: Jeffrey Tambor Contemplates Gender Reassignment Surgery (Video)
The writers are not afraid of showing the meaningful ways she's really hurt her children, and impacted their lives. That's maybe the last TV taboo — bad moms with redemptive qualities.
We are not allowed to talk about that kind of mother, it's true. We live in a society with so much denial. One of the things that is so important to remember is that Shelly is longing for connection. She has no idea how to connect. She ends up pushing people away.
When you have somebody like that, you can portray it in way that removes the bite of it, and makes it less painful. You see the humanity of this woman who is going through so much. It makes it possible to understand your parents. They are people and they are complicated. They have pain and anguish.
Also Read: Anjelica Huston, Cherry Jones Among 'Transparent' Season 2 Guest Stars
"Transparent" came at a cultural tipping point for the trans conversation, but it's truly a family drama that has this social issue as one of many threads. We live in a post-Caitlyn Jenner world but would you say there's a long way to go with understanding trans people?
Darling, the work is just beginning.  The gay community has taught us about sexuality, now and the trans community will teach us about gender fluidity. But yes, "Transparent" is a portrait of a family. Every family has these dynamics — they have somebody who says,"I'm not who you thought I was,' and 'Will you still love me if I become the person I believe I am– my courageous, authentic self.'
"Transparent" season 2 is currently available for streaming on Amazon Prime.