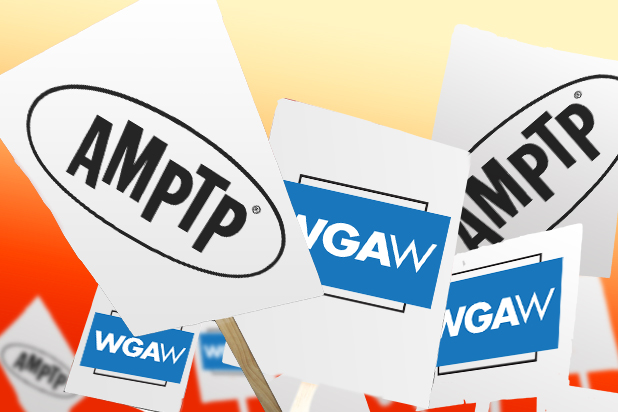 Contract negotiations between the Writers Guild of America and the Alliance of Motion Picture and Television Producers are expected to continue over the weekend, but both sides have appeared move in the direction of a deal on two key issues.
According to an individual with knowledge of the negotiations, the AMPTP's latest offer has attempted to address the health plan, as well as the "span" issue and the option of exclusivity, and both sides seem to be moving in a direction where they might strike a deal on those issues soon.
Span is shorthand for an issue the guild is pushing for — higher compensation on shows where the work schedule for writers runs more than two weeks per episode. It also addresses short episode orders. "The average pay for writer-producers working in television declined 23 percent over the last two years alone," guild leaders said about the issue in a letter to members in February.
Also Read: Contract Talks Between Hollywood Writers and Producers Expected to Go Down to the Wire
While the WGA is in a media blackout and could not be reached for comment, the guild said in an update to its official blog on Friday that "our current proposals would cost a total of $156 million annually over the entire industry. For the six largest companies, who collectively reported almost $51 billion in operating profits in 2016, the cost is only $103 million."
That's a drop of more than $20 million from the guild's last proposal, outlined earlier this month, that put the cost to the industry at $178 million a year, with the six largest firms ponying up $117 million of that. Whether this reduction signals continuing flexibility as negotiations or a line in the sand remains to be seen, but as the May 1 deadline approaches, it appears both sides are striving to avoid a strike.
The current contract for film and TV writers expires on May 1. WGA and AMPTP began negotiating a new contract in early March, but those talks were discontinued March 24 when agreement could not be reached, and the WGA's negotiating committee called for a strike authorization vote. On April 25, members overwhelmingly voted in favor of striking if an agreement cannot be reached, and the WGA returned to the negotiating table the same day.
Following the strike authorization vote, the WGA wrote to members that it is "determined to achieve a fair contract." The AMPTP echoed that sentiment in a follow up statement, writing that they are also "committed to reaching a deal."
Also Read: WGA Members Vote Overwhelmingly to Authorize Strike
Among other WGA demands are stronger economic and workplace protections, and paid family leave for writers.
On Thursday, two individuals with knowledge of the situation told TheWrap that talks may even go beyond the May 1st deadline should both sides agree they are close to making a deal but haven't been able to reach one yet.
Extensions of talks in labor negotiations are common — In 2014 for instance, SAG-AFTRA and Hollywood producers agreed to a 24-hour extension less than an hour before the existing pact ran out in order to prolong negotiations and avoid a strike.