How could this summer, with three billion-dollar movies — Disney's Marvel superhero sequel "Avengers: Age of Ultron" and Universal's "Jurassic World" and "Minions" — not set a box-office record?
Those billion dollars are in global grosses, not domestic, which is the record we're talking about.
But you don't hit those heights without doing big business on the home front, and all three blockbusters did: "Jurassic World" led with $643 million, "Avengers: Age of Ultron" followed at $458 million and "Minions" did $325 million.
Also Read: 'War Room' Raises Holy Hell at Box Office but 'Straight Outta Compton' Wins
The year to beat is 2013, when the only movie to take in more than $1 billion was "Iron Man 3" and the summer total was $4.8 billion, according to Rentrak.
This year, despite those three megahits — and Disney's Pixar hit "Inside Out," which has out-earned "Minions" domestically with $345 million — this summer is on pace to wind up at $4.4 billion.
That means that unless "Transporter: Refueled" or "A Walk in the Woods" open to about $300 million over the season-ending Labor Day weekend — about $15 million is more realistic — there will be no new record in summer 2015.
Also Read: 'Minions' Marches Past $1 Billion at Worldwide Box Office, Becomes Third Highest-Grossing Animated Film Ever
How could that be? Depth is the answer, or more specifically, the lack thereof. Universal and Disney combined to generate nearly 60 percent of the summer's grosses. The two studios had the season's top five films, four of which topped $200 million, and seven of the top 10. In 2013, which will remain the standard, seven films topped $200 million and five studios had films in the top six.
SUMMER'S TOP 10 MOVIES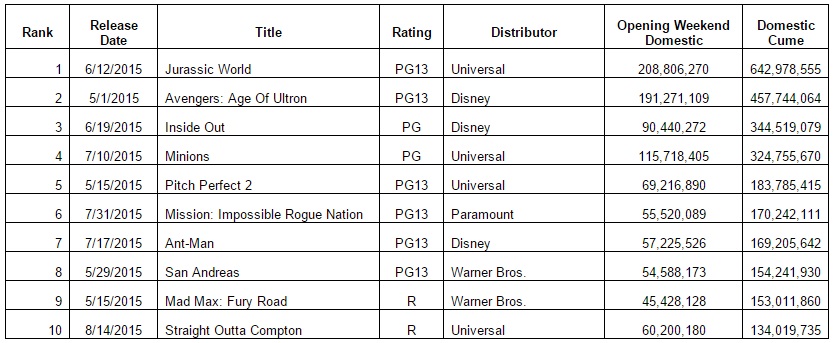 Conventional wisdom and past history suggest that a booming box office — this June set a record and July was the second highest-grossing ever — generates even more business because momentum is established, and more moviegoers are talking about films and exposed to trailers and other marketing when they go to see the hits.
But it didn't work that way this summer.
The rising tide not only didn't lift all boats, it capsized several of them.Because the hits weren't spread around, the benefits of the extra marketing weren't either. Universal and Disney were the only studios to get the boost from the extra marketing and trailers, which made their dominance more pronounced.
Also Read: Universal Shatters Box-Office Record for Domestic Grosses in One Year
Warner Bros., Fox and Sony had tough runs and Lionsgate pretty much took the summer off, as did Paramount except for "Mission: Impossible – Rogue Nation."
"When two studios dominate in such a profound way, as Disney and Universal did this summer, that [rising tide] theory doesn't work," said Paul Dergarabedian, senior media analyst at Rentrak, "because they're mainly promoting their own movies and the others don't benefit at all."