The WWE pay-per-view event "Crown Jewel" is just 11 days away, but wrestlers won't utter the name of its location on tonight's episode of "Raw." In fact, the words "Saudi Arabia" have been strikingly absent from WWE programming since the disappearance of Saudi journalist Jamal Khashoggi.
That's by order of WWE management, an insider told TheWrap. The insider said WWE talent have been instructed to promote the event — but not its location — for two weeks now, ever since the search for Khashoggi turned into a murder investigation, with the Saudi Arabian government as the prime suspect.
The wrestling company is weighing whether to continue the event, or join the slew of companies that have frozen or vowed to exit deals with Saudi Arabia over Khashoggi's death.
Also Read: 16 Hollywood and Media Deals With Saudi Arabia - And Where They Now Stand
WWE.com has also stripped all mentions of Saudi Arabia as the setting for "Crown Jewel," and for a brief period listed the event's location as "tbd."
See here:
The "tbd" was removed after TheWrap reached out to a spokesperson to ask about it. Now a search brings this up: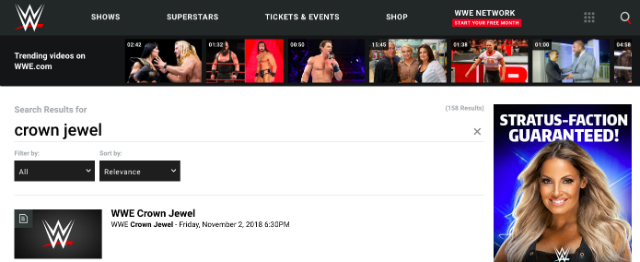 WWE has also delayed ticket sales for the big-money event. Seats in King Saud University Stadium were supposed to go on sale this past Friday, but the online portal is not yet active. Tickets are still listed as "coming soon" on the Saudi events website.
Also Read: John Cena Is Going to Ruin This Poor Hypnotized Baker's Day in 'Double Take' Premiere (Exclusive Video)
All of that doesn't mean "Crown Jewel" will not happen in Saudi Arabia on Friday, Nov. 2. That is still the plan as of this moment.
As of Monday, WWE was waiting for Turkey to announce details from its investigation into the killing of the Washington Post columnist before it makes a final call about whether to hold the event in Saudi Arabia, the insider said.
The report is expected on Tuesday.
Due to time zone differences, WWE will likely not have a decision before Tuesday night's "SmackDown" episode. But the brass are expected to make a call on Wednesday.
WWE could stay the course, despite inevitable criticism, or scramble to move the event to a new location. A third option, of course, is to cancel or postpone "Crown Jewel."
WWE did not respond to our request for comment on this story. The company has remained silent since Oct. 11 when a spokesman told TheWrap, "We are currently monitoring the situation," referring to the missing and presumed dead Khashoggi.
Also Read: 'SmackDown 1000' on USA Network Draws WWE Show's Biggest Audience Since April
Up until this past weekend, the "stay the course" option had been a pretty strong frontrunner. But on Friday, Saudi officials admitted Khashoggi was killed at the Turkish consulate, where he had an appointment to obtain wedding papers. The Saudis said Khashoggi got into an argument and then a "fist fight."
The Arab state, which arrested 18 suspects, had previously said Khashoggi had left the consulate alive.
The Saudis came under even more pressure after video and audio surfaced of Khashoggi being killed.
Should Turkey conclude Khashoggi was murdered by his own government, either by order of Crown Prince Mohammad Bin Salman Al Saud or with his knowledge, it will be hard for Vince McMahon & Co. to justify bringing their traveling circus to Saudi Arabia.
Also Read: John Oliver Piledrives WWE Over Saudi Arabia Ties (Video)
"Crown Jewel" is the latest in WWE's massive expansion push into the oil-rich nation. It follows April's "Greatest Royal Rumble" event, which took place at the King Abdullah Sports City's King Abdullah International Stadium in Jeddah, Saudi Arabia. The King Abdullah International Stadium is larger than the King Saud University Stadium.
The events are believed to pull in tens of millions of dollars for the publicly traded company.
This isn't the first time there has been an outcry against WWE for accepting Saudi money for a live show. Due to local laws, women are not permitted to participate in Saudi Arabian wrestling events.
"Raw" airs Mondays at 8/7c on USA Network. "SmackDown Live" starts Tuesdays at the same time on the same channel.