Ever since Atari paid $21 million for the rights to make a videogame based on "E.T. the Extra-Terrestrial" — and then gave a programmer just six weeks to make it — there's been a disconnect between Hollywood and the videogame world.
Sure, Hollywood makes movies out of games, and vice versa. But rarely do the two worlds meet in a collaborative way.
French game publisher Ubisoft — which has worked with John McTiernan on the "Tom Clancy Splinter Cell" games, Peter Jackson on the "King Kong" game and, most recently, James Cameron on the "Avatar" game — is moving to change all that.
On Oct. 27, Ubisoft premieres on YouTube a short film series, "Assassin's Creed: Lineage" — a prequel to the company's upcoming "Assassin's Creed II" game, which ships for Xbox 360, PlayStation 3 and PC on Nov. 17.
A blend of videogame environments with live actors shot on green screen, it was created in tandem by Ubisoft teams from both the movie and gaming worlds.
In 2007, Ubisoft created Ubisoft Digital Arts within the Ubisoft Montreal studio, a team focused on bridging the gap between interactive and traditional entertainment. Then last year, it purchased digital effects studio Hybride Technologies in Montreal, which has been heavily involved in theatrical productions, both in 3D filmmaking ("Spy Kids 3D," "The Final Destination") and green screen CGI ("Sin City," "300").
With that acquisition, Ubisoft has two groups comprising more than 150 people representing the movie branch of the game publisher and developer.
"The beauty of it all is to have all these people working together," said Yannis Mallat, CEO of Ubisoft Montreal. "In terms of technology, scriptwriting, settings, visuals and environments, there has been a lot of sharing between the two teams."
"We are convinced that both industry experts can learn and benefit from each other's technical knowledge," Mallat told TheWrap. "By combining some of our expertise, we are convinced that we can bring these mediums to another level."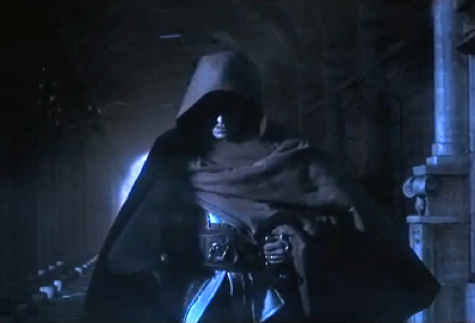 The original "Assassin's Creed," set during the Crusades, sold more than 8 million copies worldwide. In the sequel, updated to the Italian Renaissance, the assassin is named Ezio Auditore and the supporting cast includes such historical figures as Leonardo Da Vinci, who serves as Ezio's gadget creator.
With the short films, gamers will learn the backstory of Auditore's father, Giovanni.
Pierre Raymond, president of operations at Hybride Technologies, said the process employed for "Lineage" is far beyond anything the studio had done, even on blockbuster films like "300."
"The camera movements that we're dealing with are more complicated than what we had on '300,'" said Raymond, who worked with director Yves Simoneau on the three-week green-screen shoot in Montreal. "When you watch the films very closely, you will see that there are a huge amount of small cuts with a certain amount of camera movement to provide the action.
"We told the director that there were no limits with this film when it came to movement of the camera or the actors within the virtual environments."
As game developers, Mallat told TheWrap, "We want to learn how to write and tell better stories. The players are asking for us to be better at that to provide them with a strong game-play experience. The directors and scriptwriters of the movie business have a much longer experience than us in that field — and we need to learn from them. By combining some of our expertise, we are convinced that we can bring these mediums to another level."
These short films are just the beginning for Ubisoft, he said. Last year, Ubisoft bought the rights to the Tom Clancy brands, gaining the ability to create original Clancy movies, comics and TV shows. Though Mallat said it's "way too early" to know exactly where it will go with the franchise, he said Ubisoft will continue to build its movie division and will have about 500 people in that branch of the company by 2013.
And in July Ubisoft announced it will build a new development studio in Toronto that will employ 800 people over the next decade. Mallat, who will head that studio when its doors open, said Toronto will become part of the company's Hollywood convergence strategy moving forward.