When Pres. Barack Obama rolls into L.A. next Monday, shaking his tin cup at a pair of big ticket fundraisers at the House of Blues and Fig & Olive, he'll find Hollywood a chillier place than last time around.
To many A-listers and moguls, 2008 seems a very long time ago.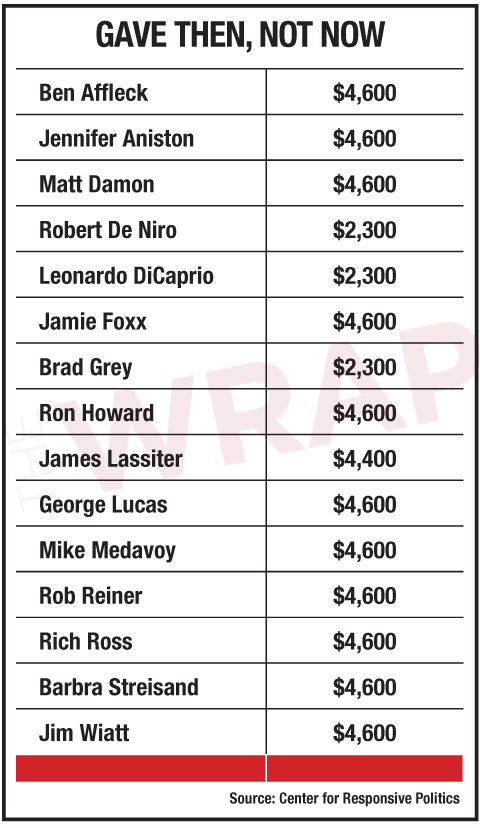 Turn on the TV, and you'll find past Obama boosters such as Jon Stewart and Bill Maher ripping into the president with the kind of satiric venom they once applied to George W. Bush.
The enthusiasm drain for the commander-in-chief was very much in evidence at TheGrill, TheWrap's media leadership conference, earlier this week.
Also read: The Media's Michele Bachmann Obsession: Tough Reporting or Sexism?
"It's called 'yes we can,' not 'yes we can wait for Obama,'" Will.i.am said. The Black Eyed Peas star said that he preferred to concentrate on his own grass-roots efforts to improve America's educational system.
He's still given the maximum amount to the president's re-election efforts, but he may not be helping any campaign videos go viral this year.
And kick-off speaker and former Yahoo and Warner Bros. chief Terry Semel said he was sorry that President Obama hadn't delivered on his promise to dial down the country's military adventures.
"I just wish our country would stop engaging in all these different wars that we've been involved in," Semel said.
Also read: Obama, Romney, Perry Take Note: Twitter Offers Political Ads
Of course, the entertainment business continues to be a major source of lucre for the president's re-election efforts.
This time, breaking bread with the president at Fig & Olive in West Hollywood will reportedly set supporters back $35,800 a couple.
The House of Blues event will feature "Modern Family's" Jesse Tyler Ferguson, rap singer B.o.B, and the Gay Men's Chorus of Los Angeles, and costs between $250 to $10,000.
Those are pricey tickets, but Hollywood's good for it.
After all, employees at Comcast comprise the biggest block of Obama contributors with nearly $200,000 given to the campaign, according to the Center for Responsive Politics.
Other top clusters of Obama givers include the Creative Artists Agency ($111,900), DreamWorks SKG ($107,400) and Sony Corp. ($95,900).
Moreover, the industry's leftward slant will mean that Monday's pair of events will be first in a long-line of fundraising jaunts to the West Coast.
All told, Los Angeles is the top giving metropolitan area for the re-election effort, having shelled out a total of $5.2 million through June.
Sony chief Michael Lynton, DreamWorks Animation head Jeffrey Katzenberg and uber-agent Ari Emanuel rank among Obama's chief bundlers, the mega-fundraisers who max out and then gather donations within their social circles on behalf of the campaign.
George Clooney, Tom Hanks, and Warner Bros. Pictures President Jeff Robinov have all maxed out.
But it's not 2008, when the likes of Robert De Niro and will.i.am joined then candidate Obama on the campaign trail or recorded celebrity-stuffed music videos.
Though recent Obama fundraisers in Los Angeles have drawn Steven Spielberg, Sony Entertainment Chief Amy Pascal and John Wells, many of the bold-faced talent that caught Obama fever the last time seem to have cooled off this election cycle.
Oprah Winfrey's endorsement may be credited with helping Obama best Hillary Clinton in the Iowa Caucus, but campaign filings indicate the talk show queen has yet to take out her checkbook.
Also keeping the purse strings clinched are George Lucas, Barbra Streisand, Leonardo DiCaprio, and Walt Disney Studios Chairman Rich Ross, all of whom maxed out last cycle. (See accompanying chart.)
It could just be they're saving the powder for when the general election heats up, but some actors and moguls seem less likely to get involved.
Take Matt Damon or Robert Redford, both of whom have publicly groused about what they see as the president's failures on everything from education to the environment to his basic leadership abilities.
"I really think he misinterpreted his mandate," Damon, who appeared at rallies for Obama in 2008, told CNN's Piers Morgan recently. "A friend of mine said to me the other day, and I thought it was a great line, 'I no longer hope for audacity.'"
So intense is the disappointment, that one prominent Hollywood Republican, former MGM chief Harry Sloan, thinks there could be an ideological shift in the industry.
By focusing on the economy, and leaving social issues like abortion and gay rights on the back burner, Sloan said he believes more figures in the entertainment business could find themselves inching under the GOP tent.
If that happens, Obama's next Hollywood visit could be the equivalent of touching down in Orange County.
Joshua L. Weinstein contributed to this report