"The Original Kings of Comedy" helped turn Bernie Mac, Steve Harvey, Cedric the Entertainer and D.L. Hughley into household names, but it was Walter Latham who conceived the original tour.
It's also Latham who owns the rights to the footage, which he will put to good use with the launch of his YouTube channel, "Walter Latham Comedy," this week.
The North Carolina-based entrepreneur, who has worked with Chris Tucker, Chris Rock and several other prominent comedians, is quick to note he is the only black non-celebrity to get his own channel as part of YouTube's original programming initiative.
"I'm not Jay-Z, so I have to deliver," he told TheWrap.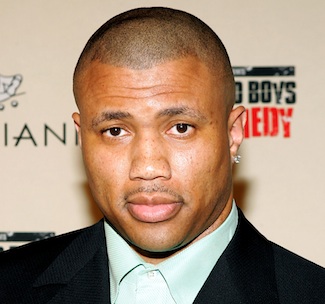 He convinced YouTube by combining his trove of original content, which includes "Original Kings of Comedy," "Queens of Comedy," "Bad Boys of Comedy" and "Latin Kings of Comedy," with a bevy of new shows like "Comedy After Dark," a comedy show filmed in a strip club.
TheWrap caught up with Latham, who owns a three-year deal with YouTube and a seven-year deal with Paramount Digital, to discuss his plans for the channel, comedy in the YouTube era and finding the next Bernie Mac.
Besides all of the archival footage, what kinds of shows can viewers expect from this channel?
There's "Comedy After Dark," which is a stand-up show hosted by Jenna Jameson, Rosa Acosta, Carolina Catalino and Trina. It's real sexy; we filmed the show inside of an adult club but you can't really tell. Jenna did all of her intros on the pole.
It's not a typical comedy show where the whole hour is in the club. We shot some stuff on a yacht, on the beach, in mansions.
What kinds of comedians performed?
All the stand-up was done in-house with 31 comedians from all over the country. We filmed an early and a late show.
Some of the names you will not know, but this is what you have to know. When I went to show "Kings of Comedy," it took me two years to get a deal. Every studio, everyone — even little ones — all said comedy concert films do not work. And who is Bernie Mac? They had never heard of him.
Why are you so convinced "Original Kings of Comedy" can find an audience on YouTube?
If you look up when "Kings of Comedy" is on cable and then turn to your phone and go to Twitter and put in "Kings of Comedy," every three minutes there will be 40 tweets about it. It's still relevant today. It's still a brand.
When Bernie Mac passed away, magazines said "King of Comedy." When "Think Like a Man" came out, all the press releases described Steve Harvey as a "King of Comedy." It's almost a part of their name — they should change it on their birth certificate.
That's not a bad idea.
I talked to a guy the other day who liked one of my Bernie Mac clips, a white advertiser. He had an accent, so I asked him where he was from and he said," Norway." I'm like, there's white dudes in Norway who like Bernie Mac?
So you have wanted to do this for some time; what took so long?
Five years ago [Google's director of content partnerships and former Paramount executive] Malik Ducard and I had a conversation. With all the comedy I have — and I own all of it and the brands — there are so many opportunities with phones, we figured there was something we could do with it but didn't know what. We had the right idea at the wrong time.
Then a few years later when I called Tom Lesinski out of the blue and asked who was running Paramount Digital — he used to be in home video — I found out he was running it. He said we should have done this years ago and set up a meeting, but now all those guys are no longer there.
And then what happened?
I wasn't getting any money upfront, and that wouldn't work for me. Malik eventually left Paramount said to give him a couple months. He went to Google, and I was one of the first people to pitch my channel to YouTube. We knew each other for years and when they started awarding channels I got one.
What advice have you gotten about how to build out the channel?
I had a meeting in New York with Jon Miller at News Corp., and he said, "You don't have to be just a black comedy channel; you want to be a black network. You don't want to be BET; you want to be Viacom. Comedy and sports build networks and studios." Ever since he said that, I've been thinking about what we could do in sports that fits our demo.
We have the money to do it so I would love to figure out something in sports.
It's hard to quantify success on YouTube. How will you do it?
When you make the deal with YouTube, you list what you're going to deliver. As long as you hit those benchmarks, whatever else you deliver is gravy. I shot 3.8 terabytes of material for "Comedy After Dark." We'll never run out of material. We only need 24 five-minute shows. I may put up 45 shows because I have so much and why not.
Having worked with Chris Rock, Bernie Mac and so forth. How have YouTube and social media changed comedy?
With this new medium you find the next Chris Tucker or Bernie Mac faster than you would have 10 years ago. Kevin Hart made himself famous. He's funny, but I know a lot of funny guys too, guys who are way funnier than him. He made himself popular on Twitter, on YouTube, on Facebook and now people know Kevin Hart. When he goes out and does a show, they sell and he makes them laugh.
There are a lot of people that can do that and be just as big as Bernie.