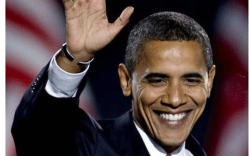 Obama will make one of his rare bows to Hollywood Monday night when he appears at a fundraiser to raise money for the Democratic Congressional Campaign Committee at the home of "ER" and "West Wing" producer John Wells.
Wells, who is also president of the Writers Guild of America West, and his wife, Marilyn, are part of a who's who of Hollywood Democrats co-sponsoring the event.
Among others are Katie McGrath and J.J. Abrams; DreamWorks Animation CEO Jeffrey Katzenberg and his wife, Marilyn; Kate Capshaw and Steven Spielberg; Barbra Streisand; and venture capitalist Tom Unterman and his wife Janet.
House Speaker Nancy Pelosi, and Rep. Chris Van Hollen, D-Md., the chairman of the Democratic Campaign Congressional Committee are also schedule to attend.
The money raised is slated to be used to elect House Democrats this fall. Tickets to the event are $2,500 and a commitment as a co-host cost $30,400.
In a contest earlier this year the committee offered two tickets to the event as a prize. Debra Decker of Phoenix won the tickets and is bringing her daughter Amber.