To get the word out for their "Force For Change" charity raffle, Lucasfilm released a new video in which directors Phil Lord and Chris Miller offered a surprise glimpse at what they're working on for the upcoming Han Solo anthology film.
The video starts with Warwick Davis offering fans a rather boring tour of the set of the new film, taking fans through parking lots and vending machines since showing anything actually involving the movie would involve breaking Lucasfilm's no-spoiler policy.
---
Also Read: 'The Fate of the Furious' Beats 'Star Wars' for Global Box Office Opening Record
---
But after Davis shows off the "Millennium Falcon of on-the-go snacking," Lord and Miller interrupted the tour to show off something actually interesting: a new, six-eyed alien, who seemed rather surprised to have the camera turned on him.
The "Force For Change" raffle, which is being held in support of UNICEF and Starlight Children's Foundation to help support kids with life-threatening illnesses, is offering three huge grand prizes to one lucky "Star Wars" fan: a trip to Skywalker Ranch to watch the original 1977 film, a trip to the premiere of "The Last Jedi" in December, and a trip to the set of the Han Solo film to meet the cast and crew and appear in the film as an extra. The drive is also offering perks to people who pitch in, ranging from "Star Wars" t-shirts to collectors' items to — for the really big donors — a private screening of "The Last Jedi for 20 people.
To check out the prizes and to enter, go to the "Force For Change" Omaze page here.
'Star Wars: The Last Jedi': Let's See What We Can Learn From These 25 Trailer Shots (Photos)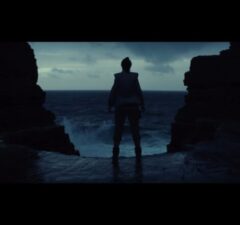 (Tap photo and swipe to view gallery)