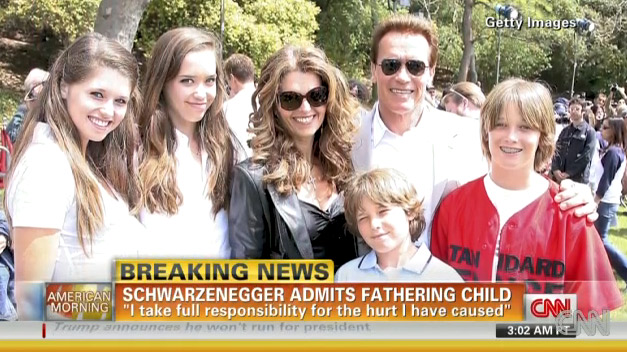 UPDATE 2:04 p.m. PT
The news about Schwarzenegger's secret child has driven news coverage at many outlets on Tuesday, with Gawker publishing pictures of the former governor's purported love child, who may or may not be the same one alluded to in the L.A. Times story that broke the news earlier in the day. TMZ, meanwhile, reported "numerous late night rendez-vous" with various women at his Santa Monica office.
EARLIER:
The news that Arnold Schwarzenegger had secretly fathered a child with a former household staffer — which broke overnight — led virtually all morning talk shows and American news websites on Tuesday.
As of 10 a.m. ET, the Los Angeles Times, which broke the story, continued to run its scoop at the top of its homepage, but had yet to weigh in with a follow-up — linking instead to a six-day-old roundup of friends' reactions to Schwarzenegger and Maria Shriver's split.
The New York Post teased what may be the front-page headline for Wednesday's print edition, slapping "TRUE LIES" above an Associated Press report:
Elsewhere, the Sydney Morning Herald dubbed Arnold "The Paterminator."
NPR points out that news of the child brings Schwarzenegger's political career full circle, "[reminding] us about what it was like in 2003 when the Hollywood star got into politics."
"Women Say Schwarzenegger Groped, Humiliated Them," the [L.A.] Times wrote back then, just days before the special recall election that put Schwarzenegger into office. That kicked off a frenzy of stories about allegations that "on movie sets, in studio offices and in other settings over the last three decades," he had acted boorishly. Back then Schwarzenegger, while saying that not all the allegations were true, apologized to anyone he offended and admitted that he had sometimes "behaved badly." Shriver stood by her husband. He was elected governor.
CNN, which reported the news at the top of its 6:00 a.m. (ET) "American Morning" newscast, grabbed Casey Wian from Sacramento's KCRA television station to contribute to the report.
"It's hard to believe Schwarzenegger could become more controversial after his two terms as governor than he was during," Wian said. "But he has."
TMZ claimed they "heard about the baby 5 days ago, but everyone in the Schwarzenegger camp was denying it." Sources told the site that Shriver "completely distraught" and though she has not "pulled the trigger to end her marriage on the legal side" she had "been working with powerful financial adviser who has been helping her position herself for a divorce."
TMZ also reported that Oprah Winfrey is leading "a swarm" of television producers trying to snag an interview with Maria, and that some TV syndicators "want Maria to do a daily talk show."
It's worth noting that while the New York Times put the story on its homepage, its nowhere to be seen "above the fold" — that is, unless you count the oversized ad for the video game "L.A. Noire."
On NBC's "Today" show, HollywoodLife.com's Bonnie Fuller and psychiatrist Gail Saltz weighed in on the love child news.
Fuller said the fact that Schwarzenegger kept the secret for 10 years — to protect his political career and marriage — hurts Shriver's image. "It makes her look like a fool."
The only "day-two" story I saw published in the hours since news of the love child broke was delivered by Babble.com, which asked, "How Painful Must This Be For The Kids?" — though it doesn't contain much news:
Former California Gov. Arnold Schwarzenegger and Maria Shriver separated after she learned he had fathered a child more than a decade ago before his first run for office. The worst part is, it was with a household staff member who worked for the family for 20 years! How must their children feel? After Schwarzenegger acknowledged the paternity earlier this year, Shriver moved out of the family's Brentwood mansion. Did their children go with her?
Babble does not appear to know the answer, opting to instead to respect the wishes of the Governator: "I ask that the media respect my wife and children through this extremely difficult time."