Harvey Weinstein sparred with MPAA president and CEO Chris Dodd over the rating of "Bully" Thursday evening in Washington, suggesting that the Weinstein Co. might release the documentary without a rating rather than submit to the R assigned to it by the organization.
While it's usually bad business to release a film without a rating, Weinstein said he feels emboldened to consider it because the "courageous" AMC Entertainment head Gerry Lopez signed a petition calling for a PG-13 rating.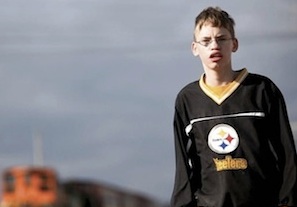 Also read: 'Bully,' With Its R Rating, Gets an MPAA-Hosted Screening – and Harvey Will Be There
The MPAA has stood firm on its R-rating for the documentary, based upon a fusillade of F-bombs during one scene in the film's first five minutes, despite an appeal by Weinstein and a growing petition drive for the lower rating.
Also read: MPAA Praises Teen 'Bully' Crusader But Won't Change Rating
During a panel discussion following a screening of the film at the MPAA offices, Weinstein noted with a touch of incredulity that the film "Hunger Games," would be released next week, in which "10 teenagers get killed… and it's rated PG-13."
Dodd said that the rating controversy should not take away from the powerful message in "Bully," "a great film that can have a huge effect."
He hinted that the simple removal of the offending language would do the trick. He also suggested that another option was to release the film without a rating, as 44 percent of the films released in 2011 had no rating.
"It's stepping all over the experience of these kids and the impact this movie can make," director Lee Hirsch shot back. "The R does matter."
Also read: Weinstein Co. Considers Leaving MPAA Over 'Bully' Rating
The R rating is objectionable to those who support the film's message because they feel it would undermine the breadth of its reach, since many parents would be hesitant to allow their children to attend.
The Weinstein Co. co-chair, who was in the nation's capital for the White House state dinner on Wednesday, told the crowd that many there mentioned Michigan teen Katy Butler's crusade for a PG-13 rating. Her petition has garnered approximately 300,000 signatures, with ever increasing star quality.
According to Weinstein, Michael Jordan had agreed to sign on, joining Meryl Streep, Johnny Depp and New Orleans quarterback Drew Brees, to name but a few.
Kelby Johnson, one of the central figures featured in the documentary "Bully," was joined at the screening with Alex Libby, along with the parents of Tyler Long, the 17-year-old Georgia boy who committed suicide as a result of bullying.
"Since when did curse words become more important than children's lives?" Johnson pointedly asked Dodd.
"Our reality is not censored," the 17-year-old lesbian continued.
Butler was also there, as were Washington D.C. School Chancellor Kaya Henderson, who said that she supported showing the film in the district schools regardless of the rating, and pediatrician Dr. Joseph Wright of the Child Health Advocacy Institute at Children's National Medical Center.
But it was David Long, the bereaved father of the deceased Tyler Long, whose voice and perspective resonated most.
"A picture's worth a thousand words," he said to the hushed audience. "Thousands, if not millions, of parents and children are crying for our help."
He said the only way to end the scourge of bullying was to create an energized, critical mass determined to end it. To saddle "Bully" with R-rating, he said, "That's a setback."
The film is scheduled for release in New York and Los Angeles on March 30.
Canada has announced its decision to give the film a PG rating. It is scheduled to open there April 9.