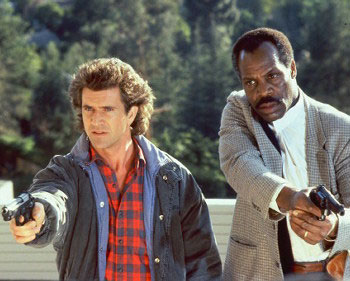 (Update 8 p.m. PST: Warner Bros. and producer Joel Silver have set former LAPD officer Will Beall (WB's "Gangster Squad") to write "Lethal Weapon," reports Deadline. The plan is to relaunch the buddy cop franchise with a new cast. Beall's take maintains the edgy, hard-R tone of the original.)
For years, rumors circulated around Hollywood that Warner Bros. was considering moving forward with "Lethal Weapon 5."
While director Richard Donner said another sequel was "dead in the water" as of Oct. 2008, it remained a distinct possibility due to the global selling power of the hit action brand.
However, now that star Mel Gibson has squandered the good will he got back after his first run-in with police, it's safe to say you won't be seeing him playing LAPD officer Martin Riggs again anytime soon.
That said, there may still be life in the "Lethal Weapon" franchise, but in the form of a reboot, not a sequel.
Longtime Warner Bros. exec Jessica Goodman left the studio at the end of the year and her portfolio of projects has been reassigned to other execs, according to the Hollywood Reporter.
Among the titles are several high-profile projects in need of rescue from development hell. In addition to a proposed "Lethal Weapon" reboot, there are long-gestating remakes of "The Wild Bunch," "The Dirty Dozen," "Westworld," "Tarzan" and "Oh, God" that will be getting a new lease on life.
THR suggests that WB consider its "The Town" star Jeremy Renner to replace Gibson, an idea I also endorse. Perhaps Renner could re-team with his "Hurt Locker" co-star Anthony Mackie, although at age 31, he isn't exactly "too old for this s**t," as Danny Glover famously said in all four movies.
Regardless of what happens casting-wise, the idea of a "Lethal Weapon" reboot remains an intriguing possibility, though I'm a sucker for interracial cop movies.
Stay tuned to Deal Central to see if some of these newly-revived projects gain any traction at the studio.