Scandals are the bread and butter of reality television, and 2015 didn't disappoint when it came to revelations that shook up the pop culture landscape.
Of course, despite the Duggars and Donald Trump and fraudulent Housewives, not all big reality TV moments were bad this year.
Caitlyn Jenner became a pop culture icon, "The Jinx" gave audiences a true stranger-than-fiction ending and "Project Greenlight" producer Effie Brown became a champion of the film industry's under-represented by taking on Matt Damon, of all people.
Also Read: Josh Duggar's Brother on Reality Star's Sex Scandal: 'It Broke My Heart' (Video)
Below are seven of the biggest moments, revelations and decisions that shook up the reality TV world in 2015.
The Duggars uncovered
Perhaps the biggest reality TV scandal of the year, InTouch Weekly uncovered a decades-long secret kept by the stars of TLC's "19 Kids and Counting" – oldest son Josh, now 27, molested several young girls when he was a teenager. The scandal came to light in May, and by July, TLC officially canceled the show. However, the network reached a deal with the family to air a documentary special starring two of the victims and Duggar daughters, Jill and Jessa, as well as future specials.
Also Read: TLC 'Got a Little Bit Unlucky' With Josh Duggar Scandal, Discovery CEO David Zaslav Says

Introducing Caitlyn Jenner
In an interview with Diane Sawyer, former Olympian and "Keeping Up With the Kardashians" star Bruce Jenner revealed he was becoming a woman – Caitlyn Jenner. A Vanity Fair cover reveal, a special episode of "Keeping Up," an ESPY award and her own reality show ("I Am Cait") later, Caitlyn had become a bona fide pop culture icon.
Also Read: Lamar Odom, Caitlyn Jenner, Ronda Rousey Top 2015 Google Searches
"Top Model" ends after 22 cycles
When Tyra Banks created "America's Next Top Model" in 2003, who could have predicted it would last over 20 seasons and spawn over 50 spinoff series all over the world? In 2015, The CW brought the original version of "Top Model" to an end, but its influence lives on, with 14 international editions still in production. And though the current cycle ended with the traditional crowning of a winner, the network will not forget the series' significance. It's planning a series-long retrospective, to air sometime in 2016.
Also Read: 'America's Next Top Model': 13 Most Outrageous Moments (Videos)

Real Housewife behind bars
One of the stars of Bravo's "Real Housewives" franchise began the new year by going to prison. Teresa Guidice, one of the main cast members of "The Real Housewives of New Jersey," and her husband Joe were convicted of fraud, she was sentenced to serve 15 months behind bars and Joe to 41 months. Teresa began her year by turning herself in for her sentence – but is being released just in time for Christmas. But even prison couldn't keep the reality star from TV, as Bravo aired a series of special interviews with Guidice, titled "Teresa Checks In."
Also Read: Teresa Giudice Reveals How Prison Turned Her Back Into a Virgin in 'Teresa Checks In' Finale Sneak Peek (Video)

Donald Trump gets fired from "The Apprentice"
Donald Trump has made many controversial statements that's had all sorts of consequences, but NBC could take no more after he compared Mexican immigrants to rapists and drug dealers. "At NBC, respect and dignity for all people are cornerstones of our values," NBC said in a statement in June. "Due to the recent derogatory statements by Donald Trump regarding immigrants, NBCUniversal is ending its business relationship with Mr. Trump." Trump is out as the host of "The Celebrity Apprentice," with Arnold Schwarzenegger taking over next season.
Also Read: Arnold Schwarzenegger to Replace Donald Trump as Host of 'Celebrity Apprentice'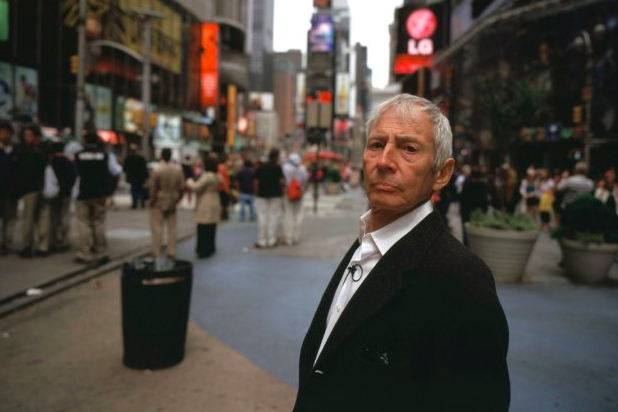 "The Jinx" hot mic
In a case of the truth being stranger than fiction, the filmmakers behind HBO's docu-series "The Jinx" could not have scripted a better ending for their project. Robert Durst allegedly did not realize his mic was on during a run to the bathroom, and the words "What did I do? Killed them all, of course" were caught on camera. It was the most chilling, seemingly spontaneous and unscripted moment of television all year.
Also Read: Robert Durst's Attorney Says 'The Jinx' Star 'Was Tricked' by HBO (Video)

Matt Damon starts a race war on "Project Greenlight"
In the very first episode of HBO's resurrected reality series following a first time director directing his first feature, Matt Damon landed in hot water when he dismissed fellow producer Effie Brown's concerns about diversity. The comment went viral, Damon issued an apology, but the discussion would turn into a season-long arc on the show, with Brown emerging as a voice for women and people of color who work in the film industry fighting against oppression from white male figures at every turn.
Also Read: 'Project Greenlight' Winner Jason Mann Defends Matt Damon Diversity Comments