Summer is around the corner, which means that blockbuster movies and their ubiquitous brand partnerships will soon stage a full-on assault on your senses. Superheroes, transforming trucks, mutant amphibians — they will be absolutely everywhere.
Luckily, smart moviegoers can find some alternatives if they're willing to look hard enough.
See photos: 49 Summer Movies on Our Radar: From 'Amazing Spider-Man' to Tina Fey's Next Comedy
While spring and fall are generally the best time for independent films to shine, there is a solid list of festival hits and star-driven passion projects that will seem like a cool oasis in the blockbuster desert. Stars like Daniel Radcliffe, Mark Ruffalo, Keira Knightley, Scarlett Johansson and the late Philip Seymour Hoffman all have movies coming out this summer — here's a breakdown of what looks good in the coming months.
Also read: 21 Summer Movies We're Dying to See – From 'Transformers 4' to 'Godzilla'
TRACKS
Cast: Mia Wasikowska, Adam Driver
Director: John Curran
Release Date: May 23
Danger: Right as blockbuster season really gets into gear, this little movie about a woman walking through the desert has a very good chance of getting overlooked.
Why We're Still Psyched: Reviews unanimously praise Mia Wasikowska's performance, who has seemed like a breakout candidate ever since "Jayne Eyre" back in 2011. The cinematography is grand and epic, the story is true, and Adam Driver is always compelling to watch.
OBVIOUS CHILD
Cast: Jenny Slate, Jake Lacy, Gaby Hoffman, Gabe Liedman
Director: Gillian Robespierre
Release Date: June 6
Danger: Can abortion be funny? Can Jenny Slate, who has mostly played antagonists on TV shows, be a sympathetic movie star?
Why We're Still Psyched: Abortion itself isn't all that funny, but this film proves that it can still be at the center of a comedy. It may not be for everyone, but it's actually a warm film with a star-turn by Slate — who plays a frustrated comedian who gets pregnant during what she thought would be a one night stand.
THE ROVER
Cast: Robert Pattinson, Guy Pearce
Director: David Michod
Release Date: June 13 (Limited), June 20 (Wide)
Danger: Obviously, filmmakers are very worried about the state of civilization, because this is yet another post-economic meltdown film. Haven't we had enough of these to prepare ourselves for the inevitable?
Why We're Still Psyched:
 To be fair, this is no YA book adaptation;
"The Rover"
is a straight up drama with a lot of grit from the looks of it. Hard to say what we'll get with Robert Pattinson, but Guy Pearce is always good-to-great and the film is the vision of director David Michod, who helmed the crackling crime thriller "Animal Kingdom," which bodes quite well for "The Rover."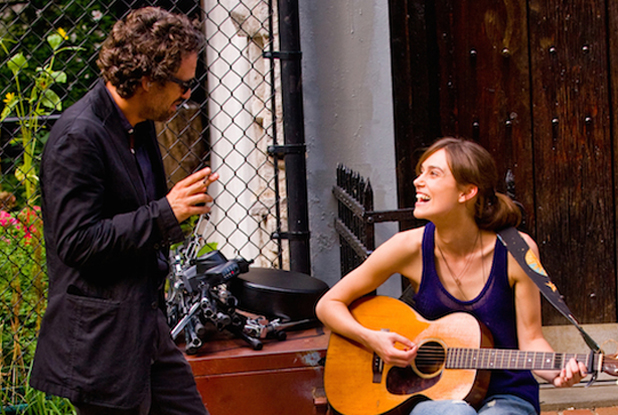 BEGIN AGAIN
Cast: Mark Ruffalo, Keira Knightley, Adam Levine, Catherine Keener
Director: John Carney
Release Date: July 4
Danger: Well, the name change — it used to be called "Can a Song Save Your Life?" — makes it seem a bit generic. And can Adam Levine really act?
Why We're Still Psyched:
 The name may have changed, but the movie stayed the same, which is welcome news, given the rave reviews it got in Toronto. It has an incredibly likable cast — Mark Ruffalo is sympathetic even as a gigantic green mutant man destroying cities — and
"Once"
director John Carney employs music like a true pro.
BOYHOOD
Cast: Ethan Hawke, Patricia Arquette, Ellar Coltrane, Lorelei Linklater
Director: Richard Linklater
Release Date: July 11
Danger: Well, hard to see a danger here, except that it's a pretty long movie — but not as long as "Wolf of Wall Street."
Why We're Still Psyched: A film made on the hush-hush for more than a decade, Richard Linklater took a chance on a young child actor and made Ellar Coltrane the centerpiece of a grand narrative experiment. The filmmaker returned every year with his daughter, Patricia Arquette and Ethan Hawke, and developed a new chapter in a fictional story that traced a boy's youth and adolescence. The finished product, which was no sure thing, is a stunning accomplishment.
MOOD INDIGO
Cast: Audrey Tautou, Romain Duris
Director: Michel Gondry
Release Date: July 18
Danger: This is a surreal romance, filled with the fanciful and abstract images and ideas that make Michel Gondry's films absolutely unique. But will it be too weird for American audiences? Or too French?
Why We're Still Psyched: Whether you like his films or not, Gondry always offers up something new and interesting for the eye and mind. And who doesn't love Audrey Tautou?
A MOST WANTED MAN
Cast: Philip Seymour Hoffman, Robin Wright, Rachel McAdams, Daniel Bruhl, Willem Dafoe
Director: Anton Corbijn
Release Date: July 25
Danger:
 A political mystery thriller in the summer? Most people will probably want to go see
"Transformers"
or "Ninja Turtles" instead, right?
Why We're Still Psyched: The film, which debuted at Sundance, is one of the last performances of the late Philip Seymour Hoffman, which will make it very worth seeing. It also got strong reviews at the festival, so it's not just a morbid novelty.
WHAT IF
Cast: Daniel Radcliffe, Zoe Kazan, Adam Driver
Director: Michael Dowse
Release Date: August 1 (Limited)
Danger: Daniel Radcliffe's first steps away from Harry Potter involved riding a horse naked, a ghost story, and playing a literary legend — all pretty serious stuff. This is a romantic comedy, and the question is, can he make it work? And does anyone care about romantic comedies anymore?
Why We're Still Psyched: From the initial reviews — back when the film was titled "The F Word" at the Toronto Film Festival — it's all systems go for Radcliffe's rom-com career. He has great chemistry with Zoe Kazan, and a smart script makes this into a winner.
For the record: An earlier version of this post incorrectly included Scarlett Johansson in the cast list of "Begin Again." 
 More of TheWrap's Summer Movies Preview 2014: