No, this isn't about Roman Polanski, though the timing couldn't be eerier.
Don't ask me how I've become the blogger-in-chief for the early '90s — I guess just because I was there. But now that the chickens are coming home to roost, well …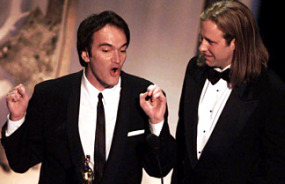 To wit: I was saddened to see in TheWrap yesterday that my old friend Roger Avary — who shares as many Academy Awards as Quentin Tarantino (one-half — they split the screenwriting one for "Pulp Fiction," meaning they either had to slice it in half or share custody) — is now on his way to state prison for a year for drunkenly driving his car at more than 100 mph into a telephone pole in Ojai, killing one friend and nearly killing his wife, Gretchen, who supported him for years while he struggled as an independent filmmaker.
Back up: It was the early '90s and I was leaving Michael Douglas' Stonebridge Entertainment to start a new, independent production company with former Hollywood Reporter and Playboy exec Bruce Binkow (who also goes down in history as one of the first two graduates of the USC Film School's now-legendary Peter Stark producing program). Binkow's best friend at the time was William Morris agent Morgan Mason, the son of the actor James Mason and husband of Go-Go's singer Belinda Carlyle.
Mason had a then-unknown client named Quentin Tarantino, who had just finished a low-budget ($750,000) movie called "Reservoir Dogs" that was threatening to create a stir at the upcoming Sundance Festival, like "sex, lies & videotape" before it. Morgan had another script that Quentin had written called "Natural Born Killers" that he couldn't sell — he offered it to Bruce and me to see what we could do with it.
The minute we read it, we knew it was gold — I made one phone call, to a producer friend of mine named Brad Krevoy (who would go on to fame as the producer of "Dumb & Dumber") and within one day, we had an offer on the table. Ultimately, the deal fell apart — Morris had also offered it to several other producers, who objected to working with Brad (this whole tale is well recounted in "Quentin Tarantino: The Man and His Movies" by Jami Bernard).
To make a long story short, Morgan Mason felt so bad he offered us another project by Quentin's then-best friend, Roger Avary, a young Canadian ad exec who had dropped out to rent out videos at the infamous Manhattan Beach video store where both he and Quentin worked. (It was during all those long nights that they studied the obscure Hong Kong and French films like "Bob le Flambeau" that became the basis of their filmmaking styles.)
At various periods, Quentin also slept on the floor in Roger's spare room while pounding out "True Romance," "Natural Born Killers" and "Reservoir Dogs." In fact, Roger tells a funny story about how the title of "Reservoir Dogs" came about — since there are neither reservoirs nor dogs in the movie!
Apparently, walking back to Roger's apartment one night, Quentin was all worked up about a Francois Truffaut film they'd just watched called "Au Revoir, Les Enfants" (Goodbye, Children.) The problem was that Quentin, a dropout, couldn't speak French and kept mangling the title in guttural English into "Reservoir Dogs" until Roger, cracking up, finally told him that should be the title of his new movie.
Anyway, Morgan Mason at Morris kept telling us about this script. We finally met Roger, liked him (as a former art director, he actually drew the logo and business cards for Thunderbird Pictures, which we still use) and we agreed to produce his film "Killing Zoe," about an American safecracker recruited by a French friend to rob a bank in Paris, where he meets and falls in love with a French hooker.
Just like at Tarantino/Avery production, almost everyone ends up dead in the end. Worse, what Morgan didn't tell us was that every studio in town had passed on the script — the consensus was that Roger Avary was no Quentin Tarantino. On the other hand, Bruce and I weren't quitters, so we found a foreign-sales company headed by a former New Line exec named Jeff Schechtman to take the film to the Cannes Film Festival.
We knew "Reservoir Dogs" would be premiering there and we cut a deal with Quentin and his new producing partner Lawrence Bender to lend their names to the production as "executive producers" (though Quentin only showed up on the set for one day — and I'm not sure Lawrence ever did — they were worth the $100,000 they got paid simply because we could get a big headline in The Hollywood Reporter: "'Dogs' Director to Produce 'Zoe'.)
We threw a party at the Rado Plage on the beach the day after the "Dogs" premiere. Tim Roth and Michael Madsen from "Dogs" showed up to lend it some class and before the day was over we'd raised the entire $2.2 million budget, half from the French distributor of "Dogs" (who knew it would be a big hit) and the other half from a Toronto financier who had financed half of Schechtman's "Heathers" when Jeff was still at New Line.
Unfortunately, between that Cannes of '92 and the start of production, something called a "recession" kicked in (remember, that was the year Bill Clinton got elected by repeating "it's the economy, stupid!") and, eventually, our Canadian partners couldn't come up with their half of the money. The French company, however, having made a fortune on "Dogs" in France, wasn't about to quit and came in and bought everyone out.
There were some arguments — Quentin and Lawrence still got their full fees — but Bruce and I had to settle for less (though, for a low-budget film, we still didn't do badly.) And, of course, we remained friends with Roger, who knew who had actually done the hard work of getting his film made. (It's still one of my favorites … you should rent it sometime!)
So you can imagine how dismayed I was by these latest turns of events. I just missed Roger at the sci-fi convention ComicCon in San Diego three years ago, when he was promoting "Beowulf," his $150 million bomb directed by Robert Zemekis (it grossed just $82 million — less than half made by "Alvin and the Chipmunks!") And now he's going to prison.
Well, I guess, as they say, when the worm turns, you can't stop it.
All I can say is pray for him — he always fought for me.