Strong grosses for "Avatar: The Way Of Water" and "Avengers: Endgame" position the South Asian country as a potential growth market for Hollywood
India may be slowly positioning itself as Hollywood's next international target for a box office boost.
"Avatar: The Way of Water" has set another box office record in India with a $55 million-and-counting running total. The U.S. gross is still second behind "Avengers: Endgame" and its $62 million gross in 2019. However, it has earned more in Indian currency than the MCU sequel, making it the most successful Hollywood movie ever in India.
Become a member to read more.
While James Cameron's 3D sequel has rebounded in China, with $193 million-and-counting and a just-announced extension through the Lunar New Year on Jan. 22, it continues a pattern of Hollywood films earning far less than previously expected pre-COVID in what is still the biggest overseas marketplace.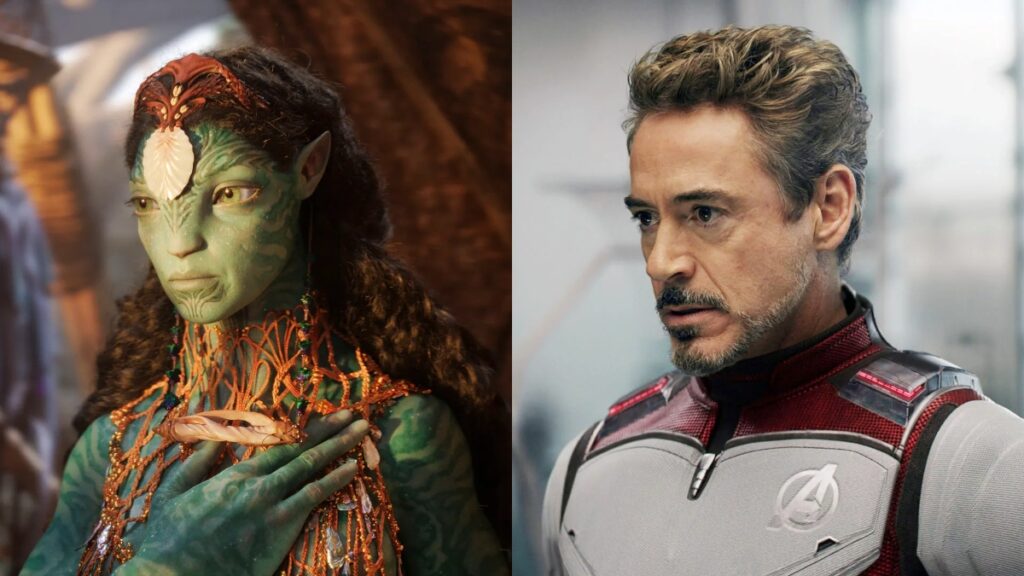 "The financial allure of China is waning, and Hollywood is a few steps behind," Asian Studies professor Deepak Sarma of Case Western Reserve University told TheWrap. We've already seen rumblings of Apple moving some of its production facilities from China to India.
"Everyone was China-focused to take advantage of the open marketplace, to reach the open demographic," noted entertainment attorney Stephen Saltzman.
The head of the international entertainment group at the law firm Fieldfisher posited that "once that diminishes, Hollywood is going to focus elsewhere."
If Hollywood de-prioritizes China, while taking what they can in terms of theatrical grosses and theme park revenue, Sarma argues that India could be a contender for most-favored foreign nation status.
India's box office — and Indian cinema — was on the upswing until COVID
In 2019, India's theatrical release output ranked third behind China and North America with $2.7 billion with domestic, overseas and post-theatrical revenues. Around $1.6 billion of that came from theatrical grosses alone, according to Comscore.
That overall figure was expected to grow to $3.7 billion in 2020 and to $4.3 billion by 2024. The COVID-19 pandemic did understandable damage to the industry — especially for smaller, single-screen theaters — and the 2021 box office total was just $500 million, 14% of which came from Hollywood movies. That 2019 total — current exchange rates notwithstanding — was essentially tied with China's $2.74 billion box office in 2012, which is when Hollywood started aggressively pursuing the Chinese marketplace.
"There's little doubt the vast diversity of India's 1.4 billion people presents opportunities but also challenges for Hollywood's cultural relevance," noted former president of DMG Entertainment Chris Fenton, who has worked extensively in China.
Hollywood must continue to convince a nation which is home to over-the-top actioners like "War" and the upcoming "Pathaan" that Tinseltown tentpoles are an essential part of their cinematic diet.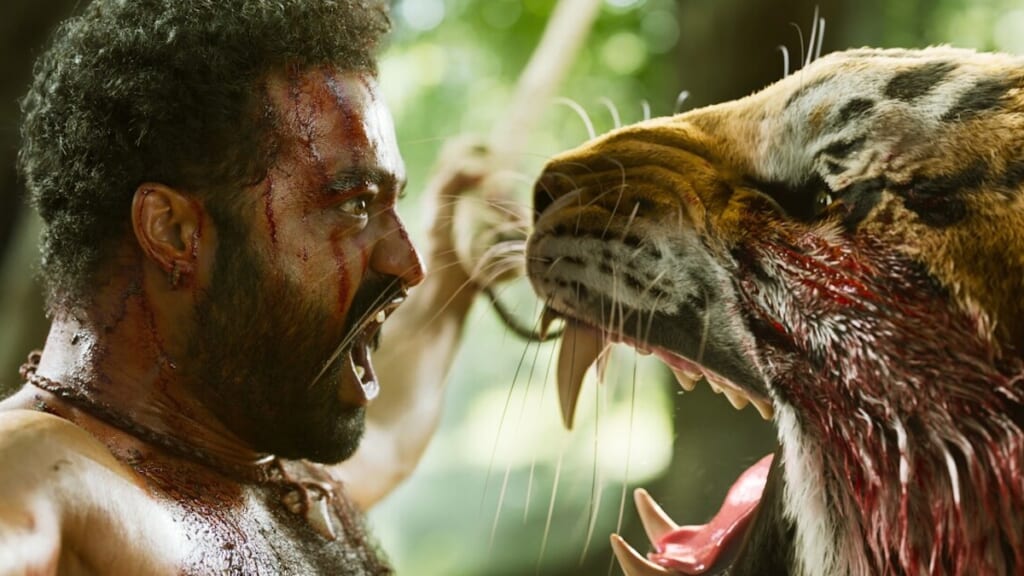 Concurrently, the likes of "RRR" — having earned $150 million global with serious awards buzz — and "Dangal" — which earned $193 million of its $303 million global total in China alone — have proved to be successes outside of their home country. That stands in contrast to the global theatrical revenues for Chinese blockbusters like "The Wandering Earth" or "Detective Chinatown," which have been mostly confined to China.
At least one high-ranking exhibition executive noted that India is a more challenging territory compared to China or much of Europe due to "a dominance by local films, low ticket prices and a number of its theaters that are in such poor quality that Hollywood movies won't play there." Movie tickets in India can cost as little as $1.00, but India has nearly 12,000 screens, behind only North America's 35,000 theaters and China's 65,000 auditoriums in nationwide saturation.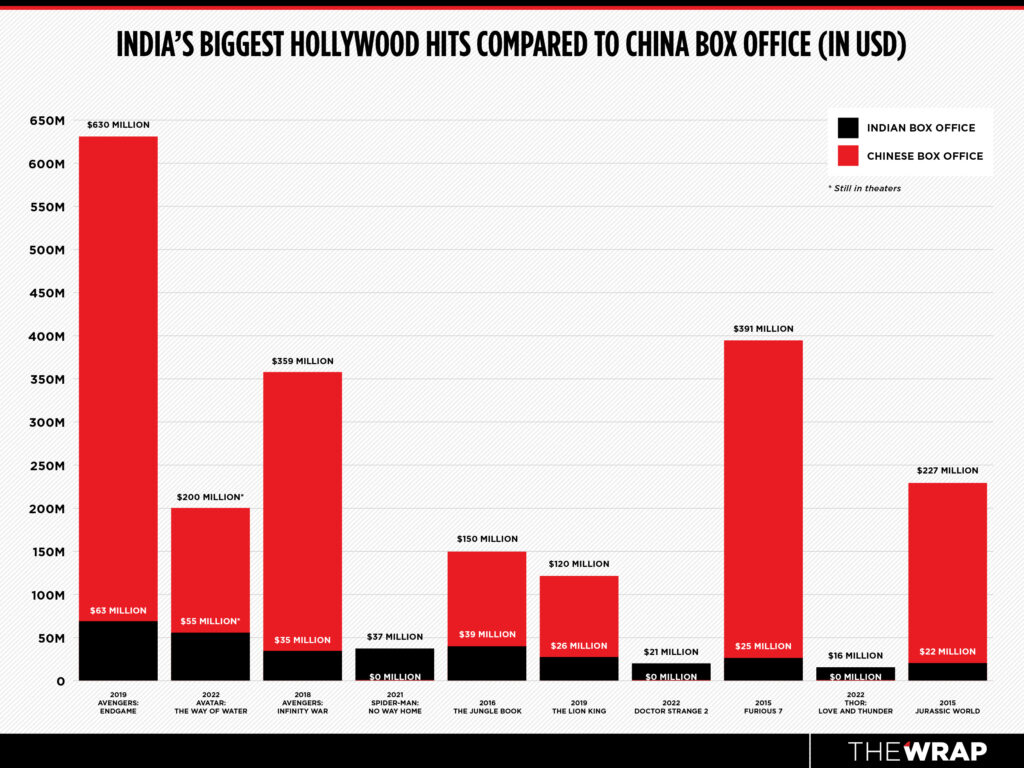 Hollywood's theatrical revenues from India are still far lower than North America or China
Film critic and pop culture writer Siddhant Adlakha explained to TheWrap that exchange rates, lower ticket prices and just lower grosses overall have thus far kept India on a different plane. "Godzilla vs. Kong," for example, grossed $188 million in China but just $8.9 million in India.
India's biggest grosser, S.S. Rajamouli's "Baahubali 2: The Conclusion," grossed $210 million in India in 2017. That's notably below China's biggest grosser, "The Battle at Lake Changjin," with $855 million in 2019. It's also below Japan's biggest local earner, "Demon Slayer: The Movie," with $386 million in 2020.
There's also the matter of India's rising middle class. Of a total population of 1.4 billion, about a third of the populace qualifies as middle class — defined as households earning between $6,700 and $40,000 per year. That figure is expected to rise to 41% by 2025 and to double over the next 25 years to around 1 billion people.
A quarter of India's middle class lives in 63 of the country's biggest cities and currently generates 29% of the country's disposable income. As more climb the ladder of economic mobility, it stands to reason that more Indian citizens will spend more disposable income at the multiplex, especially if public and private forces can solve macro-sized problems related to infrastructure and shortages in housing.
Sarma stated that COVID made theatrical moviegoing too expensive for the Indian middle class, while ongoing uncertainty about COVID waves kept citizens on the fence about attending a movie. However, "Indian movies are meant and intended to be watched and enjoyed communally." While much of the middle class has wanted to stay away (due to pandemic variables), "the urge and need for the shared experience will work to the advantage of the Indian film economy."
Disney gained a foothold via localization — and buying Fox's existing footprint
Meanwhile, the "biggest Hollywood grossers ever" list shows a near monopoly by Disney and MCU titles.
"Disney has found great success thus far in localization," Adlakha explained to TheWrap. Disney released "Avengers: Endgame" — which became the sixth highest grossing film of all time in India — not in English, but in languages like Hindi, Tamil and Telugu.
Adlakha further explained that some American films court major stars for dubbing, like Ranveer Singh in the Hindi version of "Deadpool 2" and Shah Rukh Khan in the Hindi version of "The Jungle Book."
Hyde Park Entertainment Group CEO Ashok Amritraj explained that some of Disney's current marketplace advantages were due to Fox having a major footprint, not just through the Star TV satellite channel, which Disney inherited (along with the "Avatar" franchise) when they bought Fox in 2019.
Meanwhile, Marvel movies — which make up five of India's top 10 biggest Hollywood grossers — have been absent from China since "Spider-Man: Far from Home" earned $200 million in the Middle Kingdom in 2019.
Will India require the kind of artistic compromises demanded by China?
Hollywood took some grief for the extent to which it kowtowed to China and sometimes allowed China's values to overshadow American cultural priorities. Switching from "pandering" to China to "pandering" to an increasingly right-wing Indian government could just result in the same cultural compromises.
Not so fast, countered Adlakha as he explained that "Hollywood isn't fighting for a limited number of release slots. The aforementioned Hollywood franchises already have a pop culture foothold in India." The only real government entanglement, explained Adlakha, is the Central Board of Film Certification.
That's less of a pass/fail and more about getting a specific rating, namely an A for adults, a U for everyone or a U/A which is the equivalent to a PG-13. Yes, Adlakha clarified, some biggies like "The Girl With the Dragon Tattoo" and "Fifty Shades of Grey" were denied admittance due to sexual content, but that wasn't a major factor for recent stereotypical big-budget Hollywood tentpoles.
Expect to see Indian movie stars in Hollywood franchise films
Adlakha stated that the movie star system still matters in India, yet none of Hollywood's current crop save for arguably Tom Cruise qualifies as a draw. We thus may see well-known Indian movie stars added into ensemble casts for big-scale Hollywood tentpoles.
Deepika Padukone co-starring in "xXx: The Return of Xander Cage" and Dhanush appearing in Netflix's "The Gray Man" — as a morally conflicted mercenary who survives to co-star in a theoretical "Gray Man 2" — was no coincidence. The late Irrfan Khan had previously offered his droll, deadpan intelligence to "Jurassic World" and "Inferno." Speaking entirely hypothetically, don't be shocked if someone like Tiger Shroff — from the "Baaghi" trilogy — pops up in "Fast and Furious 11" or "Avengers: The Kang Dynasty."
India is more likely to supplement China than outright replace it
"India may become a growing box office target," Adlakha argued, "but it's unlikely to wholly replace China anytime soon."
Amitraj said that theatrical revenue for Hollywood blockbusters will trend upward, but that it will be a "gradual increase" due to the strong local market. "I don't know and somewhat doubt that it will ever equal the $100-$200 million grosses that Hollywood had, until recently, become accustomed to in China."
Nonetheless, if the Middle Kingdom's value to Hollywood really is on the downturn, and India can continue a COVID-era recovery as economic mobility trends upward, it may position itself as a viable candidate for one of Hollywood's new best friends. After all, Hollywood's pursuit of Chinese box office was partially intended to supplement, but not entirely replace, once-robust DVD sales.
Fenton, also the author of "Feeding the Dragon: Inside the Trillion Dollar Dilemma Facing Hollywood, the NBA, & American Business," said that "the rewards for a proper approach to that market could mirror what we had hoped for from China."
Recall that Hollywood once celebrated "The Fugitive" earning a whopping $3 million in China.