Despite its use as shorthand for theatrical movie revenue, the actual physical box office has been declining in importance. Every year, more and more people are buying tickets online, either directly through theaters or via third-party services.
And no where has that growth been more pronounced than in China, where it's estimated that upwards of 80 percent of its rapidly growing moviegoer class purchases their tickets online, and almost all of them through mobile apps.
In fact, online ticketing is so important in China that the pullback of generous subsidies was likely a contributing factor in the country's box office struggles last year. After years of double-digit growth, the Chinese box office grew less than four percent in 2016, and actually dropped in dollar terms, as the country's currency weakened throughout the year.
Also Read: TheGrill 2016: Why Online Ticketing in China Is All About Social Media (Video)
TheWrap was in Shanghai last week for the CES Asia consumer electronics show and took advantage of a little bit of free time before flying back to California to see firsthand how online movie ticket buying works in China — and why it's become so popular.
The Aurora International Cinema in Shanghai's Pudong district does indeed have a physical ticket desk, called "Ticket Box," but TheWrap did not observe a single customer actually making a purchase there. Instead, they immediately headed to a row of kiosks lined up along the wall.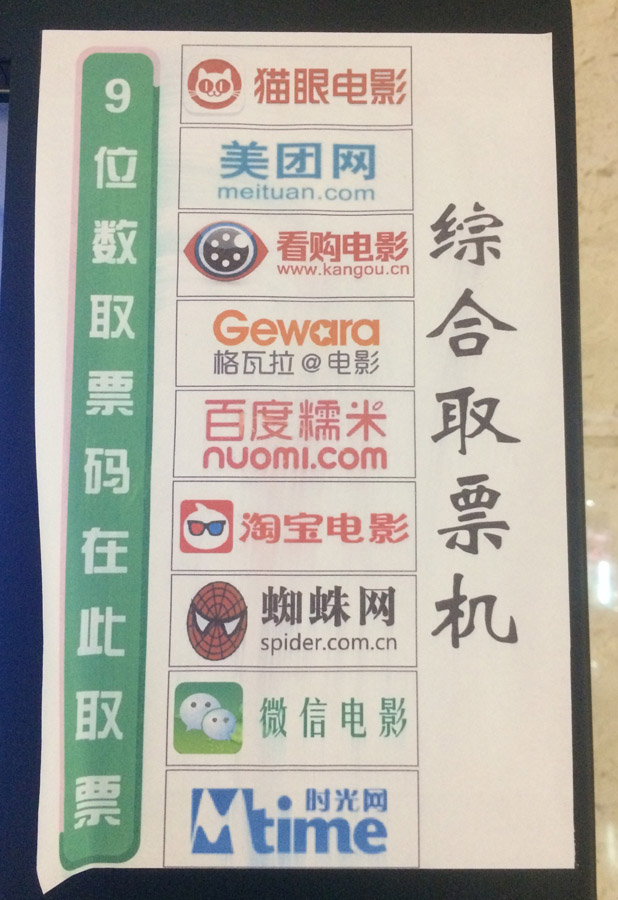 The vending machine-sized black kiosks have a list of compatible online ticketing platforms on their upper right, including Mtime (owned by AMC Theatres parent Dalian Wanda Group), WeChat's WePiao, Gewara and Meituan.
They also have a large touchscreen with two buttons, "Pickup Using Barcode" and "Pickup Using Booking Reference" (you can toggle between Chinese and English for the descriptions). And under the list of online platforms is a glowing white optical scanner, to which TheWrap observed multiple people pressing the faces on their phones and collecting the printed tickets that almost instantly dropped into the machine's lower slot.
Also Read: How Streaming Overtook Traditional TV in China - and Now Targets the Movie Business
Customers can also choose the second option and manually enter a redemption code on the kiosk and pick up their tickets that way, but that's positively Luddite in a country where the younger generation essentially lives on their smartphones.
WeChat, owned by mega-conglomerate Tencent, is not just China's answer to iMessage or WhatsApp, but with 600 million mobile payment users, it also effectively serves as a wide swath's of the country's wallet. And WeChat isn't the only one — Alibaba and Baidu, which both have their own online ticketing apps, also have mobile payment services, Alipay and Baidu Wallet. And as the three tech titans, often abbreviated as the BAT companies, battled it out for market share over the previous few years, they doled out massive subsidies that allowed Chinese consumers to see a brand new studio film in Imax 3D for as little as $5.
Online ticketing in the United States has grown to make up a material part of the business, with an estimated 30 percent of U.S. moviegoers buying their tickets online last year. But that requires a visit to a theater website or third-party portal like Fandango, which isn't part of most people's daily lives. WeChat is, and it has a handy "movie tickets" button on the home screen of its Wallet feature, making buying tickets online almost analogous to — and nearly as fast as — reaching into our own physical wallets to find the right credit card.
Also Read: China Sovereign Wealth Fund Exec Blasts China's Forays Into Hollywood
"You always carry a wallet, and whenever you open [it], there is a button for movie ticketing," Luke Xiang, the vice president of WePiao parent WeYing Technology, said at TheGrill, TheWrap's annual entertainment and media conference at the Montage Beverly Hills in September. "We can push to you based on your interests or historical habits, so we make the ticketing experience so smooth, so easy, from starting the browsing for the tickets to picking the seat, finding special deals and making the payment. Everything can be done in 10 seconds."
Unfortunately, a tight schedule prevented TheWrap from sitting down and enjoying Warner Bros. latest DC Comics movie "Wonder Woman" at the Aurora theater, but that's something that can easily be done in the United States. The online ticketing system was the real show in China.