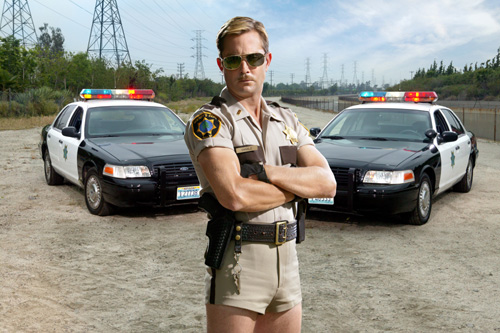 It's a sad day for fans of Lt. Jim Dangle. And his package.
Thomas Lennon, the actor who plays the aforementioned character on "Reno 911!," announced via his Twitter feed that Comedy Central has cancelled the show.
"'Reno 911!' was cancelled at 1:30 pm today," Lennon wrote. "Won't be wearing the shorts again."
Reps for the network were not immediately available for comment.
The "Cops"-mocking, ensemble-driven series debuted on Comedy Central in 2003, and lasted six seasons.
In 2007, a spin-off film, "Reno 911: Miami," was released in theaters, and became an unlikely critical and box office success, with an opening weekend haul of $10.3 million. It grossed over $22 million, according to Box Office Mojo.
DVD sales of both the film and series amassed even more.
The show, too, was an unlikely hit, after the Lennon's "Viva Variety" was dropped by Comedy Central after just one season.
Lennon, co-producer and co-star Ben Garant and other members of the cast rose to cult stardom in MTV's short-lived mid-'90s sketch comedy series, "The State."
Michael Showalter and Michael Ian Black, two other members of "The State" and occasional "Reno 911" contributors, are currently starring in their own Comedy Central show, "Michael and Michael Have Issues," a meta-mockumentary about producing a sketch comedy show. It debuted last month.
"Stella," a show created by Showalter, Black and David Wain – actor/director and another member of "The State" troupe – debuted in June of 2005 on Comedy Central. It lasted until August of that year.
The long-awaited "State" DVD was released this summer.