Former Equifax CEO Richard F. Smith plans on apologizing before a congressional committee on Tuesday, saying "we let them down" of the 143 million Americans impacted by the company's massive hack this summer.
"To each and every person affected by this breach, I am deeply sorry that this occurred," said Smith in written testimony obtained by the Los Angeles Times on Monday. Smith will address the House Energy and Commerce Committee, which has opened a special "Answers for Consumers" hearing on the credit reporting giant's leak.
The 57-year-old stepped down last week amid consumer outrage over the hack — which was spotted by Equifax in late July but not made public until Sept. 7. The leak left nearly half of the U.S. population in danger of having their information stolen, including social security numbers, addresses and birth dates.
---
Also Read:
Two Equifax Execs Announce Retirement Just 8 Days After Massive Hack
---
Smith didn't pinpoint those responsible for the hack in his testimony, saying only, "the company failed to prevent sensitive information from falling into the hands of wrongdoers." He then acknowledged the wide scope of the breach.
"The people affected by this are not numbers in a database. They are my friends, my family, members of my church, the members of my community, my neighbors," said Smith. "This breach has impacted all of them. It has impacted all of us."
Equifax executives have been under fire for their response to the hack. Three high-ranking employees sold shares of the company's stock in August — only days after the company noticed the massive data breach. Several executives have resigned in the wake of the leak, with Equifax's Chief Security Officer and Chief Information Officer retiring last month.
---
Also Read:
Equifax CEO Richard Smith Announces 'Retirement' Following Data Breach
---
Exacerbating the company's response to the hack, Equifax failed to apply a security patch that would've safeguarded against the breach months before it happened.
Shares of Equifax have been rocked since publicly acknowledging the hack, falling from about $142 a share to $108 a share on Monday.
6 Tech Giants Shaking Up News, From Jeff Bezos to Laurene Powell Jobs (Photos)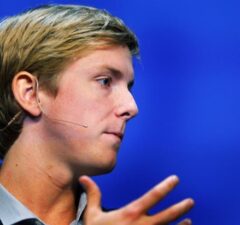 (Tap photo and swipe to view gallery)