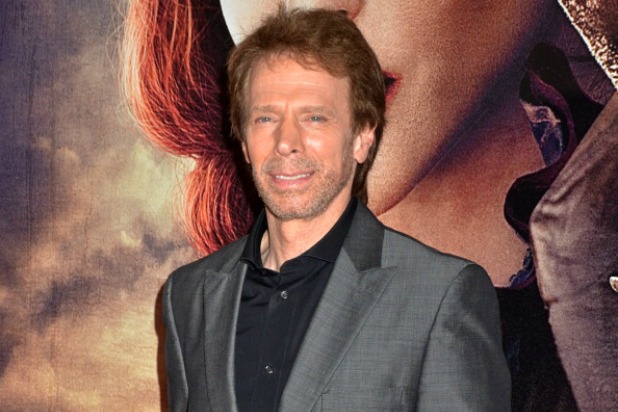 Jerry Bruckheimer has just announced a new, three-year deal to make movies at Paramount, following TheWrap's break of the news earlier this week. The legendary Hollywood producer talked to TheWrap on Friday about the change, saying he looked forward to having newfound "freedom" at Paramount that he lacked at Disney, where he made "The Rock," "Pearl Harbor" and the "Pirates of the Caribbean" franchise.
In an interview with TheWrap, Bruckheimer discussed his upcoming departure, a "Top Gun" sequel and some other movies he might make.
Also read: If PG-13 Is the Moneymaker, Why Is Hollywood Cranking Out So Many R-Rated Movies?
TheWrap: You met with several studios over the past few months, why did you choose to work with Paramount?
Bruckheimer: I have friends there. I worked with (Paramount Vice Chairman) Rob Moore when he was at Disney. We got a lot of very good movies made. I worked with Brad as a manager for a number of years. It's a very comfortable place for me.
(With Paramount Film Group President) Adam Goodman, we were developing 'Top Gun' until Tony (Scott) died. We have a very good relationship.
Are you still going to make another 'Top Gun'?
We would very much like to continue with it. Tony had a great beat on how to redo it, and we would like to follow that along.
What kinds of movies would Paramount like you to make?
They make a multitude of movies – from very low-budget to the kind of movies we've made in the past.
I will have the freedom and opportunity to make various kinds of pictures, which I didn't have at Disney. There is a narrow band of PG or soft PG-13. If you take out 'Pirates,' I had a lot of success making 'The Rock,' "Armageddon, 'Pearl Harbor.' It's hard to get those made there now. It's a great place to work, and I had a great run there.
Also read: Disney's Brilliant Strategy: Make Fewer Movies
But that lack of flexibility is why the partnership had to end?
Absolutely. We want to spread our wings. We lived in this narrow world, which we loved by the way. I make movies I want to see, and I don't just want to see the PG movies. I want to see hard PG-13 and R movies. 'Black Hawk Down' is a picture I loved making.
The reason we're not still there – no matter what media reports say – is because of that narrow band and the number of movies they make. They have Marvel, they make two Disney Animation movies, then DreamWorks, which they distribute, and now Star Wars.
There are not a lot of movies getting made there for a producer like me. I just finished a picture at ScreenGems, which turned out terrific. It's a very hard R-rated movie, a paranormal thriller. It's a new genre that I never approached, not in this vein. It's low-budget for me. I loved experiencing something completely different.
Do you know what movie you want to make next?
We had a lot in development at Disney that we built under Dick Cook that Disney won't make. Some have already come out. 'Beware the Night,' which is now 'Deliver Us From Evil' is one of them.
We have another project called 'Shake' we set up at Paramount that is already in development there.
Can you bring your developments projects from Disney to Paramount?
If [Disney] passes. There are a number Disney wants to release and we'll continue with those – 'National Treasure' and 'Pirates,' of course.
What's the status of 'Pirates 5'?
We're working on the screenplay. We have our directors, and they are working with the writer.
You have a deal at Warner Bros for television, but have you discussed television with Paramount?
Warner Bros is an excellent place to work. Not that Paramount isn't, but we have a long-term deal with Warner Bros.
Have you talked with Michael Bay (the director of several Bruckheimer films who has a deal at Paramount) about working together again?
We're friends; we'd love to work together.
And Johnny [Depp]?
Sure, we have a great relationship. He's off doing a couple of movies and hopefully we'll get him back for Pirates.