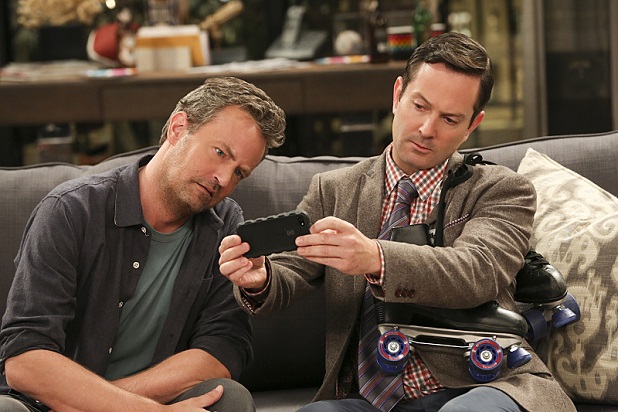 Mega-slob Oscar Madison and uptight neat freak Felix Unger once again pair up Thursday night at 8:30, when CBS launches its reboot of "The Odd Couple," which has over the decades taken form as a play, a movie, a classic television series and a not-so-classic TV revamp, "The New Odd Couple."
TheWrap recently spoke to Matthew Perry (who plays Madison), Thomas Lennon (who plays Unger), executive producer Bob Daily and Garry Marshall, who developed the original series for television. Topics included what the new show hopes to bring to the "Odd Couple" legacy and a not-gay but "vaguely fruity" Felix.
TheWrap: Given that the original "The Odd Couple" series is a revered classic, did you have any trepidation about tampering with it?
Matthew Perry: I think we definitely show a lot of respect for the old show and the original source material, the movie and the play. We try to do our own thing. The show hinges on the chemistry between Oscar and Felix. I think we're different than the other incarnations. We all love the show, and we have Garry Marshall's endorsement, which is huge.
Also Read: 'The Odd Couple' Review: Matthew Perry Comedy Premiere Doesn't Close the Deal
Thomas Lennon: The thing going in that I certainly thought about was that it's only worth doing if there's something new to be done. The scripts are really funny, and they're all new — it's not rehashes of any of the old scripts. In the second episode that we shot, there's a scene where I'm talking to some little girls, like playing tea party. And I slid a coaster under one of their teacups. There was a huge audience reaction. Just huge. And it was like, "Oh, that's because it's not me, that's because it's Felix Unger," and it's an archetype that's been played by a lot of really brilliant people.
You're taking the premise to a new place, but is there anything from the original series that you realized wouldn't work on the new show? Or are there any opportunities that have opened up because it's set in modern times?
Matthew Perry: Well, one of the things we're doing is we're using the ensemble cast a lot more than they did in the original show; we have a really talented group of people around us. And we just tried to modernize the show. Oscar has like 12 flat-screen TVs and a ticker tape.
Bob Daily: Which is taken, by the way, from Matthew's house … We're actually trying to find things in the actors' lives that we can pull into the show. Matthew's a huge sports fan. Tom does play the cello and he does yoga. I always find for writers and actors, the more you can drag in from your own personal life, the more true it feels.
Thomas Lennon: And the cello is from my house. That is my cello.
Also Read: Matthew Perry Says He's Doing 'Odd Couple' Revival 'Because My Attempt at Being a Movie Star Failed'
One interesting thing about the first episode is that the "is Felix gay?" topic is tackled right up front. Was that a deliberate decision?
Bob Daily: It was a very conscious decision to sort of say, "Let's hit it head-on and dispense with it right away." And we got a good joke out of it as well … We thought that we'd never have to address it again, and I don't think we have.
Thomas Lennon: If you Google me, it's a question [about me] that comes up a lot.
Matthew Perry: Back then it was taboo to have a gay character on a show, and now it's sort of impossible to have a show without a gay character.
Garry Marshall: The pressure was tremendous in the early '70s of, "Ooh, [the audience will] think they're gay! So put more girls in!" But now it's dealt with very openly. And it's nice we've grown. And there's also women writers on the show.
In the first episode, Oscar tries to woo his neighbor by sneaking his mail into her mailbox so she has to bring it to his apartment. Have you ever tried that trick, Matthew?
Matthew Perry: I never have. No, my trick is just having been on "Friends."
Thomas Lennon: Always play that card first.
Also Read: Matthew Perry's 'Odd Couple' Reboot Casts Leslie Bibb in Recurring Role
Thomas, you show off your cello skills in the first episode. Tony Randall sang a couple of notable numbers on the show. Will you be singing on the new show?
Thomas Lennon: I do a little singing coming up later in the show. I sing actually quite a bit. Yeah; if it's vaguely fruity, I'm probably gonna do it.