The 2023 Sundance Film Festival ruled the scene this week, as A-list stars and aspiring newcomers all trekked to the mountains of Utah to stake their claim to being a part of independent cinema's biggest showcase. That left Hollywood a bit on the quiet side, but two of the world's biggest names (Harrison and Oprah) introduced their new TV shows with big bashes in Tinseltown.

2023 SUNDANCE FILM FESTIVAL
Park City, Utah
The 2023 Sundance Film Festival rolled into Park City, Utah, and so did both big stars and new-on-the-scene hopefuls. As usual, lots of companies came along for the brand marketing extravaganza, too, so the premieres, parties and other sorts of soirees mushroomed all over the pretty snow-covered city in the heart of the Wasatch Mountains. Here are a collection of the ones we enjoyed – with our favorite faces decked out in their warmest winter finery.
Tao Hospitality Group
Utah Film Studios, Park City
Tao Park City was the place to be and be seen if you could make it out past 11 p.m. during the fest. Things kicked off Friday with an exclusive Chase Sound Check featuring performances by DJ Pee Wee (Anderson Paak's DJ persona) and Diplo, who debuted his own remix of the "White Lotus" theme song. Meanwhile, guests including Jason Momoa, Alexander Skarsgard, Phoebe Dynevor and Julianne Hough enjoyed festive winter activations ranging from Tao shot-skis and a Casamigos ice luge to the Whispering Angel heated outdoor igloos.

On Saturday, Tao Group Hospitality continued a second night of star-studded post-screening late-night celebrations with more celebrities including Nicholas Braun, Jimmy Tatro, Zoey Deutsch, Debby Ryan and Adam Lambert, who all partied together in a roped-off area to the left of the DJ booth and stage. During DJ Mel Debarge's set, Tiffany Haddish surprised everyone – including the Tao staff and event organizers – when she made an impromptu decision to jump on the stage and perform her new song "Look Like" (that features Snoop Dogg and Lil Wayne), which she announced would be released soon. Haddish continued dancing on stage for about 20 minutes, giving guests the entertainment they didn't know they needed. The actress later joked to us that, "Tao should have paid me," acknowledging the wild show she put on for everyone. – Emily Vogel
UTA House
Private residence, Deer Valley, Utah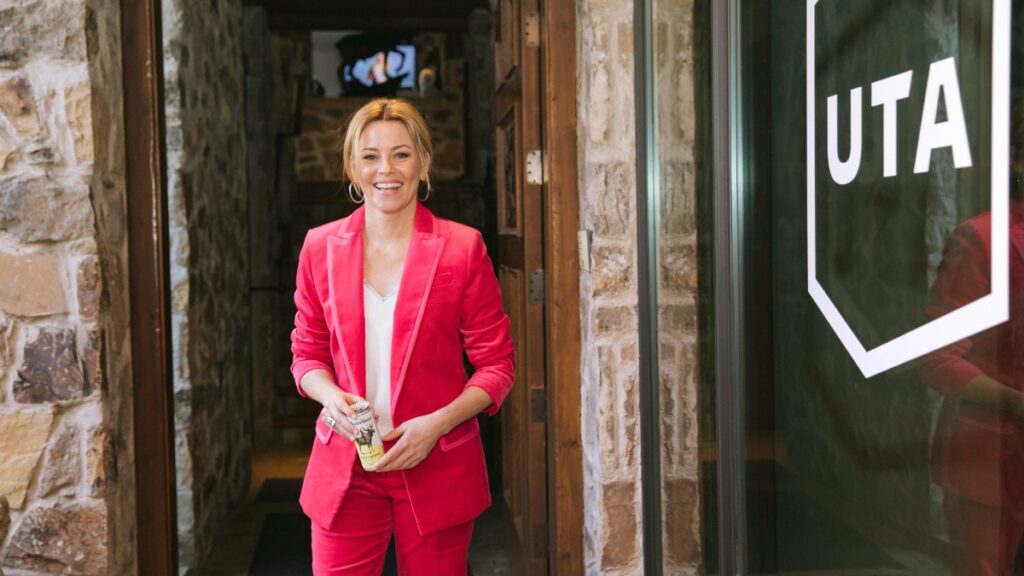 Sundance was back in person this year and so were the talent agency houses and lodges. UTA was back in force this year with the UTA House, a curated experience from the agency's Entertainment & Culture Marketing division. Located atop a sky-high gorgeous lodge in Deer Valley, it wasn't easy to make your way in.
In fact, to get access to the super-VIP house, Sundancers had to take sponsored Lyft shuttles to and from the venue. UTA threw a huge agency party at the house on Saturday night, which was a cocktail event featuring UTA clients, talent and tastemakers. Seen coming and going were Daniel Dae Kim, Elizabeth Banks and lots of other famous faces. Chairman & CEO of MediaLink, Michael Kassan, and Co-Head of UTA Entertainment & Culture Marketing, David Anderson also made that special scene.
UTA also won the Sundance agency brunch contest the next afternoon, as revelers wantonly downed mimosas, margaritas and mojitos before it was five o'clock anywhere close to the slopes. Harry Hamlin was seen walking around the brunch.
WME's lounge won the location game over the weekend, for that power agency didn't require special transports to their exclusive lounge located just a few storefronts away from the Egyptian Theater on Main Street. Michael Gandolfini, who adds the buzzy 2023 Sundance "Cat Person" to his "The Many Saints of Newark" screen credits, held court with pals inside that WME lounge. – Umberto Gonzalez
The Latinx House
Main Street, Park City, Utah
The Latinx House at Sundance was a festival favorite during opening weekend. Friday thru Saturday featured daily programming and conversations with stars from Tenoch Huerta ("Black Panther: Wakanda Forever") to Mishel Prada ("Vida"). House-goers were also treated to surprise appearances by actors including Eugenio Derbez ("Radical") and Bella Thorne ("Divinity").

"I feel like I'm in a trendy New York City lounge," said one of the guests who sipped on a "Latin Xpert Paloma," one of the signature cocktails created with Vida tequila blanco, rosemary, lime and grapefruit soda.

At night, festival goers gathered in long lines outside the venue to experience everything the house had to offer, and to hear performances by musician Raye Zaragoza and comedian Aida Rodriguez.

"Real Housewives of Salt Lake City" star Lisa Barlow (aka "The Queen of Sundance"), who helped bring The Latinx House activation to life, was a main attraction at the venue. Despite the hors d'oeuvres being passed around (including mini tostadas and empanadas), Barlow told TheWrap that, "I've had Taco Bell five nights this week and will probably go to Wendy's on my way home!"
Click here to check-out an interview with Barlow from TheWrap's Sundance Portrait and Video Studio at The Music Lodge during the 2023 Sundance Film Festival, which was sponsored by NFP along with support from Sylvania and HigherDOSE. – Emily Vogel
The "Theater Camp" World Premiere Karaoke Party
Acura Festival Village, Park City, Utah
The "Theater Camp" Karaoke Party at Acura Village was a hot ticket, despite the below freezing temperatures. Outside at the bar, guests ordered specialty Rabbit Hole Distillery cocktails from "Sundance Cider" to a "Cucumber Crush," made with gin, lemon, lavender, cucumber juice and soda water, that helped ward off the chill.
Inside, guests like Will Ferrell and Maud Arnold (who got rides to the bash courtesy of Acura) joined the "Theater Camp" cast that included mostly young stars under 15 who rocked the karaoke stage. Ben Platt even joined some of his younger co-stars for a performance of songs from "Hamilton." During the performances fellow cast members including Jimmy Tatro and his girlfriend Zoey Deutch were seen singing along at the front of the stage to songs like Oasis' "Wonderwall" and "Part of Your World" from "The Little Mermaid."
Click here to check-out TheWrap's interview with the cast and filmmakers of "Theater Camp," which was bought by Searchlight Pictures for $8 million after a fierce Sundance bidding war. – Emily Vogel
Gucci "Invisible Beauty" Premiere Party
Nickel Bar at Firewood, Park City, Utah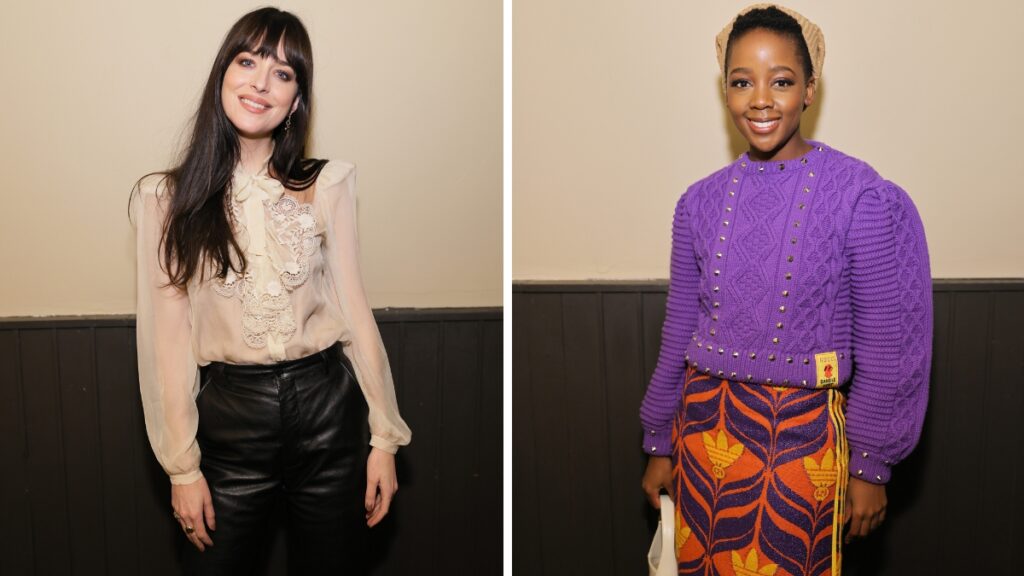 On Saturday, Gucci celebrated the Sundance premiere of Bethann Hardison and Frédéric Tcheng's "Invisible Beauty," a documentary highlighting Hardison's life as a pioneering Black model, modeling agent and activist.
Guests including Dakota Johnson, Thuso Mbedu and Taylour Paige – all dressed in Gucci – nibbled on pesto pasta and sipped vegetable soup at the Nickel Bar at Firewood. As the mezcalitos flowed, TheWrap caught up with Carla Renata, host of "The Curvy Film Critic," and she said, "'Invisible Beauty' has a chance to make it all the way to the Oscars,. It will just need a proper year-long strategy," noting that last year's Sundance favorite "Cha Cha Real Smooth" didn't make the grade, as that film's promotion fizzled this awards season, but "CODA" did go all the way to win best picture last year. – Emily Vogel
"Shortcomings" Premiere Party
Zooz Cinema Center by MARBL at the Mustang Restaurant, Park City, Utah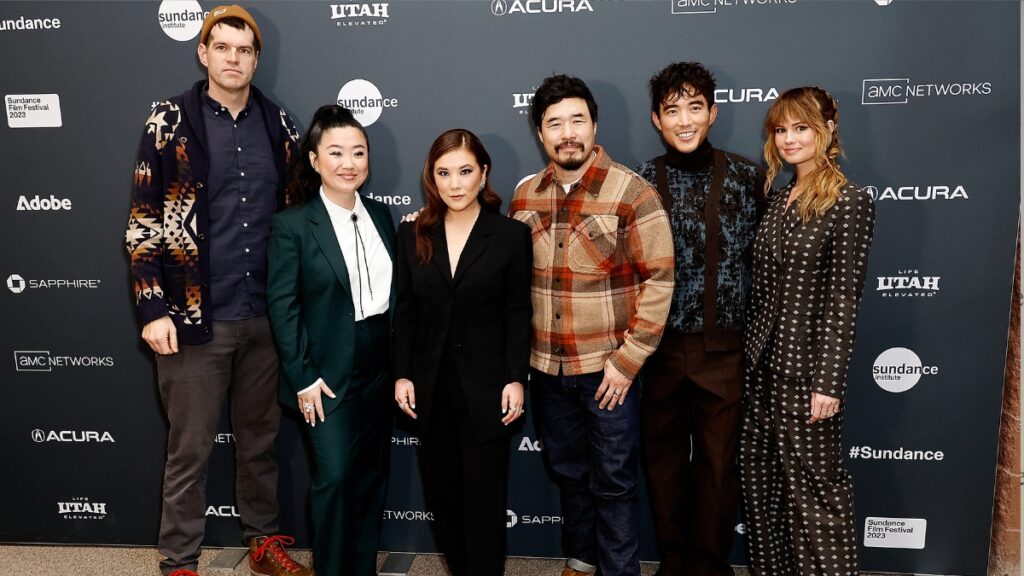 The stars and filmmakers of "Shortcomings" celebrated their world premiere at the pop-up Zooz Cinema Center by MARBL at the Mustang Restaurant on Main Street.
While director Randall Park left around 10:30pm, star Debbie Ryan was seen having fun and partying with friends until closer to midnight at the pop-up space sponsored by (among others) Hendrick's Gin, Emsculpt NEO and EMFACE, Sommsation, Fisker, mou and Stella Artois.
Earlier in the day, Ryan's co-stars Justin H. Min, Sherry Cola and Ally Maki visited TheWrap's studio to speak about the film and opened-up about the recent mass shooting at a dance studio in Monterey Park, California. Cola called it "heartbreaking" and noted that "We can't just have a moment of joy when we're making such slow progress."
She further argued that the film was at least partially about "fighting for our validation as human beings." Furthermore, "Hollywood has treated us as foreigners for so long, that we're just reclaiming our identities and kind of just trying to prove that we belong here." – Emily Vogel
Debbie Durkin's ECOLUXE Park City ABC4 TV Media Lounge
Main Street, Park City, Utah
"Wow, this is the swag hub of Sundance," said one of the guests at the ECOLUXE Media Lounge in partnership with ABC4 TV "Good Things Utah." The event, presented by producer Debbie Durkin, featured pop-up booths with purposeful and sustainable products.
Filmmakers and stars including Kaycee Stroh ("High School Musical") and Robert Connolly ("Blueback") picked up luxury stays at Casa De Campo Resort & Villas in the Dominican Republic for post-fest recovery, courtesy of Swanky Retreats and Caribbean Living Magazines, while sipping on GBX Pep, a cutting-edge gut-brain beverage from Amare Global. – Emily Vogel
Planned Parenthood 9th Annual
Sex, Politics, Film & TV Reception
Handle Restaurant, Park City, Utah
It was the 50th anniversary of the Roe vs. Wade decision as the Planned Parenthood Association of Utah brought their 9th Annual Sex, Politics, Film & TV reception back to the 2023 Sundance Film Festival, but there wasn't a lot of celebrating this year. Since Roe vs. Wade has been struck down, the assembled advocates of a woman's right to choose whether or not she has a abortion are more determined than ever to restore that right across the United States.
"Even though 85 percent of Americans say it should be legal, 18 states have already enacted bans or restrictions on abortion," Caren Spruch, the national director of Arts & Entertainment Engagement for Planned Parenthood Federation of America, explained to the gathering, which consisted of what organizers of the event called "the content makers, creators, artists and barrier breakers who authentically and sensitively depict and advocate for sexual and reproductive health care in their films and television programs."
Actors Marin Ireland and Brenda Wool of "Birth/Rebirth," which premiered at the fest, joined the determined crowd, as did film and TV directors Davina Pardo, Tia Lessin & Emma Pildes, Annetta Marion and Nicole Newnham, who have all addressed the issue in their recent work.
"Shrinking" Premiere
Directors Guild of America, Los Angeles
So what's on your mind today?
Well, Thursday night it was Apple TV+'s Los Angeles premiere of soon-to-be hit "Shrinking," a new dramedy series from the minds behind "Ted Lasso," which stars Jason Segel, Harrison Ford and Jessica Williams.
All were on hand for the premiere, held at the sold-out DGA Guild of America theater complex. Starry guests also came out in support – including Zach Braff, Quinta Brunson of "Abbott Elementary" fame and Netflix's "Feel Good" creator-star Mae Martin, among many others.
Also featuring Michael Urie, Luke Tennie, Lukita Maxwell and Christa Miller, "Shrinking" stars Segel (who co-created with Bill Lawrence and Brett Goldstein) as Jimmy, a grieving therapist who begins turning his life and practice around by flipping the script on his patients and blurring the lines of ethics along the way.
Speaking to the DGA audience Thursday, Segel expressed his gratitude for the opportunity to bring the series to life. "I've never felt so lucky, and honest to God, every day on this set was the best day of my career!" Segel said, earning himself an unanimous "Aaaw!" from the crowd.
Lawrence took the mic while introducing the two-episode screening, saying that "the fantasy of Hollywood when you're a kid is to make things you like, you show them to your friends and you get to work with people that you'd wanna hang around with anyways, even if you weren't working with them."
"Shrinking" very much proved to be that case for Lawrence, as he pointed out that much of the "amazing crew" on the project has been with him since the first series he co-created in 1996, "Spin City."
Then Goldstein (a.k.a. Roy Kent of Apple TV+'s already beloved "Ted Lasso") jumped in to shout out the series' showrunner Neil Goldman as "basically the glue that held this circus together. And I think he had a nightmare job just getting phone calls from me and Bill at three in the morning, and he never complained, and I really would've, so well done Neil."
"Two contradictory phone calls," Lawrence clarified to laughter.
Following the screening, everyone drove or ride-shared their way over to Cecconi's in West Hollywood, where the likes of Patton Oswalt could be seen holding court alongside Segel, while passed plates and buffet-style catering were served paired with quippy, therapy-themed cocktails like "The Psych Out."
– Benjamin Lindsay
"The 1619 Project" Premiere
Academy Museum of Motion Pictures, Los Angeles
Stars including Jurnee Smollett, Jayson Lee, Boris Kodjoe, Tiffany Haddish and more came out for the world premiere of the brand new Hulu six-part documentary series "The 1619 Project." Held at the Academy Museum, the event highlighting the streaming show showed off the expansion on "The 1619 Project" that was originally created by Pulitzer Prize-winning journalist Nikole Hannah-Jones and ran in The New York Times Magazine.
Nikole Hannah-Jones also hosts the docuseries that is a Lionsgate Production in association with One Story Up Productions, Harpo Films and The New York Times. We spoke to Hannah-Jones and asked her what part of our society she is hoping gains the most insight from watching the series.
"I don't have a preference, I think this is an American story, I did this for us, but to everyone," she responded. Roger Ross Williams, who directed the series, chimed in, too, adding, "I think we as Black Americans can never stop fighting against the systemic racism that continues to oppress this country."
The highlight of the night was when Oprah Winfrey herself arrived and walked the red carpet (but didn't do interviews). Winfrey is the executive producer of the project and at the Q&A she spoke about how important it was to be a part of this project, saying, "This is a story that needs to be told." – Elijah Gil
The Race to Erase MS Luncheon Kickoff
Steak 48, Beverly Hills
Nancy Davis kicked off her annual Race to Erase MS with an intimate luncheon in Beverly Hills, at the new hotspot Steak 48, who hosted the bash that brought together the people that help the well-known socialite and fundraiser to keep fighting toward a cure for multiple sclerosis.
The luncheon leads into the 30th Race to Erase MS, that happens on June 2, 2023, at the Fairmont Century Plaza Hotel. Always a crowd-pleaser and usually packed with famous faces, the gala raises funds to support innovative research and therapeutic approaches to eradicate MS through the foundation's Center Without Walls program.
This year's musical guests have not been revealed yet, but we do know that Jane Siskin's Cinq á Sept clothing line will dress celebs as they strut in the annual fashion show that anchors the gala.
"It has been an honor and my mission to continue to make progress over the last 30 years [to find a cure for MS] and we hope to continue to make further advancements over the next 30 to come," Davis said. "There's so much on the horizon, and we're really positive about the fact that we're going to find a cure."
For information about purchasing tickets to the gala, click here.
Please send event invitations to Jenny Peters at Jenny.Peters@TheWrap.com