Nearly half of all U.S. households that stream use Roku or Amazon devices, according to new data
Who dominates the streaming device market in the U.S.? Well, with most companies treating their exact user data as if they were nuclear launch codes, it's tough for anyone to get a real feel for the current landscape.
But new data shared from Ampere Analysis helps breakdown how the device makers fare against each other — and by the end of the first quarter of 2019, it looks like there's a tight race between Roku and Amazon for the top spot.
According to a recent survey by Ampere, Roku's array of streaming devices account for 25% of the total U.S. streaming-device market. Amazon Fire TV, meanwhile, isn't far behind, with a 23% cut of the market. Google's Chromecast, at 17% is the third biggest company on the market.
Also Read: Netflix's 'Competitive Moat': Can Streaming Giant Spend Rivals Like Disney and Apple Into Oblivion?
Apple TV might carry the most prestige, but it holds just 11% of the market — perhaps a casualty of its higher price point ; Apple TV 4K runs $179.99 at its cheapest, whereas Roku has several streaming options between $29.99 and $79.99. Amazon also offers its Fire TV Stick as low as $34.99.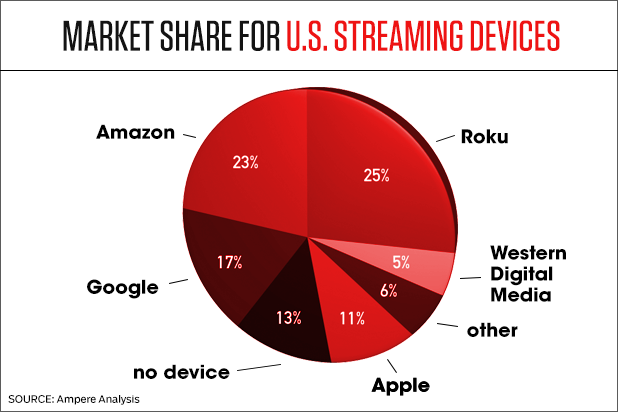 Diving a bit deeper, Ampere estimated that roughly 28 million U.S. households now have at least one Roku device. And most streamers tend to have more than one device in their home, it turns out. Data provided by eMarketer shows there are 70.1 million connected Roku devices in the U.S. — increasing 19% year-over-year from 59.1 million during Q1 2018, and 47.3 million during the first quarter of 2017.
A Roku spokesperson declined to weigh in on the company's performance at home versus abroad, but indicated the majority of its business is U.S.-based. Amazon Fire TV, when factoring in global active users, has 34 million streaming accounts, besting the 29.1 million active accounts Roku reported at the end of Q1.
Also Read: Stream Fatigue? Streaming Subscriptions Drop So Far This Year - Just as Apple, Disney Prepare to Enter Market
The rise of streaming devices goes hand-in-hand with the rise of streaming giants like Netflix and Hulu. Netflix has more than 60 million paying customers in North America, and nearly 150 million overall across the globe. Hulu, which only operates in the U.S., has about 27 million paying customers. Amazon offers its Prime Video service to more than 100 million Prime members as part of their overall deal, but it's unclear how many actually stream Amazon shows.
Even Roku, which started off strictly as a device maker, has branched out into content and now offers free, ad-supported shows. Roku's VP of programming Rob Holmes told TheWrap in March he believes ad-supported content is still a big value play for companies fighting for their share of eyeballs.
"Nine out of 10 people are looking for free content on our platform," Holmes said. The combo of its ad-supported content, coupled with users being able to stream Netflix, Hulu, or catch up on "Game of Thrones" on HBO Now, has added up for Roku. Nearly 9 billion hours worth of shows were streamed during the first three months of this year — coming out to around 3.4 hours per day of streaming on average.
And with Disney, Apple, WarnerMedia and NBCU all set to launch their own streaming services within the next 12 months, it's easy to see the overall device market will continue to grow.