Members of the Screen Actors Guild and the American Federation of Television and Radio Artists voted overwhelmingly Friday to approve the merger of the two labor unions.
Eighty six percent of the AFTRA ballots submitted were in favor of merger, while 82 percent of SAG ballots endorsed merger, the unions revealed at a boisterous announcement at SAG headquarters in Los Angeles.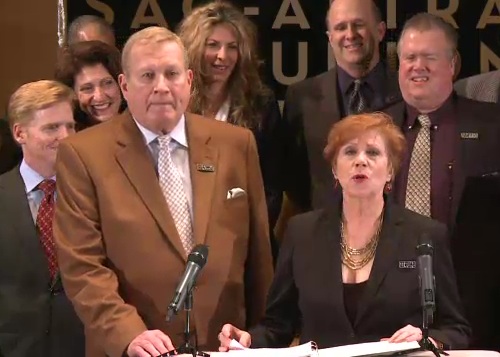 "The merger of SAG and AFTRA is approved," SAG President Ken Howard almost yelled.
"In a single day our future has become bright," he added.
The new union will be called SAG-AFTRA. Howard and AFTRA National President Roberta Reardon will serve as co-presidents of the combined union.
(Howard and Reardon pictured left)
The results were greeted with thunderous applause and an impromptu rendition of "We Shall Overcome."
Also read: SAG Pension Chief Bruce Dow Takes Leave of Absence (Exclusive)
The endorsement of a plan to bring the two guilds under one roof ends a two-year process that riled a small, but vocal faction of union members.
Opponents of the merger launched protests in front of SAG's offices, took to Facebook and Twitter to vent their displeasure and launched an unsuccessful courtroom challenge to block a vote on the plan.
Reardon seemed to allude to some of that tumult during the announcement of the results at SAG headquarters in Los Angeles.
"Change is always difficult," Reardon said, growing visibly emotional."For that reason, what is so overwhelmingly to me today is the sheer number of members who toook that leap of faith together…and proved there is power in a union."
Over 130,000 ballots were shipped to members. Thirty seven percent of the ballots sent to AFTRA members or 37,500 were returned, while 53 percent of SAG ballots or roughly 55,000 were submitted.
Proponents of the merger claim that by bringing the two unions together, SAG and AFTRA will strengthen their bargaining leverage with studios and other media companies.
Also read: Tensions High as SAG and AFTRA Prepare for Merger Results
Those in the opposition counter that merging the unions will have a dangerous impact on union members' pension and health benefits.
The merger needed the approval of 60 percent of the voters of both unions, something that eluded SAG and AFTRA when they tried to pull off a similar marriage in 2003.
In a devastating setback to opponents of the proposal, federal judge James Otero on Wednesday rejected a lawsuit that would have blocked a vote on the plan to join the unions.
Over 60 SAG members, including such household names as Martin Sheen and Ed Harris, has signed on to the lawsuit, which asked the court to require the union to perform a study on the effects that a merger will have on benefits.
Otero said there was insufficient evidence SAG had violated labor laws and that the planned merger should be decided by the membership.
The pro-merger forces extended the olive branch during a question and answer period after the voting results were announced.
Both Reardon and Howard urged those who had disagreed to remain active in the combined union.
"It's a big tent…I encourage them to stay in touch and stay involved," Reardon said.
"Join us," Howard added.