---
Sam Champion will launch his own weekly, long-form primetime interview show on The Weather Channel soon after the new year, TheWrap has exclusively learned.
In a wide-ranging interview with the face of the network, who rose to TV fame in the mornings on ABC's "Good Morning America," Champion spoke about fulfilling his dream in primetime.
"It's something I've dreamed about for a good 15 years now, but I never knew a place where I'd be able to do it," he told TheWrap.
Also Read: Sam Champion Blasts Morning Show 'Hysteria': It Needs More Actual News, Less Fluff
The yet-unnamed program, which Champion described as a conversational format, will be hiring producers and air from New York. It'll tentatively have three or four guest interviews an hour ranging from scientists to older and younger minds who are "leading change."
He envisions not exclusively focusing on climate change; Champion's primetime venture will cover everything from pollution and other environmental issues to natural disasters. But the hotbed climate change issue will be a central topic when shooting begins in December, one in which Champion hopes to book high-profile deniers–including GOP frontrunner Donald Trump.
Also Read: Sam Champion on Josh Elliott's ABC Departure: 'I Know That Fans of 'GMA' Are Not Loving It' (Video)
"I think a show like this would definitely go after [try to book] someone who was saying, 'I don't believe common science, I don't believe the current trend in weather forecasting, I don't believe in climate change.'"
He doesn't want to "pick on individuals," but expects presidential candidates to be well versed on climate issues. And he'll even cut politicos some slack for taking a long time to evolve on the issue.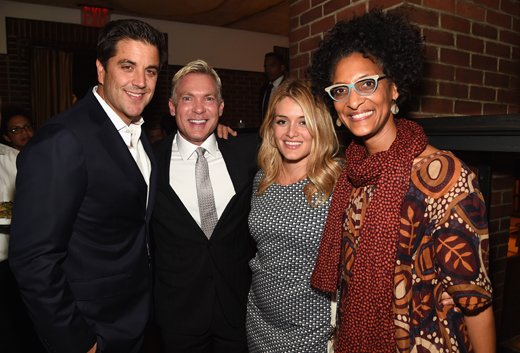 "I think it's an amazing thing that the discussion has gone from denial to, 'Hey, I don't understand so much about it'; that's a step in the right direction."
But as Champion conceded, climate change has never has been sexy to the TV news sound bite machine, which mostly employs producers tightly wired the to rinse and repeat  of the D.C. horse race watch, pro-life vs. pro-choice, immigration and gun debates.
Also Read: Weather Channel Shakeup: Sam Champion's 'AMHQ' Senior Executive Producer Being Replaced
Knowing this, he's optimistic viewers are more interested in environmental and climate issues. In fact, he saw momentum building for more coverage in the 2000's before the financial crash made climate change take a back seat.
In Champion's primetime, a quasi-weather version of Charlie Rose, he'll go in the opposite direction of many TV trends he's not so happy with–like the lightning fast, full of flash products most networks have created. "Sometimes we need a lengthy discussion and a debate and a conversation," he said.
Also Read: Sam Champion's Weather Channel Show to Integrate Viewers' Social Media Interactions (Exclusive)
He'll officially leave his morning show "AMHQ" on Nov. 2, but the show will remain on-air to cover straightforward weather stories. Under Champion,  it didn't become the ratings juggernaut TWC had hoped for, but Champion has a message for critics who suggest he should've never left the comfy confines of "Good Morning America."
He has no regrets.
"I didn't leave Good Morning America to do a morning show, I mean why would I do that? It just doesn't make sense," he emphatically said, explaining the TWC morning show was a first step at bolstering the network and getting weather back into the bloodstream of viewers on TV and social media.
He is proud of the morning show and never envisioned seriously competing with broadcast big shots like "GMA" or "Today."
"The people who work with me will tell you I don't look at the ratings at all," he said. "Did I think the show was going to rival one of the three networks? No I didn't–I never thought the networks would be looking over their shoulder going, 'Hey, what's going on over their at The Weather Channel?'"
Champion's forecast of interests expands beyond what's falling from the sky or elevating oceans; he closely followed the controversy around Kentucky clerk Kim Davis' refusal to provide marriage licences to same-sex couples. Happily married to Brazilian photographer Rubem Robierb, he didn't mince words about those who've tried to prevent marriages like his.
Also Read: Jimmy Kimmel Likens Anti-Gay Kentucky Clerk's Jail Release to WWE SummerSlam Opening
"We came to be in this nation to get away from having to govern ourselves based on one religion," he said.
America has laws to protect everyone, regardless of their beliefs, Champion continued, and public servants like Davis have a responsibility to "help and govern and protect all of the people of this country."
If Davis and others want to "mentor and shepherd to your flock," they should do it in their churches and communities–not as government staffers.
"It's not your right in this country to take your religious beliefs–no matter what they are or how heartfelt they are–to impose them on other people and not carry out the laws of this country. I feel very, very strongly about it."
The self-proclaimed weather nerd will bring his passion and belief in the vitality of weather to primetime in early January, 2016.