Julia Louis-Dreyfus returned to the "Saturday Night Live" stage in Studio 8H at NBC's Rockefeller Center, and in sketch after sketch, live pieces and filmed segments, proved herself to be a reliable, versatile Swiss Army knife of comedy.
On Saturday night — in Louis-Dreyfus' third stint as the show's host — it was clear she came to play, appearing in several sketches, including as a CVS pharmacy game-show host, and (with McKinnon) a robotic, black-eyed alien come to Earth from another world to date members of our species.
In the cold open, Louis-Dreyfus revived Elaine Benes, her character on "Seinfeld," to show up in a Democratic-debate sketch pairing Hillary Clinton and Bernie Sanders (played by "SNL" regular Kate McKinnon and comedian-"Seinfeld" creator Larry David, both in repeat performances) — and to pointedly ask Sanders how he'd go about breaking up the big banks.
Also Read: 'SNL' Spoofs Hillary Clinton's Push for Young Votes: 'I Can't Make You Love Me' (Video)
Later, in the monologue, Louis-Dreyfus went over her comedic career and how long a road it's been from "SNL" to "Seinfeld," to "Veep" (her award-winning political satire on HBO) to being seen as "the weird lady from the Old Navy commercials."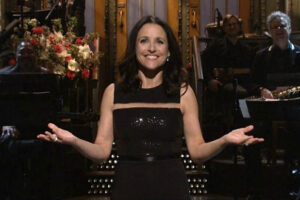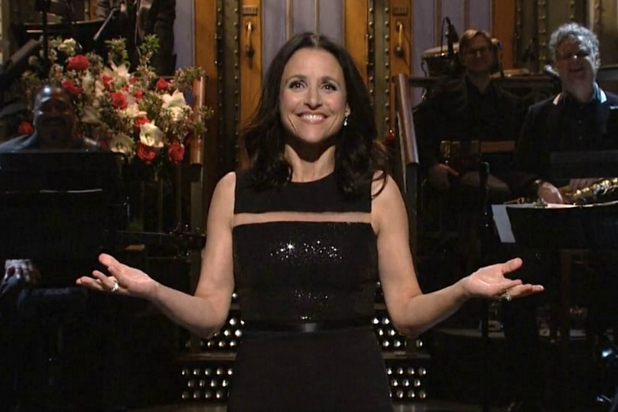 With politics in mind, Louis-Dreyfus was comically contrite over the political fortunes of billionaire developer and GOP frontrunner Donald Trump, even as she threw a sharp elbow in the candidate's direction. "I want to … apologize to the people of America for what's going on in this election," she said.
"You know," she said, "when we started doing our show, the idea of a presidential candidate being a cursing, narcissistic buffoon was supposed to be a joke."
"Saturday Night Live" airs Saturdays at 11:35 p.m. on NBC.