It was a sensible idea, but in Hollywood sensible ideas don't always get very far.
Determined to get proper recognition for producers that actually do the work, the Producers Guild of America has been lobbying for better movie credits for years. It spent years trying to sell the idea to an industry in which movie credits were too often currency to be bought, bartered and corrupted by anybody with the clout to do so.
This summer, the last major studio holdouts agreed to the so-called "Producers Mark," putting an end to the PGA's decades-long battle for respect. Sixty-plus movies have since become certified with the Producers Mark; in those films' credits, "p.g.a." follows the names of the producers judged by the guild to have truly earned the credit on a film.
Although there are still some questions about its effectiveness, its backers are pleased to finally see the fruits of their labor scrolling by on movie credits.
"All we ever wanted, from the beginning, was to give credit where credit is due," said PGA co-president Hawk Koch, who has been part of the push to reform credits and gain respect for producers for more than 20 years.
Also read:  'The Butler's' 41 Producer Credits Are 'Embarrassing,' PGA Presidents Say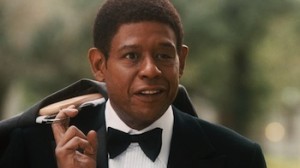 Yet it has not been able to reduce the number of producer credits on movies like "Lee Daniels' The Butler," which bears 41 different producer credits, much to the guild's chagrin. The Producers Mark only deals with producers claiming the "Produced by" credit, which is why the 36 associate producers, executive producers and co-producers on "The Butler" went unchallenged.
If that film is nominated, it will go through the vetting process to determine which of the five individuals given a "Produced by" credit will receive the official "p.g.a." producer's mark and become eligible for awards.
PGA presidents Mark Gordon and Hawk Koch (who recently returned to the position after a one-year term as Academy president) and National Executive Director Vance Van Petten recently gave TheWrap an exclusive inside look at the decades-long fight for the Producers Mark. It all started with the Writers Strike in the late 1980s. They explained why it was a cause worth fighting for — and which tip their hat to key figures in the industry, notably Ron Meyer and Michael Lynton, that helped along the way.
Also read: Studios Now All on Board With PGA's 'Produced By' Credits
Those Damn Writers
In 1988, during negotiations between the Writers Guild of America and the Association of Motion Picture and Television Producers to end a long-running strike, the WGA secured the second-to-last credit on all films. Henceforth, the writer's credit would come immediately before the "Directed By" credit, a position that in the past had usually been occupied by the producer's credit.
"No one even thought to speak to the Producers Guild about it," said Gordon. "It was a complete shock." In the aftermath, a number of top producers met at Richard Zanuck's house – where, said Koch, the consensus was, "This is crazy, the role of producer is being disrespected. We've got to do something."
A Call to Arms
Tempers may have flared before the meeting at Richard Zanuck's house – but in its aftermath, the small Producers Guild failed to take many steps. It established its own award in 1990, but didn't make a concerted push to grow as an organization or lobby for producers rights for close to a decade.
In the late 1990s, though, Koch helped recruit entertainment attorney and Universal, Fox and Paramount business and legal affairs executive Vance Van Petten to serve as executive director, then producer Kathleen Kennedy (right) as president.
"We started making phone calls to every top producer in town," Koch said. "We said, 'Look, remember that meeting we had at Zanuck's house eight years ago, and how we've never been able to do anything about it? If you join the guild, I promise that we're going to make some inroads.'"
"Shakespeare" Shakes Things Up
On March 21, 1999, "Shakespeare in Love" scored a surprise Best Picture victory at the Academy Awards. In retrospect, the element of that win with the most lasting repercussions was the sight of five producers – David Parfitt, Donna Gigliotti, Harvey Weinstein, Ed Zwick and Marc Norman – trooping to the stage of the Dorothy Chandler Pavilion. "People in this town were embarrassed, frankly," said Koch.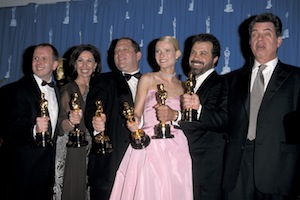 The Academy quickly passed a rule limiting the number of producers who could be nominated to three, and PGA president Kennedy began to think about trying to define exactly who deserves to win an award for producing.
Making a List
"Kathy gets all the credit," said Gordon. "She said, 'If we're going to be able to decide who a producer is, we need to set up criteria.'"
A number of top producers met at Kennedy's house on a Saturday and hashed out the job of producer, coming up with a list of about 60 items and then narrowing it to just under 50.
"We put them into four sections," said Koch. "The first was finding the material, developing it, finding the financing, getting the movie set up. Then there was pre-production, then production, then post-production, distribution and marketing. We decided that in order to get an award from our guild, a person had to do a majority of those functions, and we gave each one a certain amount of weight."
The Guild took out trade ads trumpeting its credit guidelines under with the headline "What Is a Producer Anyway?" The ads featured photos of notable producers past and present: Kathleen Kennedy and Dino De Laurentiis, Jerry Bruckheimer in front of a photo of David Selznick, George Lucas and Rod Serling.
The criteria have undergone revisions over the years. Currently, they consist of eight areas under "Development Phase," 11 under "Pre-Production Phase," eight under "Production Phase" and five under "Post-Production Phase."
Awards R Us
Once the guild had created its working definition of what a producer did, the PGA then set out to persuade the biggest awards-dispensing group in town to accept its authority. "The Academy would have executive-committee meetings of the Producers Branch every year to decide which three producers should be credited, but honestly, the Academy didn't have the information that the Producers Guild had," said Koch.
At the time, the three AMPAS governors from the Producers Branch were Kennedy, Koch and Larry Gordon; they appealed to the rest of the board, which agreed to accept the PGA's rulings on who deserved producing nominations. (AMPAS retained the final say, but as a matter of course it accepted the PGA's decisions.)
With the Academy recognizing the guild's authority to determine who produced a movie, BAFTA and the Golden Globes quickly followed suit, establishing the PGA as the go-to place for awards eligibility.
See You in Court
In 2005, the PGA's authority was tested. When "Crash" was nominated for Producers Guild and Academy Awards, the guild ruled that its financier, Bob Yari, did not deserve a nomination.
After "Crash" won the Oscar, Yari took the PGA and the Academy to court. "He sued us in Superior Court on the basis that he was denied due process," said Van Petten. When the judge ruled against Yari's original suit and an expanded second suit, Yari appealed to the California Appellate Court, and once again lost.
"The courts upheld the process that we use," said Van Petten. "And it showed us that our arbitration works, and that we had a little power."
The "Sunshine" Problem
While the guild's rules never set a strict numerical limit on the number of producers who could be nominated, the Academy's did. In 2006, "Little Miss Sunshine" received a Best Picture Oscar nomination – and while the PGA's board had ruled that all five of its credited producers did the work and deserved the credit, AMPAS insisted that two of them had to go.
"The Producers Branch wanted to give nominations to all five, but the rules said only three," said Koch. "So Ron Yerxa and Al Berger, who were a team, did not get a chance to win the Oscar. All the producers at the Academy felt it was really unfair, so next year we changed the rule to say you can only nominate three producers 'except in rare and extraordinary circumstances.'"
The Mark
Koch and Gordon were elected PGA presidents in 2010, and quickly decided that their first priority would be to ensure, in Koch's words, "respect for the people who really did the producer's job, not just during awards season but all year long."
But preliminary discussions with the studios about allowing the PGA to arbitrate production credits in the same way the Writers Guild arbitrates writing credits went nowhere. Because it is not a union (and producers are management), the PGA didn't enjoy the same bargaining power, and the studios were insistent that they could never give up the right to dole out valuable producers credits.
As an alternative, Van Petten came up with the idea of a mark. "He said, 'Instead of trying to continue to push that rock up the hill, let's figure out a way where we can allow the studios to give credits to the producers that they want to have credits, but still let us indicate who really did the work of a producer,'" said Gordon.
Fore!
Van Petten's idea was for a mark that would go after the names of those who fulfilled the guild's requirements of a true producer. But the obvious choice – a "PGA" mark that would follow the producer's name, the same way the American Society of Cinematographers used "ASC" to single out their members in credits – ran into a snag: The Producers Guild couldn't trademark "PGA" because the Professional Golfers Association had been using it for close to 100 years.

"We tried coming up with other letters," said Van Petten. "We thought about adding a V onto it for verification, or a C for certification.
"But our lawyer worked with one of the golfing association's lawyers, and they said, 'Listen, if you make it lower case and just attach it to producers' names, it's distinctively different.
"That's why it's little p dot little g dot little a."
Rallying the Troops
Once the PGA had its Producers Mark, it had to persuade its members to accept a new wrinkle that had the potential to tell the world that some people who took the "Produced by" credit didn't really deserve it. "We were trying to change the culture of how producers thought of themselves," said Van Petten. "We were saying, 'Listen, guys, to clarify who did what, we're gong to ask you to put letters after your names to say that you're the guy who did the work.' "They were like, 'whaaat?'"
The guild leaders prepared a PowerPoint presentation, took out ads in the trades announcing the mark, and got 144 top producers to sign a letter in support of the idea. "The good news is, they got it quickly," said Van Petten.
Uncle Sam Steps In
The major studios were understandably reluctant to embrace anything that might add an extra layer of bureaucracy, diminish their control over credits or lead to accusations of anti-trust action. And early in the discussions, a lawyer for one studio dropped a bombshell.
"He said, 'You know, what would really make this easier is if you get the Department of Justice to publish a business-review letter saying that this process of yours is pro-competitive," said Van Petten. "It's like the government saying, 'We're going to agree never to sue you,' and I thought, you've got to be kidding."
But he went to the justice department anyway – and a few months later, the PGA received a letter stating unequivocally that the department "will not challenge" the mark, which it found "may benefit the film industry and the public by providing a way to discern who performed the full range of producer functions on a film."
"We were shocked," said Van Petten. "We couldn't believe that this had come from the Department of Justice, and it really did help the legal process."
Also read: Justice Department OKs Producers Guild's Certification Plan
The Heroes
To persuade the studios, the PGA started with Universal, whose chairman Ron Meyer was a longtime friend of Koch's.
"Ron is old school," said Koch. "He was a top agent who represented tons of producers, and he knew we had the moral high ground. We had to educate a lot of people in business affairs and labor relations and others about how it was going to work – but Ron said 'Damnit, we're going to do it.'"
The second studio chief to sign on was Michael Lynton at Sony, with whom Gordon had a long-standing relationship. "I never forget sitting in a room with him and several of his chief executives," said Koch. "Lynton said, 'You know what? This is a change that needs to happen, and the only way you get change is by being a pioneer. I want to be a pioneer.'
"Ron and Michael, those were the guys that really stepped up. Those are the heroes for us."
Three's a Crowd
Even with the cooperation of Meyer and Lynton, it took a couple of years for the contracts to wend their way through the studio bureaucracy. And even when they were signed, the PGA wasn't home free – because the deals specified that the guild couldn't start giving out the Producers Mark until a third studio signed on. 20th Century Fox did so late last year, and in November the PGA announced that it would begin to use the mark.
Paramount, Disney and Warner Bros. fell in line as well, while a number of smaller companies, including Lionsgate, the Weinstein Company and DreamWorks Animation, whose Jeffrey Katzenberg was an early supporter, became signatories as well.
"It was very exciting for me to have a serious discussion about business with serious business people, and the argument was about ethics and appropriateness, not the bottom line," said Gordon. "Look, these are large companies with big bottom lines, and you don't necessarily win the day by pulling someone's heartstrings. But this struck a chord."
Calling All Producers
Since the PGA began awarding the Producers Mark on all signatory films, it has expanded its staff and now uses two attorneys and a paralegal devoted entirely to the arbitration process.
It also stepped up the arbitration process, which takes place year round instead of being restricted to awards season. "That was always the big crunch," said Koch. "But by next year, when most movies will have the mark, we won't have the crunch at the end of the year because we will have done the arbitrating already."
"And we accept arbiters who aren't members," added Van Petten. "You don't need to be a member to get the mark – and if you're an experienced producer and you want to serve as an arbiter, we'd love to hear from you."
Koch, Gordon and Van Petten now look back on the fight that led to the Producers Mark with relief, and satisfaction. "I've had a lot of wins in this business and I've had a lot of losses," said Koch. "And nothing has given me more gratification in the 49 years I've been in this business than getting the studios and everybody else to sign on. Every time I go to the theater and see that little 'p.g.a.,' it really moves me."
Added Gordon, "It was a big thing to ask the studios for. But as I look back on it, we had a pretty good plan. We systematically said, 'We've got to do this, and then we're gonna do this, and then we're gonna do this, and then we're gonna do this.' This was not, 'Hey, we should be arbitrating credits,' or 'Let's come up with this mark.' It was a 10-year process of getting there incrementally.
"It's kind of what producers do."