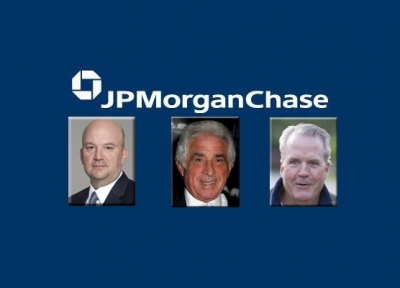 Greg O'Hara, a former golden boy at JP MorganChase damaged by his high-risk Hollywood connections, has officially left the bank.
In an email on Friday, the former head of the bank's special investment group told colleagues that he was leaving banking to return to "business ownership and investing" as of Sunday.
"April 1st will be my last day at JPMorganChase & Co," he wrote in an email on March 30 obtained by TheWrap. "As most of you may know, I spent most of my career outside of the banking industry and I have decided to return to business ownership and investing."
TheWrap exclusively reported on February 1 that O'Hara was leaving JP Morgan in the wake of Michael Ovitz's attempted takeover of IMG.
Also read: IMG Fallout: JPMorgan's Greg O'Hara Out After Ovitz Maneuver (Exclusive)
According to TheWrap's reporting, O'Hara angered JPMorgan Vice Chairman James Lee when he associated with Ovitz to take over IMG as its CEO Teddy Forstmann lay dying of cancer. Lee was a close friend of Forstmann.
"Jimmy Lee took him out. IMG was the final straw," said one of three individuals who TheWrap spoke to at the time.
O'Hara denied having a role in the IMG takeover attempt and told TheWrap that a takeover was not possible for legal reasons, something that other individuals involved in the dispute denied.
O'Hara was also known to have complicated relations with JP MorganChase chairman Jamie Dimon.
His departure is an odd denouement to a fast-rising career at the bank, and one with many connections to Hollywood. O'Hara previously headed the bank's special investment group and ran One Equity Partners, its investment arm.
O'Hara sought to become involved in merger and acquisition deals in Hollywood, such as the sale of Miramax by the Walt Disney Co. and new funding for the independent studio Relativity Media.
Also read: Michael Ovitz IMG Takeover Bid Fails, Board Aligns 7-4 for Ouster
But the Relativity relationship also heralded problems for O'Hara.
Last spring, he drew attention when he spearheaded a $700-million deal to buy Elliott Associates' minority stake in Relativity. In the proposed deal, JPMorgan would have put up a chunk of that sum and brought into a consortium of other major investors.
During that same period, O'Hara bought a vacation house with Relativity CEO Ryan Kavanaugh in Yellowstone, and later bought out the Hollywood mogul's interest. The purchase was the subject of discussion within the bank.
Also read: Michael Ovitz Booted From IMG Board (Exclusive)
O'Hara seemed to want to put all that behind him with his note, writing:
"It is with a deep sense of gratitude and respect that I thank my colleagues, customers, lenders and co-investors for their confidence and trust. I look forward to working with One Equity Partners and JPMorgan as partners in the future."
He is believed to be raising money for a travel venture.