To the surprise of no one who's had anything to do with the Academy Awards for the past three decades, the Oscars have named Michael B. Seligman the supervising producer of the 84th Academy Awards.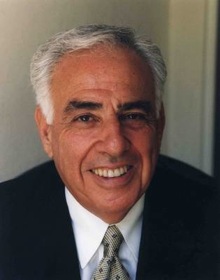 This will mark Seligman's 35th year on the Oscar show, much of that time as the Oscar show's money man, negotiating contracts and dealing with the logistics of an enormous and complicated operation. (He's also the person who originally came up with the idea for gift baskets to attract Oscar presenters.)
Longtime Oscar-watchers now assume that the next step for co-producers Brett Ratner and Don Mischer will be to bring aboard Danette Herman to supervise the show's talent … but that's another press release for another day.
Here's the Monday AMPAS release that made the inevitable official:
Michael B. Seligman has been named supervising producer of the 84th Academy Awards® telecast, marking his 35th year of association with the show, telecast producers Brett Ratner and Don Mischer announced today.
"Michael's experience on the Oscars® is unmatched," said Ratner and Mischer. "With his knowledge of all things Oscar and his diverse relationships throughout the industry, we had to have him on our team."
With more than 300 major television events to his credit, Seligman specializes in producing live broadcasts throughout the world. He currently is serving as executive producer for NBC's two-hour live show "The American Giving Awards." Seligman has earned a total of nine Emmy® nominations, including nods received this year for his work on the 83rd Academy Awards and "Stand Up to Cancer," a multiyear fundraising program that has aired on four networks and several cable channels simultaneously. He has received seven nominations for his work on Oscar telecasts alone. Seligman's other producing credits include "America Celebrates July 4th at Ford's Theatre"; "America's Millennium," a three-hour live New Year's Eve celebration; the NBC special "Funny Women of Television"; and "Return to the Titanic…Live!"
Academy Awards for outstanding film achievements of 2011 will be presented on Sunday, February 26, 2012, at the Kodak Theatre at Hollywood & Highland Center®, and televised live by the ABC Television Network. The Oscar® presentation also will be televised live in more than 200 countries worldwide.