NBC is prepping audiences for "The Voice," its answer to "American Idol," with a pair of sneak peeks leading up to its April 26 premiere.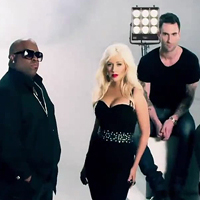 The network announced on Wednesday that the series – hosted by Carson Daly and featuring Christina Aguilera, Cee Lo Green, Blake Shelton and Adam Levine as musical coaches – will be previewed as a lead-in to "The Tonight Show With Jay Leno" on Friday night, followed by a shorter presentation before "Saturday Night Live" the next night.
Also read: "Mark Burnett: 'The Voice' Will Be No Joke"
Unlike aspiring Idols, "Voice" contestants will perform to judges whose backs are turned. The idea is that they won't be influenced by extra-musical factors when making their decisions.