The 3D re-release of "Finding Nemo" will be the big fish in the box office waters this weekend, and "Resident Evil: Retribution," also in 3D, will also make some waves.
Sure to make a splash in a much smaller pond is Paul Thomas Anderson's Scientology-inspired tale "The Master," which the Weinstein Company is rolling out in five theaters in New York and Los Angeles.
Disney spent $10 million digitally polishing its 9-year-old animated hit and industry analysts say "Nemo" will take in about three times that over the first three days of its re-release. That should give it the edge over Screen Gems' sci-fi thriller "Resident Evil," which is projected to come in north of $20 million.
Also read: Risk-Free Box Office Grosses: Why Nemo, T-Rex and Indiana Jones Are Returning to a Theater Near You
Those two films should power a box office rebound from last week when the weekend grosses fell to post-9/11 lows and "Possession" claimed the No. 1 spot with $9.5 million in its second week.
"Finding Nemo" opened to $70 million in May of 2003 and went on to make $340 million domestically and $868 million worldwide. The critics loved it then and still do; 99 percent of the reviews on Rotten Tomatoes are positive.
The tracking is strong on "Nemo" and the social media footprint is encouraging, too. Its Facebook mentions have been around 14 million all week and the Twitter comments are running heavily positive. Disney has it in roughly 2,900 theaters.
"This one is going to be closer to 'The Lion King' than 'Beauty and the Beast' at the box office," Phil Contrino, editor-in-chief at BoxOffice.com, told TheWrap Thursday.
Last year's 3D re-release of "Lion King" debuted with $30 million and took in $94 million domestically. The 3D version of "Beauty and the Beast" bowed to $17 million in January and topped out at $47 million.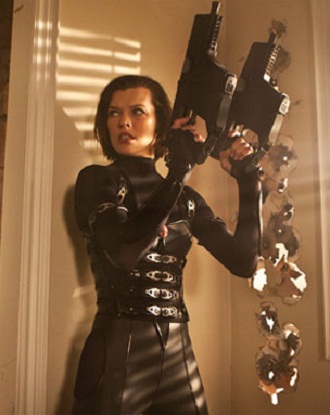 Sony's "Retribution" is the fifth film in the franchise based on the Capcom survival horror video game series "Resident Evil." Milla Jovovich returns as Alice to continue her kick-butt fight against the Umbrella Corporation and the undead in "Retribution."
Also read: Comic-Con and Milla Jovovich of 'Resident Evil: Retribution': Why Women 'Kick Butt'
Jovovich's husband, Paul W.A. Anderson, has written and been a producer on the four previous films, and returns for his third go-round as director. Michelle Rodriguez and Sienna Guillory co-star.
The series has been a moneymaker for Screen Gems, bringing in more than $675 million since the first film debuted a decade ago. The vast majority — around 70 percent — of that has come from overseas sales, and that is expected to be the case with this installment.
The most recent film, 2010's "Resident Evil: Afterlife," took in $296 million worldwide. It opened in mid-September, as have the last three films in the series, to $26 million and made $60 million domestically.
"This one may not match that domestic number," Contrino said "but we remain very bullish on it overseas."
The R-rated action-horror film will debut in 50 foreign territories — including Australia, South Korea, Russia, Brazil, and Japan — this weekend, along with more than 3,000 theaters in North America. Sony puts the production cost at $65 million after rebates.
"The Master" was screened at the Venice and Toronto film festivals and is drawing major buzz over its subject matter and the return of Joaquin Phoenix to the big screen. He was last seen in the 2010 mock documentary "I'm Still Here."
Also read: 'The Master' Review: Scientology or Not, Emotionally It's Just Running on Cruise Control
"The Master" tells the tale of a World War II Naval veteran (Phoenix) who arrives home from war unsettled and uncertain of his future — until he is tantalized by The Cause and its charismatic leader (Phillip Seymour Hoffman). Scientology and its founder L. Ron Hubbard provided inspiration for the film, Anderson ("There Will Be Blood") has said in interviews.
The critics are impressed. Eighty-seven percent of the reviews on Rotten Tomatoes are positive, 84 percent on Movie Review Intelligence, and MetaCritic gives it an 88 rating.
TWC is opening the film, which carries a production budget of around $40 million, at New York's Village East, Lincoln Square and Angelika theaters, and at the Landmark and ArcLight Hollywood 15 in Los Angeles. Big per-screen averages are expected to precede a significant expansion next week.
Almost as well reviewed is "Arbitrage," a drama from first-time writer and director Nicholas Jarecki that stars Richard Gere, Brit Marling, Tim Roth and Susan Sarandon. Roadside Attractions is opening it at 197 locations.
Also read: 'Arbitrage' Review: Richard Gere Owns This Slick Con Game
Inspired in part by the story of convicted Ponzi-schemer Bernie Madoff, "Arbitrage" covers a few crucial days in the life of Robert Miller (Gere), a financial titan seemingly on the verge of his greatest success. Eighty-three percent of the reviews at Movie Review Intelligence are positive
Also bowing this weekend is Millennium Entertainment's "Stolen," directed by Simon West ("Expendables 2") and starring Nicolas Cage, Josh Lucas, Danny Huston and Malin Akerman.
The R-rated action thriller follows a former thief Cage searching for his missing daughter, who has been kidnapped and locked in the trunk of a taxi. It has a budget estimated at $35 million and will be in 141 theaters.