The FCC has taken the "Team America" mantra, "America, f–k yeah," quite literally.
Chairman Julius Genachowski has excused Boston Red Sox player David Ortiz's use of the F-word on live television on Saturday.
Also read: FCC Considers New Policy for Policing Broadcast Indecency
The designated hitter, nicknamed "Big Papi," grabbed a mic on the field before Saturday's game against the Kansas City Royals at Fenway Park– the club's first home game since the Boston Marathon bombing last Monday.
"This is our f—ing city," Ortiz said to cheers after thanking city officials for handling the terror attack. "And nobody going to dictate our freedom. Stay strong!"
And, apparently, nobody from the FCC is going to pursue any indecency enforcement, per Genechowski's tweet on Saturday: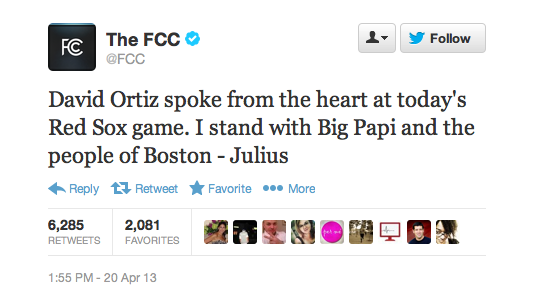 The day after bombing suspect Dzhokhar Tsarnaev was taken into custody after the massive manhunt that left Boston area streets desserted, the Red Sox beat the Royals 4-3.
Watch Ortiz's spirited speech: