April TV ratings bring May cancellations — but sometimes last-minute renewals, too.
Mid-spring marks the time of year when at-risk shows must sweat out their fates — sometimes right up until networks announce their fall schedules to advertisers at their upfront presentations in May. Optimism has its place in Hollywood, but it ranks somewhere between actual advertising money and the feel-good awards that can sometimes keep low-rated shows alive.
Generally, top-performing shows from each broadcast network have already received their votes of confidence for another season, and the worst performers were snuffed out months ago. But then there are the bubble shows, which could really go either way.
Also Read: 'Roseanne' Passes 'Sunday Night Football' and 'This Is Us' to Become TV's Top-Rated Show
Their fates come down to lots of hard-to-quantify factors: momentum, reviews, how much they cost to make, how much money the people who watch them make, syndication situations, diversity, and what networks have to replace them. And then there are executives' personal tastes. It's part science, part crapshoot.
TheWrap is here to help make sense of it all, charting below what scripted series have already been renewed on each of the English-language broadcast networks, what's been canceled or just ended, and which way each of the many remaining decisions will likely lean.
All ratings in this story come from the advertiser-sought 18-49 demographic, and count a week's worth of delayed viewing where available.
Also Read: 'Shades of Blue' Will End After Season 3, NBC Sets Summer Premiere Date
NBC
Every network has to cancel some shows to make way for promising pilots — even the highest-rated broadcaster. NBC just needs to get going already.
Here, "Champions" and "Taken" are obviously getting the axe, but scrapping two shows probably won't clear enough brush. "Timeless" is likely to join them in the canceled pile (again), and we don't expect a fan backlash to work on Bob Greenblatt this time.
"Great News," "A.P. Bio," "Rise," "The Brave" and "Good Girls" all appear to be truly on the bubble. Tina Fey's "Great News" has its auspices going for it, but that was the excuse for bringing it back last year. The ratings don't justify taking another flyer.
Lackluster as its own performance as been, "A.P. Bio" will probably squeak in to fill NBC's "edgy" comedy slot. We believe "Rise" is on-brand enough for the network and a solid scripted partner for TV's top singing competition. "The Brave" probably did enough in its time slot to justify another go, and "Good Girls" feels enough of-the-moment to return.
Beyond those, "The Blacklist" basically comes down to if James Spader wants to do more, while "Blindspot" performs well-enough for a Friday show to warrant another nod.
The rest are Dick Wolf shows, and why would those go away?
In chart form: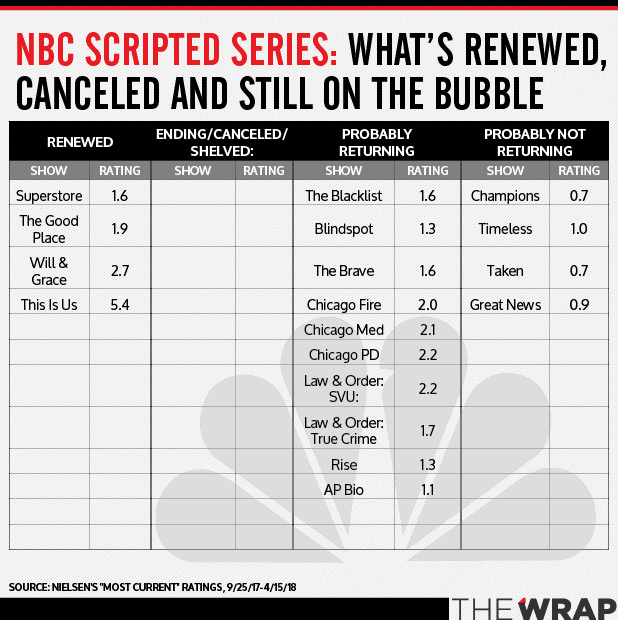 Also Read: CBS Renews 'Survivor,' 'The Amazing Race,' 9 More Series
CBS
CBS has already given a vote of confidence to freshman dramas "S.W.A.T." and "SEAL Team," both of which have performed admirably.
The entire "NCIS" franchise also made the cut, as did the Dr. Phil-produced "Bull," awards-contender "Mom," and the network's Friday drama line-up. "The Big Bang Theory" had already been renewed through next season, and new partner "Young Sheldon" became one of the season's first renewals earlier this year.
As for CBS's other new shows, the high-concept comedy "Me, Myself & I" was a quick goner, and "Wisdom of the Crowd" was buried after sexual assault accusations against star Jeremy Piven.
Johnny Galecki's "Living Biblically" premiered midseason in the timeslot previously occupied by "Me, Myself & I" to similarly disappointing ratings and soon followed it to cancellation.
Mark Feuerstein's "9JKL" also made little dent on Monday nights when it debuted in the fall. With "Young Sheldon" as CBS' only new comedy hit, returning players "Kevin Can Wait," "Man With a Plan" and "Life in Pieces" should make it through, though none are a sure bet. It's worth point out here that "Life in Pieces" is a 20th Century Fox show, and non-ownership very rarely helps.
Perennial bubble show "Criminal Minds," meanwhile, also has the misfortune of being an outside production. A decision there will likely come down to the wire, but we're betting a 14th season is in the cards.
The Katharine McPhee-led "Scorpion" seems even less of a lock, though a decision will depend on the network's developing pipeline and the performance of "Code Black" and "Elementary," both of which recently premiered. We're told "Scorpion's" fanbase has been particularly vocal about keeping that show on the air, which could theoretically do the trick.
Also Read: 'American Idol' Marks All-Time Ratings Low - Yes, Counting the Fox Years
ABC
This season, ABC had two big success stories, the freshman medical drama "The Good Doctor" and the mega-hit "Roseanne" revival, and the network was quick to renew both.
But with a number of its long-running shows coming to an end — "The Middle," "Once Upon a Time" and the network-defining "Scandal" are all concluding their runs this season — and few other breakout hits, ABC will have to take a long, hard look at its slate as it decides what to keep and cut loose.
Few of the network's new shows have stuck, with the comedy "The Mayor" pulled from the schedule early and "Inhumans" limping through its eight-episode season last fall, following a heavily hyped but critically reviled premiere.
"Alex Inc." and the Shondaland legal drama "For the People" all failed to make an impact in the ratings and are unlikely to return, and the high-concept drama "The Crossing," whose time-traveling refugees were rejected by viewers, was dead on arrival. Though we don't believe "Kevin (Probably) Saves the World" will ultimately be saved for next season, strong support from the highest levels at ABC makes it an actual possibility.
Midseason entries "Splitting Up Together" and "Deception" have both managed to perform well enough to get another shot in an otherwise disappointing season. Those two shows are examples of when it is better to be a bubble show on ABC than on NBC or CBS.
With "Scandal" going off the air and Shonda Rhimes decamping to Netflix, ABC will look to hold on to reliable performers, including "Grey's Anatomy" (recently renewed for a 15th season) and "How to Get Away With Murder." "Grey's" spinoff "Station 19" has also proven a solid (enough) partner for the medical drama. Thumbs up to those three.
Also Read: Murdoch Family Scores $206 Million in Golden Parachutes After Disney-Fox Deal
Fox
Fox got a bunch of no-brainer renewals out of the way, and this was always going to be "New Girl"s farewell to fans. "The X-Files" could return at any time, but everyone definitely sounds done with that for now — and maybe even forever, this time.
"The Mick" and "Brooklyn Nine-Nine" should make it back based on creative. "Star" has proven to be a good partner for "Empire," so expect more there too. Additionally, "The Resident" ratings are a win for Fox (scoring it a second season renewal Monday), people seem to like "Lethal Weapon," and "LA to Vegas" should fly at least once more before being grounded.
Don't be shocked if this ends up being the last season for "The Last Man on Earth," but right now we think Will Forte and his sports balls will make the cut to come back.
"Ghosted" is probably the most interesting case of Fox's numerous shows on the bubble. Though the Adam Scott-Craig Robinson vehicle's demo number — a 1.6 — looks pretty good at first blush, the first-season sitcom was inflated by some NFL football this fall. Mucking up the waters even more, "Ghosted" shifted showrunners in the middle of Season 1, and it still has some episodes to air. Fox is holding tight on a decision until execs see how the new version of the new series fares.
As for "The Exorcist," well, it's high time to exorcise that Friday show. "Lucifer," which is not a Fox-owned series (something that one could argue probably won't matter anyway after this Disney deal goes through), seems like the next man out. Put the Devil back in Hell.
Also Read: Here's How Horrible Lucy Hale's 'Life Sentence' Ratings Are
The CW
The youngest-skewing broadcast network renewed 10 series in one fell swoop, including newbie "Black Lightning," which has performed pretty well in its first year. Unfortunately, The CW cannot say the same about fellow freshmen "Valor" and "Life Sentence," which have both been rough.
Star Lucy Hale has been lobbying her large fanbase to save "Life Sentence," though we doubt that'll be enough. "Valor" averages the same poor rating, and that one doesn't even have a Lucy Hale.
The real coin-flip here is "iZombie." Though the show's Nielsen number among adults 18-49 doesn't really justify another season, it is totally possible that The CW adding Sunday nights to its national schedule next season will. Mark Pedowitz now requires more content than the network has needed in nine years.
Also of note here, "The Originals" is a planned ending. Based on its season premiere numbers, that's probably a good idea.