Dennis Quaid is rounding out the cast of Lionsgate's "What to Expect When You're Expecting," the studio announced Monday.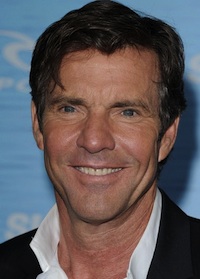 He'll play Ramsey, whose much younger wife, Skyler (played by Brooklyn Decker) is giving birth to twins.
According to Lionsgate, "impending fatherhood is just another way for the hilariously competitive Ramsey to try to one-up his adult son Colin, who is also expecting his first child."
The ensemble comedy also stars Cameron Diaz, Jennifer Lopez, Elizabeth Banks, Anna Kendrick, Matthew Morrison, Chace Crawford and Rob Huebel.
"What to Expect When You're Expecting" takes its title from Heidi Murkoff's best-selling pregnancy manual. Heather Hach and Shauna Cross adapted it as a screenplay.
Mike Medavoy, Arnie Messer and David Thwaites are producing the film, which Lionsgate plans to release for Mothers Day weekend 2012.
Quaid will also play the Rev. Shaw Moore in Paramount's upcoming remake of "Footloose."