The Academy's often controversial and always interesting Foreign-Language race is picking up a little steam, with Romania, Morocco and Venezuela submitting their entries to join Greece and Poland in this year's race.
We won't know for months if Greece has found another surprise nominee like last year's "Dogtooth," or if Romania will once again be overlooked for a strong, tough film the way it was with "4 Months, 3 Weeks and 2 Days."
But at this point we can start to discern countries' strategies for dealing with the Academy's Best Foreign-Language Film process. Greece, for instance, seems to have reacted to "Dogtooth" with an attitude of "if it ain't broke, don't fix it," while Romania may be going for something marginally friendlier than its usual grim submissions.
Under Academy rules, each country is allowed to submit a single film; a lengthy screening process narrows the field from several dozen (65 last year) to nine, and then two hand-picked committees choose the final five nominees.
So far, these are the entries. Many more to come before the Academy's Sept. 30 deadline:
Greece: "Attenberg"(right)
Director: Anthin Rachel Tsangari
Last year Greece got the Oscar race's strangest and most controversial nomination with "Dogtooth," and the country appears to have gone back to the same well with a film produced by "Dogtooth" director Yorgos Lanthimos and directed by "Dogtooth" producer Tsangari. Guy Lodge, who has seen the film, calls it "'Dogtooth'-lite: in addition to common themes of sexual discover and youth alienation, the films share a similar brooding, deadpan humor."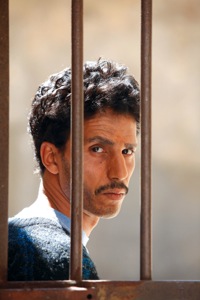 Morocco: "Omar Killed Me" ("Omar m'a tuer") (left)
Director: Roschdy Zem
The true story of Moroccan immigrant imprisoned for murder near Cannes, "Omar Killed Me" examines a penal system in which French police and prosecutors were eager to pin the crime on a convenient target. Director Zem is currently receiving raves for the limited stateside release of "Point Blank."
Poland: "In Darkness" (photo above)
Director: Agnieszka Holland
Director Holland has been Oscar-nominated for "Olivier, Olivier" and has worked in the United States on TV series like "The Wire," "The Killing" and "Treme," and her film has already been picked up by Sony Classics, the company with an impressive record of picking winners and nominees in this category. Besides which, the plot looks like ideal Oscar-bait: it's based on the true story of a Polish criminal who helped hide Jewish refugees during World War II.
Romania: "Morgen" (right)
Director: Marian Crisan
Reportedly less grim than the Romanian fare that has been controversially overlooked by the Academy in recent years, "Morgen" looks at the friendship between a Romanian-Hungarian security guard and an illegal immigrant.
Venezuela: "The Rumble of the Stones" ("El rumor de las piedras")
Director: Alejandro Bellame Palacios
The least-known of this year's entries, Palacios' film deals with a woman in Caracas trying to rebuild a life for herself, her mother and her two sons in the wake of floods that destroyed their home.