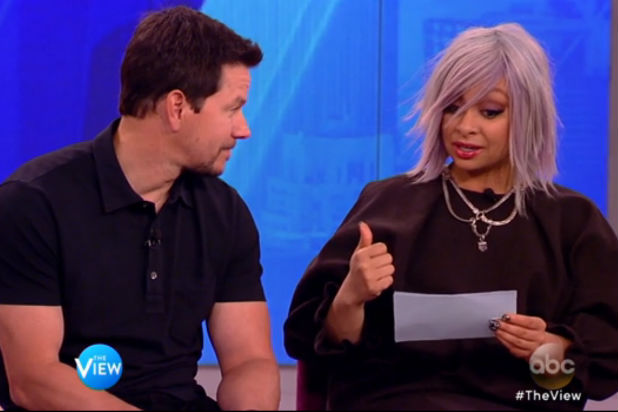 After a polarizing start to her official co-host gig on "The View," Raven-Symoné raises questions about ABC's motives to install the former child actor as a panelist and how she truly relates to wide audiences.
The 29-year-old was initially touted as a funky show business vet (she got her start at 3 years old on "The Cosby Show") bringing a millennial perspective to the existing cast of Whoopi Goldberg, Rosie Perez and Nicolle Wallace.
Yet since her debut, and on dozens of guest stints prior to landing the job, she has mostly enjoyed attention for her contrary, pot-stirring opinions as opposed to the conventional duties required of a host.
Also Read: 'The View' Eyes Molly Sims to Join Michelle Collins in Steady Co-Host Rotation for 5th Seat
Whether it is questioning the suggestion of Harriet Tubman as the first female face to grace U.S. currency, blasting Miley Cyrus for her bisexuality admission or sympathizing with the controversial Rachel Dolezal, Raven can draw Twitter invective in a heartbeat — and that might be the point."
"It's clear that this is just about ratings," said Amy Palmer, Founder and CEO of PowerwomenTV, a digital network with partners like Time Inc. "In the past, controversy has always equaled ratings for 'The View.'"
The former Disney star's combined social following doesn't hurt: 630,000 Twitter followers, 932,000 Instagram fans and an impressive 4.4 million Facebook watchers are ready at a moment's notice to engage with her, to say nothing of her legion detractors. 
In comparison, panel moderator Goldberg clocks roughly 979,000 Twitter followers, 160,000 on Instagram and 1.2 million on Facebook. Wallace has 12,800 Twitter fans and 10,000 likes on Facebook.
Also Read: 'The View' Guest Host Raven-Symoné on Miley Cyrus Bisexual Revelation: 'I Said It First'
"That goes hand in hand with her seat on the show. Any person who is cast on 'The View' has to have a large social following, because that's equivalent to a voice. Be it some who grew up watching her or found her on social, millennials are also a key element," said Palmer. "They have to remain relevant to the target audience because it's a sweet spot for advertisers."

Veteran producer Scott Stern, who spent over a decade in CBS morning news programming and had stints at the likes of "Live With Kelly and Michael," said Raven-Symoné shouldn't be tasked with bringing the same elements as Wallace or Goldberg.

"The show is called 'The View,' it's a place for people to offer their points of view. They needed something polarizing, and to grab some attention right now. They're not getting enough from [the others] on the panel," Stern said.  "I think they hope she'll grow into being more informed, but they need something to get them press."

Also Read: 'The View's' Whoopi Goldberg Compares Confederate Flag Supporters to Nazis (Video)

Pointing to newer, buzzier rival fare like "The Talk," Stern said "The View" desperately "needs to be a part of cultural conversation. Viewers want a connection, whether it's good or bad. They haven't had a real connection with a lot of the people on the panel this year."

ABC seems confident in their choice.

"Raven is smart, funny and genuine. We've loved getting to know her, and we're all thrilled she'll be part of 'The View' every day,"  Executive Producer Bill Wolff said upon her hire. "She brings a fresh perspective on the hot topics of the day, and she's a lively, welcome addition to our conversations and interviews."

"Raven- Symoné is a welcome addition to 'The View,'" added creator and EP Barbara Walters. "She is happy, amusing and well informed, and has already brought a unique perspective to the program that has resonated with our audience."

Here's how Raven has resonated with lovers and haters on social media:
Whenever Don Lemon, Raven Symone, or Stacey Dash are trending, I know it's because they said something ignorant.

— ♡ (@lovelordeclub) June 18, 2015
Now that Raven is a regular host on the View I'd just like to let the world know that not all light skinned people act like that.

— Tim Barnes (@TimBarnes451) June 10, 2015
I'm actually glad Raven is on The View as a permanent host. We're about to get so many gems, folks. I can hardly wait.

— Michael John Norwood (@__Dutch) June 11, 2015
They put Raven as a host on the view and now I have to hear reports on her saying things like this pic.twitter.com/p3LRXvv0Z2

— #BaneBree (@breeashhh) June 15, 2015
@Jijis29 @BettyFisher @TheView Time for them to cancel the show. Raven is the worst choice for co-host.

— Melanie Smith (@Melanie_KS) June 26, 2015
@AveryDaffer Raven Symone said something like this in her Oprah interview. 'don't call me African American. I'm American.' love her

— The Pizza Queen (@ddlywckmorm) June 24, 2015
Thx @ravensymone for reminding folks to go to their local #FarmersMarket. Love ours! @MplsFarmMarket Rocks! #TheView

— #BrittFit (@brijh) June 25, 2015
I am so happy for her. I love her sassiness and her point of view. 'The View' Names Raven-Symoné as New Co-Host http://t.co/TjEUB4YZcs

— sylvia thompson (@sylviart79) June 11, 2015
That's so raven! Love seeing a fellow millennial representing at @TheView round table. WERQ @ravensymone. xx https://t.co/GNhdK5DznM

— Megan Telles (@mtelles) June 10, 2015