Power Women Summit: "To us, 50/50 means balance and 2020 means clear vision," says "Transparent" creator
"Transparent" creator Jill Soloway sat down with "Steven Universe" boss Rebecca Sugar at TheWrap's Power Women Summit on Friday to discuss 50/50 by 2020 —  the goal to achieve gender equity in Hollywood — which just so happens to be the theme of the two-day event.
"In the Time's Up rooms, we started to ask ourselves the question: If we as artists create the messages that people around the world use to know how to feel about themselves, what does it mean that 96 percent of directors are white men? Ninety-six percent of directors are white men," Soloway, who co-founded 50/50 by 2020, an intersectional initiative of Time's Up, said during the panel "Leading by Example."
The theory of intersectionality maintains that racism, sexism, homophobia, transphobia, xenophobia, classism, etc. are bound together should not be considered separately.
"And so we started to ask the question: What does it mean to have balance in all leadership, not only as directors and producers on board, but all areas? To us, 50/50 means balance and 2020 means clear vision," said the activist and artist — who, along with Sugar, identifies as a non-binary person using the pronouns they and their.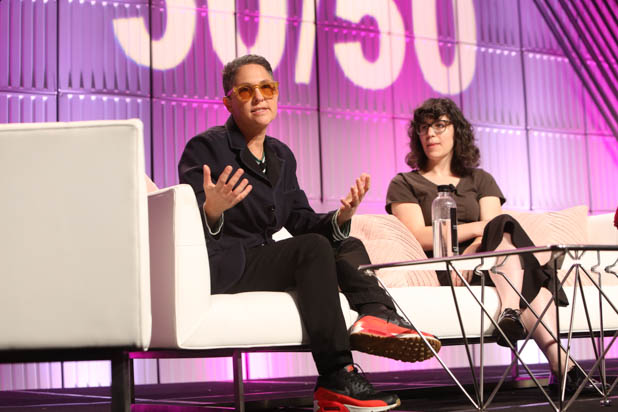 "Just make leadership reflect reality. And that's our mission for 5050 by 2020, at least as this particular part of the Time's Up spoke," added Soloway.
Also Read: Anita Hill Vows to Do What the Government Won't: 'The Down and Dirty Work of Changing Culture'
"We're out there trying to name this intersectional power movement using the creation of culture as our demand to be able to tell — not only be able to tell our stories to the world — but to tell this story in particular," Soloway said. "That when you look at that four percent, it's not some weird accident that the four percent is made up of all 'otherized' people: women, women of color, people of color, queer people, trans people, people with disabilities. All otherized people with a capital O. And that's how we're beginning to tell the story of a narrative of unity."
Soloway continued: "So what we're hoping to do with this creation of culture through the '50/50 by 2020' floating signifier, is to start to name a narrative that's as strong as Trump's fascism. That's stronger. We need a narrative that's strong than Hitler. And the Hitler narrative of, 'The caravan is coming. We must be powerful. People who are other are a risk,' is the same narrative as Anita Hill said that everybody is fighting. And it gets worse with intersectional, when you add on you are a woman, you're a woman of color, you're a queer person, you're a non-binary person. It gets worse and worse as all of your otherness gets added on."
"This narrative, a narrative around the power of love and tolerance, we're at the beginning of creating this movement, guys. We're just at the beginning," said Soloway. "One of the reasons we know we're at the beginning is because so few cis men — liberal cis men — are standing for this movement right now. So few of them. We need cis men to say, liberal cis men, to say, 'I want a woman leader. I want a woman boss. We need women of color in politics.' They need to be out there electing women, not just us."
Also Read: HAIM's Alana on Firing Agent Over Gender Pay Disparity: 'I Wanna Rock the Boat'
Just a few days before the U.S. midterm elections, the focus of the Power Women Summit is to achieve gender equity in Hollywood, with the theme: The Road to 50/50 By 2020.
The Summit is the largest gathering ever assembled of the most influential women in entertainment and media, attended and supported by studios, news organizations and non-profits across the entertainment industry landscape. It is presented by the WrapWomen Foundation, a division of TheWrap News.