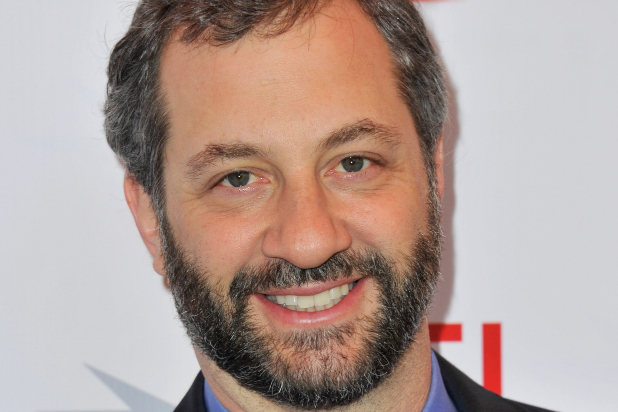 HBO has picked up "Crashing," a half hour comedy pilot set to film in November, TheWrap has learned.
Judd Apatow will direct the pilot and serve as executive producer, while Pete Holmes is set to star, write and also executive produce. Dave Rath is also an executive producer.
Holmes will play a sweet, wholesome comedian who has nowhere to stay but on the couches of New York's finest comics after his wife leaves him.
Also Read: 40 Exclusive Portraits From TheWrap's Fall TV Issue Cover Shoot (Photos)
Holmes is representeded by WME and Generate. Appatow is with UTA, Mosaic and Ziffren Brittenham.
40 Exclusive Portraits From TheWrap's Fall TV Issue Cover Shoot (Photos)
Corina Marie Howell/TheWrap

Corina Marie Howell/TheWrap

Corina Marie Howell/TheWrap

Corina Marie Howell/TheWrap

Corina Marie Howell/TheWrap

Corina Marie Howell/TheWrap

Corina Marie Howell/TheWrap

Corina Marie Howell/TheWrap

Corina Marie Howell/TheWrap

Corina Marie Howell/TheWrap

Corina Marie Howell/TheWrap

Corina Marie Howell/TheWrap

Corina Marie Howell/TheWrap

Corina Marie Howell/TheWrap

Corina Marie Howell/TheWrap

Corina Marie Howell/TheWrap

Corina Marie Howell/TheWrap

Corina Marie Howell/TheWrap

Corina Marie Howell/TheWrap

Corina Marie Howell/TheWrap

Corina Marie Howell/TheWrap

Corina Marie Howell/TheWrap

Corina Marie Howell/TheWrap

Corina Marie Howell/TheWrap

Elisabeth Caren/TheWrap

Elisabeth Caren/TheWrap

Elisabeth Caren/TheWrap

Elisabeth Caren/TheWrap

Corina Marie Howell/TheWrap

Corina Marie Howell/TheWrap

Corina Marie Howell/TheWrap

Corina Marie Howell/TheWrap

Corina Marie Howell/TheWrap

Corina Marie Howell/TheWrap

Corina Marie Howell/TheWrap

Corina Marie Howell/TheWrap

Corina Marie Howell/TheWrap

Corina Marie Howell/TheWrap

Corina Marie Howell/TheWrap

Corina Marie Howell/TheWrap
1 of 41
Jussie Smollett ("Empire"), Jack Falahee ("How to Get Away With Murder"), Katharine McPhee ("Scorpion"), Ryan Guzman ("Heroes Reborn"), Keke Palmer ("Scream Queens"), Justin Baldoni ("Jane the Virgin"), Jaimie Alexander ("Blindspot"), Rachel Bloom ("Crazy Ex Girlfriend") Rebecca Rittenhouse ("Blood & Oil") and Mehcad Brooks ("Supergirl")