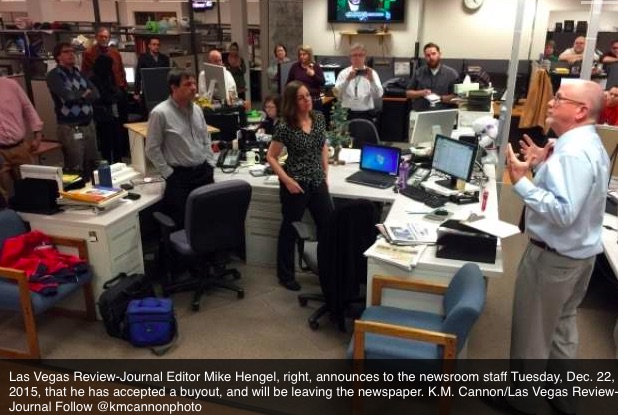 Drama at the Las Vegas Review-Journal continued on Tuesday as editor Mike Hengel resigned in the wake of conservative casino magnate Sheldon Adelson's acquisition of the paper.
After a week filled with the paper's journalists racking their brains to uncover who the new mystery owner of the paper was, Adelson's family came forward as the buyer and pledged to produce a paper that elevated unbiased journalism.
Before Adelson revealed himself as owner, reporters were cautioned not to worry about the identity of the new owner — who wanted them to focus on their work.
Also Read: Sheldon Adelson's Family Reveals Ownership of Las Vegas Review-Journal
Right after Adelson was revealed as the owner, Hengel was offered a buyout. Tuesday evening, he told staff huddled in the newsroom why he accepted it.
Hegel expected an "adversarial relationship" between Adelson and the paper's journalists and thought Adelson should pick his own editor.
Also Read: NY Times Rails Against 'Twisted' Donald Trump Effect in Scathing Editorial
"I think my resignation probably comes as a relief to the new owners, and it is in my best interest and those of my family," Hengel told staff, according to reporter Neal Morton.
On Wednesday, the Adelson family issued a front-page message pledging a "fair, unbiased and accurate" newspaper.
"We decided to buy the Review-Journal to help create a better newspaper — a forward thinking newspaper that is worthy of our Las Vegas community," the message said.
Also Read: Chinese State Media Covers #BlackMonday by Ignoring #BlackMonday
"This journalism will be supported by new investments in services such as enhanced fact checking and a Reader Advocate or Ombudsperson to respond to reader concerns."
Hengel's resignation adds fuel to a growing fire of uneasy journalists in the Review-Journal's newsroom. On Sunday, longtime columnist John L. Smith, whom Adelson once sued, wrote that the billionaire casino magnate and longtime supporter of conservative political causes is the wrong person to own the paper.
"Adelson is precisely the wrong person to own this or any newspaper. His disdain for the working press and its prickly processes is palpable — and easily illustrated by his well-known litigiousness," he wrote.
I experienced this first hand when Adelson sued me for a few lines I'd written in my 2005 book "Sharks in the Desert: The Founding Fathers and Current Kings of Las Vegas." At the time, my daughter Amelia was being treated for brain cancer. After an excruciating civil process, during which I was forced to declare bankruptcy, the case was dismissed with prejudice by U.S. Bankruptcy Court Judge Bruce Markell, who declared me the prevailing party.
A number of staffers are concerned for their jobs.
Howard Stutz and Jennifer Robison, who co-bylined the story revealing Adelson as the new owner, told CNN they are uneasy about their job security.
Reporters claim the Adelson-led management team has already begun meddling with editorial operations, removing or changing sections from stories relating to the sale.
Robison said that the new owners literally stopped the presses of the paper on Dec. 10 to remove a quote about reporters being instructed not to worry about who the new owners were.
Michael Shroeder, who manages the new media company formed by the Adelson family, News + Media Capital, said journalists are not being muzzled.
"You can be assured that if the Adelsons attempt to skew coverage, by ordering some stories covered and others killed or watered down, the Review-Journal's editors and reporters will fight it," he said.
"How can you be sure? One way is to look at how we covered the secrecy surrounding the newspaper's sale. We dug in. We refused to stand down. We will fight for your trust. Every. Single. Day. Even if our former owners and current operators don't want us to."