Warning: This article contains major spoilers for "Last Night in Soho."
In "Last Night in Soho," wanderlust and cultural nostalgia drive a young woman named Eloise (Thomasin McKenzie) to attend fashion school in London's Soho district. There, her obsession with 1960s London takes on a new dimension when she crosses paths with rising star Sandie (Anya Taylor-Joy) in her dreams. Each night, Eloise is transported into Sandie's life in 1960s, until the dreams turn into nightmares, which start to bleed into her waking life.
A neon dreamscape-turned-hellscape, "Last Night in Soho" changes genres, decades and states of consciousness at the drop of a needle. So it's no surprise that the film's nail-biter of an ending is pretty complicated.
Time for a deep dive into the film's final act and all of the burning questions that come with it: Has Eloise lost her mind, or is she the only person who's really awake? What happened to Sandie all those years ago? And who is the girl in the mirror, really?
Down the Rabbit Hole, Through the Looking Glass
Like Alice in Wonderland, Eloise stumbles upon a portal to another world – the wild and intoxicating nightlife of 1960s Soho, London. A quick rewind: Ellie is a wallflower in a colorful garden of fashion designers at her new school. Alienated by her roommate Jocasta (Synnøve Karlsen) and her posse, she decides to rent a room from the elderly Ms. Collins (the late Diana Rigg) in the heart of Soho.
The attic room – which hasn't been renovated in decades – is perfect for Ellie, who spends her time listening to antique records, longing to live in the past. Her wish comes true when she dreams that she's in the same room 60 years earlier, and the renter is Sandie, a glamorous aspiring performer. She trails Sandie – and occasionally becomes her – into a swanky club, where a suave manager named Jack (Matt Smith) promises to launch her career.
All that glitters is gold until Ellie and Sandie learn what it costs to become a starlet: submission to an endless parade of lecherous men. As Ellie grows desperate to escape Sandie's nightmarish life, she starts to notice details from the dream world in her waking life, leading her to believe that what she's been witnessing may have actually happened all those years ago.
One Murder and Two Deaths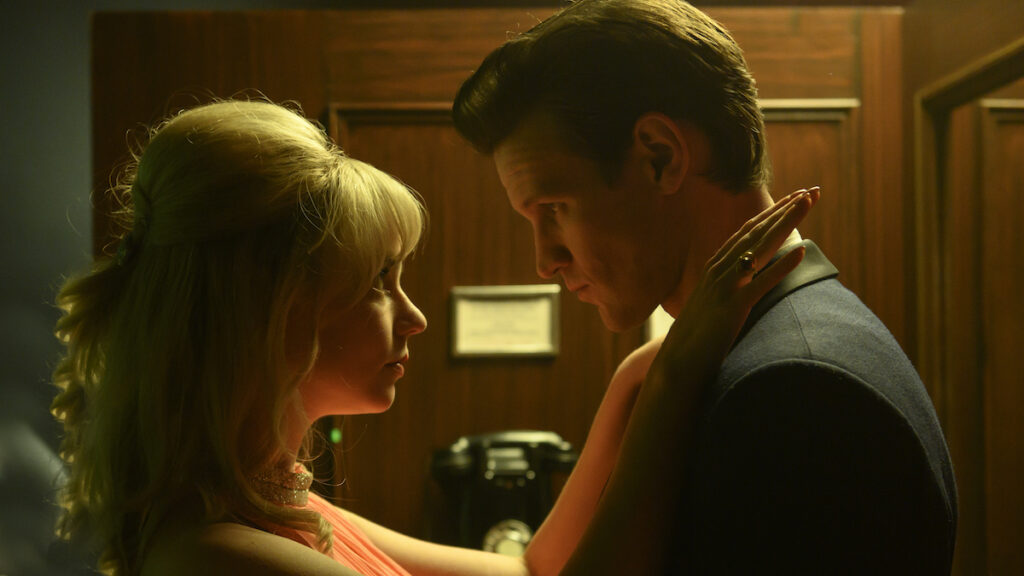 Desperate for a distraction, Ellie accompanies her classmate John (Michael Ajao) to a Halloween party. Back at her apartment, they're kissing when Ellie looks up and finds them mirrored on the ceiling – only it's Sandie and Jack, and he has a knife. The knife slashes over and over again until a blood-soaked Sandie appears to be dead.
The next day, Ellie is haunted relentlessly by Dead Sandie. She ditches class to report the murder to the police, then heads to the library in search of a matching police report. There, she finds herself hounded by a magically-appearing horde of zombie-like men. Abruptly, she snaps out of it and finds herself still in the library, but now holding a pair of scissors inches away from Jocasta's face. She then goes to confront the Silver-Haired Gentleman (Terence Stamp) who frequents the bar where she works, believing him to be Jack in the present day. Moments later, he's hit by a car and killed.
Everything Goes Up In Flames
Convinced that she is losing her mind, Ellie decides to go home to Cornwall. John drives her to Ms. Collins' so she can collect her things. Over a cup of tea, Ellie tells Ms. Collins what she's seen and Ms. Collins says that she remembers Sandie. When Ellie spies an envelope addressed to Sandie, it suddenly clicks: Ms. Collins is Sandie. After years of abuse and exploitation, Ms. Collins/Sandie murdered the men who preyed on her, starting with Jack. Unfortunately, that means Ms. Collins/Sandie decides she has to kill Ellie to cover it up.
Ellie realizes she has been drugged or poisoned by Ms. Collins' tea, but it's too late – John rings the doorbell and Ms. Collins stabs him. While trying to get away from Ms. Collins, Ellie knocks over an ashtray, starting a fire. Ms. Collins/Sandie chases her up the stairs as the souls of the murdered men rise up and begin to close in on them. Ms. Collins/Sandie starts to cut her own throat. Ellie tries to stop her but Ms. Collins/Sandie tells her to save herself. A team of firemen save Ellie and John from the inferno.
Did Ms. Collins Really Die?
We last see Ms. Collins sitting on Ellie's bed as the room starts to burn. By the time Ellie and John are pulled out of the apartment, the entire structure is engulfed in flames from the inside out, so there's no possibility that she could have survived.
What Happened To Sandie?
Sandie/Ms. Collins dies, but that's not the last we see of her in the film. In the epilogue, John and Ellie's grandmother (Rita Tushingham) attend Ellie's fashion show at the university, where the models wear '60s-inspired clothing. Afterwards, she looks into a mirror and sees her dead mother (Amieé Cassettari), followed by Sandie, staring back at her.
Who Was The Old Man Who Kept Following Ellie?
The Silver-Haired Gentleman is a mysterious figure who hangs around the bar at the Toucan, where Ellie works. His reputation as a ladies' man back in the day and his strange fascination with Ellie (and her drawing of Sandie) lead Ellie to believe that he must be Jack.
One of the dreams/nightmares involves a lengthy montage of Sandie's interactions with leering men over the course of many evenings. She changes dresses and makes up a new name for every man who buys her a drink. One of them reveals himself to be a cop and tells Sandie she deserves better. Only after he dies does Ellie learn that he, not Jack, is the Silver-Haired Gentleman.