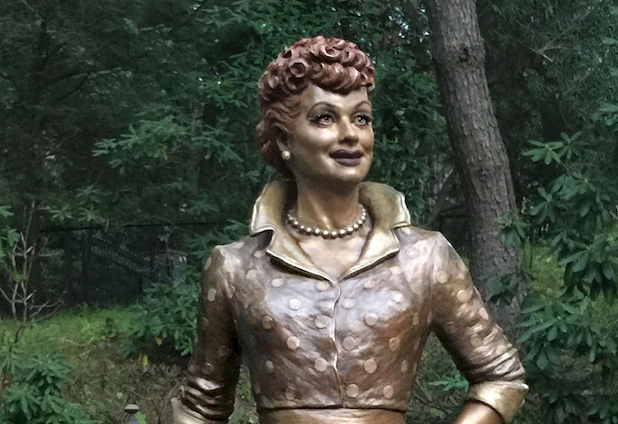 Everyone's favorite redhead was honored in style with a life-size bronze replica at the Lucille Ball Memorial Park in Celoron, New York. The day of the unveiling would have been the funny lady's 105th birthday.
The Carolyn Palmer sculpture replaces the original work erected last year that not-so-affectionately became known as "Scary Lucy" because the gorgeous icon looked rather menacing.
Palmer went all out to make the new statute as lifelike as possible. She researched Ball's work to capture her essence, hired models to pose in retro dresses and even bought a ginger-headed wig for visual inspiration.
Also Read: New, Non-Horrifying Lucille Ball Statue to Replace Reviled Eyesore in Comedian's Hometown
The end result is a sculpture that stands a total of  six feet tall. That's figuring in Ball's 5-foot-7-inch height, her two-and-a-half-inch heels and her signature layers of coiffed curls measuring another two-and-a-half inches.
"I not only wanted to portray the playful, animated and spontaneous Lucy, but also the glamorous Hollywood icon," said Palmer. "I just hope that all the Lucy fans are pleased and that Lucille Ball herself would have enjoyed this image of her."
Ball died in 1989, after suffering an abdominal aortic dissection. She was 77.