Going in, you knew there would be blood.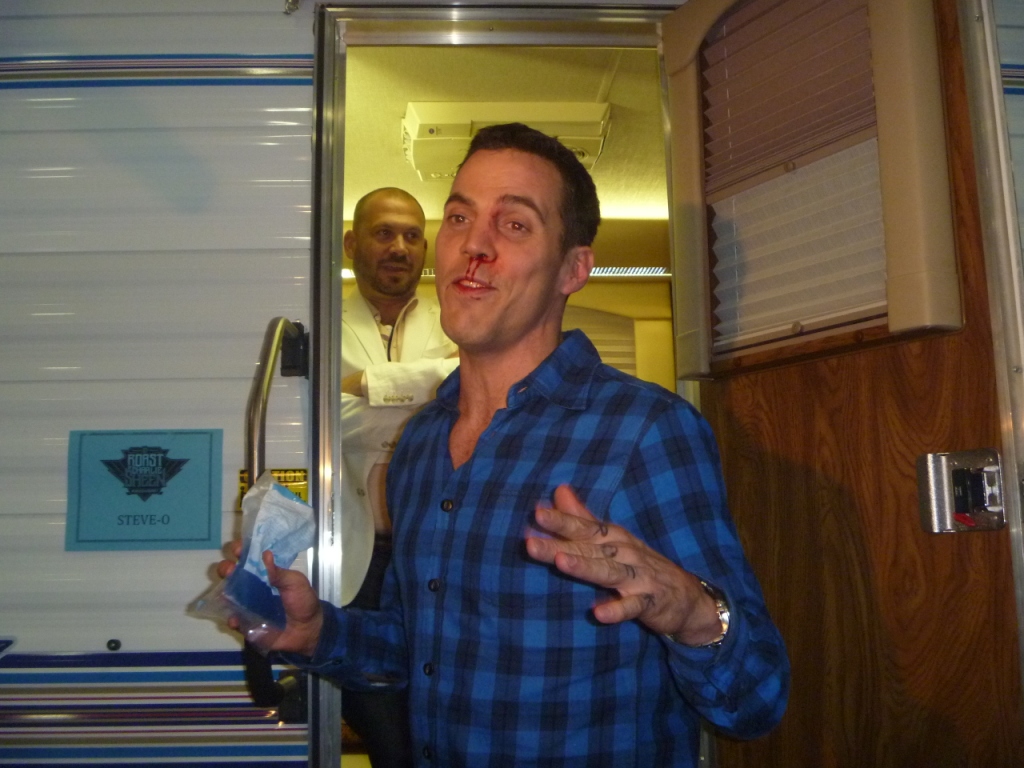 While there's usually only metaphorical spillage, with Steve-O on the dais at Comedy Central's roast of Charlie Sheen, we shouldn't have been surprised by the real blood on Saturday night.
After trying to give himself a black eye by sprinting in to Mike Tyson's fist (several times), the "Jackass" star was bleeding out of his nose backstage.
"The story of how my nose got that way will never get old," Steve-O told me as he ended his night icing his face on the steps of his trailer.
Below, other secret moments you won't be seeing on TV when the roast airs on Monday, Sept. 19 at 10:00 p.m.:
Comedy Central execs approached Sheen and his management team not just with an offer, but with the entire "Crazy Train" marketing plan. It included Sheen starring in multiple on-air promos as a conductor, and on Saturday night, Slash serenaded Sheen's entrance with the Ozzy Osbourne classic. Though the guitarist was announced only in the past few days, he had been locked in for long time.
That "Two and a Half Men" creator Chuck Lorre subsequently decided to kill off Sheen's character in a death by train accident? "That was pure luck," a Comedy Central exec told TheWrap.
Even Seth MacFarlane reversed course and climbed aboard. Back in February, TheWrap
was among the outlets that broke the news of "Men's" seaso shutdown to MacFarlane while he performed at Hollywood Domino's Oscar week event.
Back then, he said "We have a no assholes policy," regarding a possible Sheen guest appearance on "Family Guy."
After the roast, when reminded of those comments, he said, "This isn't Family Guy."
Nearby, Doug Herzog (president, MTV Networks Entertainment Group) wasn't nervous at all about how they're going to cut the three-hour raunch-fest with multiple N-word, C-Word, and even K-word references.
"People always ask us, 'I can only imagine what you cut out'. We always tell them: 'The not funny stuff. Everything funny goes in." (Herzog backstage with MTV Networks Group executive VP Casey Patterson, who baffles Hollywood by wrangling A-list talent to perform bits on basic cable, like Bill Murray's appearance in his long-avoided "Ghostbusters" suit.)
Sponsors Axe body spray and EA's "FIFA Soccer 12" sponsored the show.
"We had to be sensitive" on bringing in an alcohol sponsor for the event featuring the newly sober Sheen, an exec said after the show. In the past, the network also shied away from frequent Comedy Central sponsors like Captain Morgan and Corona for its roast of David Hasselhoff last year.
"If advertisers have read any paragraph about any previous Comedy Central roast, they know what they're signing up for," Ad Age's Andrew Hampp said at the "Greek Garden of Goddesses" after party behind Stage 22.
Comedian and Comedy Central Roast regular Jeffrey Ross said that there was no shortage of comics, friends and associates calling in to get on the stage.
He said they turned away at least 30 self-pitches.
In the "ruins of the Parthenon" pre-show VIP cocktail area, "Girls Gone Wild" founder and frequent criminal defendant Joe Francis approached Duane Chapman (aka Dog the Bounty Hunter): "I never got to thank you," he said, apparently referencing Dog's public offer to co-sign Francis' bail bond during an incarceration back in 2007.
A skinny Mike Tyson was the first to stroll in off the white carpet, followed by attending talent like Kristin Cavallari (now on "Dancing with the Stars"), Maria Menounos, and Ron Jeremy, who said he's worked "professionally" with retired goddess Bree Olson.