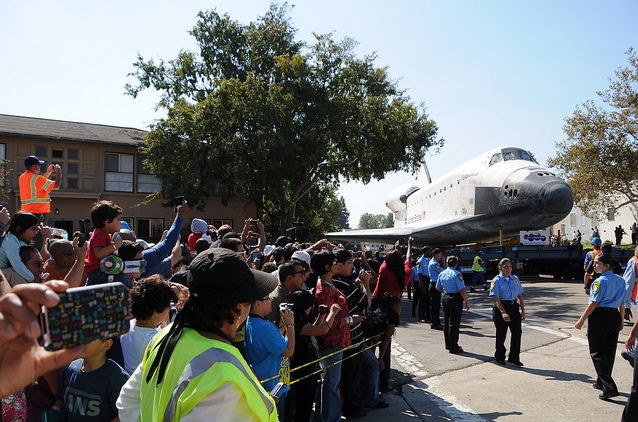 The space shuttle Endeavour had by mid-morning Sunday not yet reached its destination at the California Science Center – but it was close.
What was supposed to be a two day, 12-mile, slow-go journey through the streets of Los Angeles ended up taking an extra day as the shuttle was repeatedly stuck and delayed by pesky trees and mechanical issues.
The shuttle came to a full stop at around 7 pm on Saturday night at Crenshaw and Martin Luther King Jr. boulevards because of trees, and then stayed there until 1 a.m. for maintenance.
According to the L.A. Times, crews had to grind off a stuck bolt as well as replace the hydraulic fluid in the rollers while undergoing a shift change.
Also read: Space Shuttle Endeavour Goes Slow, Gets Stuck on Final Journey Through L.A.
The shuttle resumed its journey by morning as organizers continually pushed back estimates for its arrival, which was expected to be at midday Sunday.
As the shuttle arrived within sight of the California Science Center, crowds shouted "So close! So close!" and cheered to celebrate the occasion.
NASA retired Endeavour and the rest of its shuttle fleet last year after completing the U.S. portion of the $100 billion International Space Station, a permanently staffed research complex orbiting 250 miles above Earth.
The 75-ton winged spaceship, ferried by a modified Boeing 747, landed at Los Angeles International Airport last week.
The California-made shuttle was built as a replacement for Challenger, which was lost in a 1986 accident that killed seven astronauts.
Endeavour went on to fly 25 missions, including 12 to help build and outfit the space station, and logged nearly 123 million miles (198 million km) in flight during 4,671 orbits.