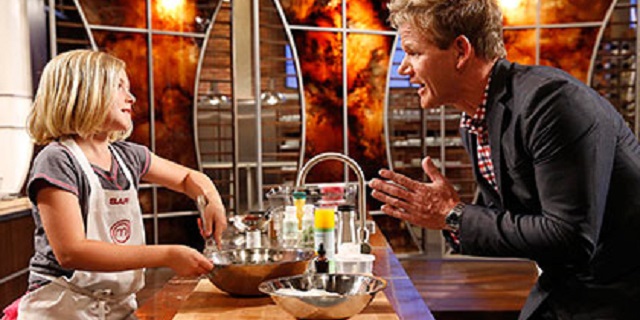 Infamously hot-headed celebrity chef Gordon Ramsay, paired up with a bunch of little kids in an environment filled with sharp objects? It's the kind of scenario that has the potential to end up in gruesome newspaper headlines. But according to Ramsay, he managed to keep his notorious temper in check during the filming of Fox's upcoming reality show "MasterChef Junior."
"I don't think I swore once across two months," Ramsay said during the panel for the show at the Television Critics Association press tour on Thursday.
Also read: TCA: Fox's 'Almost Human' Panel Talks About Robot Ethics, Android Sex
Actually, the kids were quick to remind him, he let fly with the potty-talk twice.
"And we know the F word meant 'food,' right?" Ramsay tried to persuade the kids.
Also read: TCA: Keith Urban Officially Returning to 'American Idol,' Jennifer Lopez in 'Discussions'
The young contestants did note that Ramsay wasn't completely temper-free during the filming of the series — though the wrath wasn't directed at the culinary-minded tots.
"I think he got kind of frustrated with some of the waiters, but it wasn't towards us, it was never towards us," vowed Dara, a young contestant from Culver City, Calif..
Also read: TCA: Fox to Produce American Version of U.K.'s 'Broadchurch'
At the end of the day, however, "MasterChef" is a Gordon Ramsay competition show. Which means, inevitably, that judgments will be dished out. Eliminations will occur. And hearts might break, as tiny as those hearts might be.
Ramsay acknowledged as much during the panel, but asserted that there's a positive aspect to subjecting children to heated competition.
"I think pressure is healthy," Ramsay put forth, later noting, "I'm brutally honest; I get straight to the point, and the kids, I think, welcome that … When it was bad they got told it was bad; when it was good they got told it was bad."
"MasterChef Junior" premieres Sept. 27 at 8 p.m.