The Television Critics Association summer press tour is a TV columnist's best friend, as the annual event provides shockingly easy access to network executives, showrunners, on-air talent and, yes, even other journalists, who all descend upon a luxury hotel in Beverly Hills with a single but complicated goal: to make sense of the upcoming fall television schedule.
Sometimes for all the flashing lights, sizzle reels, and pretty people who cross the stage, networks let slip some actual information.
Here's what we learned at the TCAs — and what we didn't.
1. Peter Tolan wears skimpy underwear
Critics who hit FX's panel for "Rescue Me" bore witness to something more disturbing than anything that occurred during the earlier session touting Ryan Murphy's spooky new drama, "American Horror Story": show co-creator Peter Tolan's turquoise underwear, in all its banana-hammock glory.
His revealing sight gag provided the most memorable moment of the entire press tour — even if the sight of Tolan in his skivvies is sure to haunt us forever. In fact, networks bringing their shows to press tour ought to find video tape of the "Rescue Me" session to learn see how Tolan and his cohort Denis Leary endeared themselves to critics through a strict policy of no B.S. and outlandish humor.
Other sessions that could act as a blueprint for press tours to come: the ones for Fox's "New Girl," at which Zooey Deschanel denied being adorable; CBS's "2 Broke Girls," which confirmed our suspicion that Kat Dennings is a talent worth watching; and PBS' chat with Cameron Crowe. Despite what you might have heard, it's not hard to entertain us, networks!
2. The 1990s are back
A quick look at the offerings touted by the various MTV Networks might lead you to think television has time-warped to the Clinton years.
MTV has tapped Mike Judge to revive "Beavis and Butt-head" and may bring back "Daria," as well. TeenNick touted its huge ratings for a nostalgia block featuring "Rugrats," "Clarissa Explains It All," and other 1990s classics. And VH1 is putting together fresh episodes of "Pop-Up Video."
ABC is hoping Tim Allen can drum up ratings for "Last Man Standing" even close to those of "Home Improvement." The CW showcased former WB/UPN star Sarah Michelle Gellar's "Ringer." And PBS provided the highlight of the tour's first week with its screening of and panel hawking "Pearl Jam Twenty," Cameron Crowe's immensely enjoyable look back at the Seattle rock giants. With the economy in the proverbial wormhole, a trip to the days when America had a budget surplus might not be the worst idea in the world.
3. Simon Cowell doesn't care about Jennifer Lopez's contract, either
We had hoped to get official confirmation from Fox that Jennifer Lopez had signed a contract to return as a judge for the eleventh season of "American Idol" — but we're still waiting on that announcement.
Simon Cowell, who characteristically spoke his mind during a cheeky appearance via satellite, made it clear that he plans to top his previous singing-competition program no matter what it does. "You don't enter something for the silver medal," he said, adding that he expects "X Factor" to be "the best show on TV." Dare to dream, Simon.
4. Oprah looms large over TCA
Oprah Winfrey descended upon the TCA last January to own OWN, her now-struggling cable network. But her presence was felt at non-Oprah panels, as well.
Anderson Cooper was the guest of honor at a boozy gathering with reporters on the tour's first evening where he all but declared his intention to seize the reins of Oprah's daytime chariot.
Winfrey also came up during NBC's session for its new Wednesday night sitcom "Up All Night," as new network chairman Robert Greenblatt confirmed that third banana Maya Rudolph would play a talk show host. (The "Bridesmaids" star used to play Winfrey on "Saturday Night Live.") Winfrey also made a video appearance at the TCA Awards, speaking via a huge screen hanging over our heads (pictured). Critics honored her with a lifetime achievement award, but her influence over the television landscape clearly isn't over.
5. Comedians better bring their A games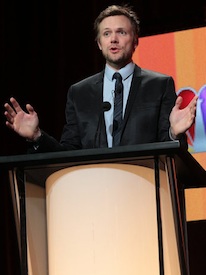 Joel McHale got it, kicking off NBC's sessions with a scathing roast of the network itself. Nick Offerman, who brought videos, songs and homages to his love of bacon to his gig as the host of the TCA Awards, got it too.
Even old-school legend Jerry Lewis — the day before he was dumped from his own Muscular Dystrophy telethon — scored big laughs with perfectly executed jabs straight out of the Catskills resort circuit. Those three pros proved that even jaded critics dulled by days of presentations in windowless banquet halls will crack up in the presence of proper comedic chops.
But some comics, like Bill Maher and Jonah Hill, missed that memo, brought comparatively tired acts and instead resorted to the ill-advised technique of blaming the critics for not having a sense of humor. At such moments, it is nice to wield the power of the pen.
6. AMC is experiencing an image problem — just don't blame Jon Hamm
When AMC left Comic-Con two weeks ago, the network seemed to be riding high: rabid crowds at its "Walking Dead" panel to go hand in hand with huge ratings for the fourth season of "Breaking Bad."
But two nights before its early morning TCA panel promoting the upcoming Western drama "Hell on Wheels," the network confirmed that "Walking Dead" creator and showrunner Frank Darabont would be departing the zombie series he steered through its hugely successful first six episodes, only to be replaced by Glen Mazzara, who wasn't even a staffer in season one.
A few days later, reports sprung up that the network was having difficulties securing a fifth season of "Breaking Bad," and that — shocker! — Vince Gilligan's gritty hit might be heading to another network. The "Hell on Wheels" pilot didn't seem to bowl anyone over, either.
Still, TCA members showered awards on "Mad Men" and Jon Hamm, and didn't harangue Joel Stillerman, AMC's senior vice president of programming, too much for the misleading first season of "The Killing." All the questioning by critics comes from the right place: We worry because we love. Well, except that finale of "The Killing."
7. The big reveal is a big deal
Ashton Kutcher's "Two and a Half Men" character got a name. Ted Danson's "CSI" character did as well. Marc Cherry confirmed the decision to cancel "Desperate Housewives" was mutual. Ken Burns, who was at PBS' session to pimp a prohibition documentary, loves "Boardwalk Empire." Steve Carell will produce a new talk show for Showtime.
Because it comes right after Comic-Con, where revelations big and small are constant, TCA summer press tour comes alive when previously unknown scraps of information get spilled. While we never would have guessed that Kutcher and Danson's new TV names would be Walden Schmidt and D.B. Russell, respectively, we're just glad to have been the first to be let in on the secret.